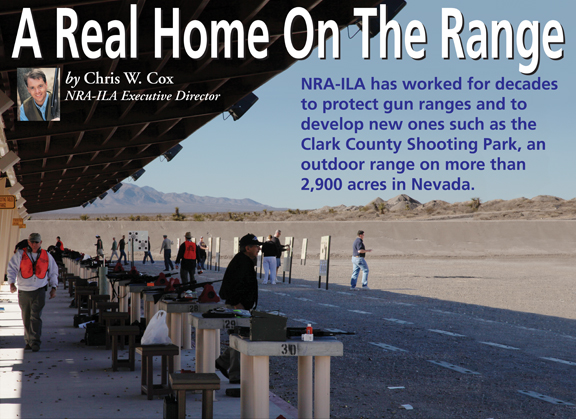 As part of my job, I have the opportunity to visit many shooting facilities around the country. Each time I visit one, I'm reminded how important ranges are for gun owners. The Second Amendment guarantees our Right to Keep and Bear Arms, but without ranges we wouldn't be able to fully exercise that right.
Not long ago, I had the opportunity to visit a new shooting facility in Nevada that I can say, without hesitation, is one of the finest in the world. It's a place all of us wish we could visit on a regular basis.
The new range is the Clark County Shooting Park, located not far from downtown Las Vegas. Situated on 2,900 acres, it currently has 200 acres developed, with 24 trap and skeet fields, a large rifle and pistol range, an archery range and a hunter education center.
| | |
| --- | --- |
| | U.S. Sen. Majority Leader Harry Reid, D-Nev. (with scissors), and NRA Executive Vice President Wayne LaPierre (to Reid's right) cut the ribbon to open the Clark County Shooting Park in Nevada. Sen. Reid played an integral part in getting the shooting range opened by securing the land and funding. |
It's already an impressive facility, but what is planned for the future will make it second to none. When the park is complete, it will have another 700 developed acres that will include 50, 100, 500 and 1,200-yd. rifle ranges; rifle and pistol silhouette ranges; four tactical ranges; two sporting clays ranges; dozens of additional trap fields; more archery ranges; and even an area for horseback-mounted shooting.
It's 900 acres of just about every conceivable kind of rifle, pistol and shotgun range. Now that's a shooting center to be proud of!
As I'm sure you can imagine, a range of this scale wasn't easy to accomplish.
It took decades of hard work, including strong support from the Clark County Commission and the county's parks and recreation department. Both worked for years to see this multi-purpose range complex become a reality. Dedicated citizens, gun owners, hunters, and competitive and recreational shooters joined together to provide the support that was needed for a project of this size to win approval.
It also took both land and money to make it happen, and for that the people of Clark County have U.S. Senate Majority Leader Harry Reid to thank. Sen. Reid worked for years to secure the transfer to Clark County of the now-former federal land the range complex occupies. Further, he secured $61 million through the Southern Nevada Public Lands Management Act to fund the facility's development. His dedication to this project is just one of the ways Sen. Reid has demonstrated his support for gun owners and the Second Amendment.
At the facility's grand opening in March, Reid clearly showed he under-stands the importance of ranges when he said, "Your families and mine are fortunate to have such an impressive place to learn the skills of sport shooting, to learn the importance of safe shooting, to exercise our Second Amendment rights --and to celebrate our Western heritage."
The Clark County Shooting Park and hundreds of smaller ranges around the country are used every day to hone our shooting skills through training, competitions and recreational shooting. Ranges are essential for all of us to be able to exercise our rights responsibly and to pass on our skills and training to our children and grandchildren.
It's for these reasons that protecting ranges has been a top priority of the NRA Institute of Legislative Action (NRA-ILA). Population growth and the expansion of suburban developments into what were once rural areas have created serious problems for ranges, many of which existed for decades before there were any developments within miles. To protect these ranges from lawsuits, threats of zoning changes and other regulatory assaults designed to shut them down, NRA-ILA began working more than 20 years ago to pass range protection legislation in each state.
I'm proud to say that we have been very successful. All but three states now have range protection laws. These important statutes protect ranges from efforts by newcomers to close them or restrict their activities through the use of noise ordinances, retroactive zoning changes, civil lawsuits or local government action. Without range protection laws, safe shooting ranges that offer valuable public services and facilities for firearm safety, hunter education and Right-to-Carry permit classes would be at the mercy of anti-gun activist groups and local politicians.
We've made great progress to date. Since 1994, the number of states with range protection laws has gone from eight to 47. And we won't quit until we get the last three.
We're also working to help build more ranges. NRA-ILA is strongly supporting S. 1702--introduced by Sens. Mark Udall, D-Colo., and James Risch, R-Idaho --a bill to help provide the funds needed for the construction and maintenance of target ranges on public lands.
The bill proposes to amend the Pittman-Robertson Act to give states far greater ability to purchase land, build new target ranges and improve existing ranges. Currently, Pittman-Robertson allows the federal government to use the funds to pay only 75 percent of the cost of building or maintaining a range. S. 1702 would allow Pittman-Robertson funds to finance up to 90 percent of target range construction and maintenance. This will allow states greater latitude in the allocation of the funds and provide an incentive for the use of these funds to construct new target ranges.
The legislation would also provide new authority for states to use Pittman-Robertson funds to buy lands for range development. Under S. 1702, a state could use its share of Pittman-Robertson funds to finance up to 90 percent of the cost of land acquisition. In addition to providing an incentive to the states to develop new ranges, this change would provide greater flexibility to the states in allocating funds to the projects that are the highest priority for sportsmen.
The bill would also allow states to accumulate Pittman-Robertson funds for up to five years for range projects and land acquisition. As things currently stand, states have only two years to "use or lose" the funds apportioned to them.
Another important provision of S. 1702 would protect the federal government from legal liability in relation to the construction and operation of shooting ranges.
| | |
| --- | --- |
| Sen. Harry Reid (right) discusses his support for developing new gun ranges with NRA-ILA Executive Director Chris W. Cox (far left) and NRA Executive Vice President Wayne LaPierre. | |
Although such lawsuits have been very rare, the threat of legal action that might result from an accident at a range funded by federal money or located on federal land prevents federal agencies from authorizing areas of public land for recreational shooting. S. 1702 would provide immunity from civil lawsuits or money damages for any injury caused by activity at a public range located on federal land or constructed or maintained using Pittman-Robertson funds.
Range protection laws and the passage of S. 1702 represent big steps forward in public range development. We need to remain vigilant, however, as the threats to gun ranges are not slowing down. Second Amendment opponents know that without places to shoot, there will be fewer gun owners.
The bottom line is that gun owners need ranges. We need them to teach the next generation of gun owners. We need them to hone the skills we have and to learn new ones. All told, we need ranges to be able to fully exercise our Second Amendment rights.
The people living near the new Clark County Shooting Park now have a fantastic place to shoot. The rest of us may not have a facility of that size and scope nearby, but we all have ranges that need our support and need to be protected.
We have ranges that need to be improved or enlarged to meet the needs of more and more gun owners and the advent of new shooting disciplines. For that, we need the support of state, local and federal officials who understand the role ranges play in promoting our Right to Keep and Bear Arms.