The supermarket tabloids were right – the rich and famous ARE just like us. Crime has increased throughout the country. All anyone – from struggling single parents to ultra-wealthy Hollywood elites – wants is a chance to defend themselves and their loved ones. Evidence from the last two years, and the last few months in particular, shows that the 2nd Amendment is not bound by socio-economic status. 
LA Magazine ran an article documenting the "Arms Race of the Affluent" as violent home invasions, robberies, and other crime increase in the exclusive suburbs of Los Angeles. Beverly Hills Guns owner Russell Stuart reported most of his daily stream of customers are arming themselves for the first time.
Of course, Beverly Hills is not like most communities. The city has hired two private security companies with ex-military personnel to surveil the city and residential neighborhoods. The city's police chief told FOX News last month that rising criminal activity can be traced, in part, to soft-on-crime policies that keep criminals on the streets. Keep in mind, a gun control organization gave California an "A" grade for its gun control policies. Only one other state – New Jersey – earned an A. In the last several years, prosecutors with similar priorities to those of LA's District Attorney have been elected in districts across the country.
Stuart reported that "firearms and public safety is not a rich issue." Of course not. We've covered the increase in sales over the last two years and how anti-gun researchers have tried to spin the increase in sales. December 2021 data was recently released and we know now that the FBI conducted 38,876,673 total NICS checks last year. That is the second highest annual total, only about eight hundred thousand less than were run in 2020. It's still more than ten million higher than the pre-2020 record. NICS has been online since November 1998, so we have 22 full years of background checks. Nineteen percent of all NICS checks all-time have been run in the last two years.
Total NICS checks alone don't really tell us much more than a lot of people applied for permits and bought firearms. NICS checks by type offer more information. Nearly ten million handgun-related NICS checks were run last year along with 6,497,192 related to the potential sale of long guns. Though the long gun category would include shotguns as well as semi-automatic rifles (both excellent choices for defensive purposes), handguns have an edge for defensive-minded acquisitions as they are easier to carry and conveniently store in a bedroom or other quick-to-access location. The chart below displays the raw number of handgun-related NICS checks since 1999 on the left axis and the ratio of handgun-related checks to long gun related checks on the right axis. There has been a long, steady increase in the number of handgun checks with spikes that never really subsided (until 2020 to 2021, though '21 numbers are still well above even the pre-'20 record).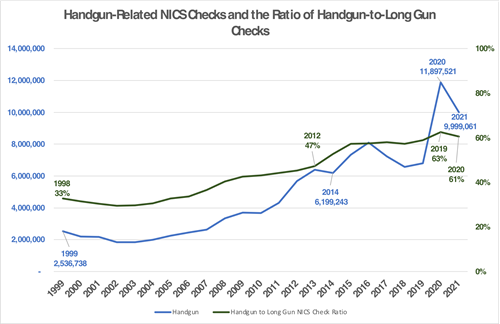 The ratio of handgun-to-long gun related NICS checks shows handgun sales as a percentage of the total of both handgun and long gun related checks. This normalizes spikes in demand and shows that handguns have comprised an increasing share of type-specific NICS checks over the last 22 years. In 2012, handguns accounted for 47% of type-specific NICS checks – a record at the time. Last year, it was 61%. Americans have obviously become more interested in acquiring firearms for self-defense.
One of Stuart's customers was 24-year old Emily Junkins, an LA resident who felt acquiring a firearm was the best option as crime increased in her area. Fifty-year Beverly Hills resident Sherry Tedeschi was another customer spurred on by increasingly bold criminals. Emily and Sherry are not the only women acquiring a firearm for defense. Surveys of firearms retailers estimate that 11 million Americans became first-time gun owners in 2020 and the first six months of 2021. A Harvard and Northeastern University study reported that nearly half of new gun owners from January 2019 through April 2021 were women.
New data from the A Girl & A Gun Women's Shooting League also shows an increase in first-time gun buyers. Sixty percent of their members who recently purchased their first firearm had never shot before and did not grow up with firearms in the house. Nearly half of their members reported joining to practice defensive skills.
Can we call a spike in gun-buying unprecedented if it lasts for two years, or is it the new normal? We can't really answer that question now, but polling data from the Trafalgar Group shows that strong majorities of likely general election voters believe that strict gun laws had no effect on the retail crime surge or made it worse. Quinnipiac University and Gallup have both recently found decreases in support for stricter gun control. Quinnipiac found more opposition rather than support for stricter gun control.
It seems that we are witnessing a shift in the environment, though the 2nd Amendment was ratified 230 years ago. The National Rifle Association marked the 150th anniversary of its founding last November. In that time, the community of American gun owners has grown and changed. It will continue to do so, and the NRA will be on guard to secure the rights recently exercised by millions of Americans for the first time.