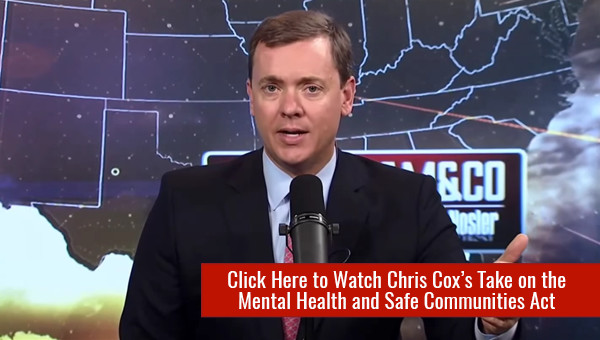 In the face of false attacks, Congresswoman McSally is standing firm in her commitment to protect our Second Amendment Rights by introducing the Mental Health and Safe Communities Act.
The Obama Administration is looking for any excuse to throw law-abiding Americans into the National Criminal Instant Background Check System (NICS). First Obama's Veterans Affairs Department targeted the brave men and women who served in our Armed Forces. Already an underserved class, almost 200,000 veterans lost their right of self-defense when they were dumped into NICS without any cause.
Next Obama went after seniors and the disabled. With plans to deny more than 4 million adults who receive social security benefits of their Second Amendment rights, the Obama Administration was stopped in their tracks with the introduction of the Mental Health and Safe Communities Act by Congresswoman Martha McSally and Senator John Cornyn (TX).
Congresswoman McSally's legislation protects the Second Amendment rights of law-abiding citizens from continued bureaucratic abuse by the Obama Administration. It DOES NOT expand the NICS System.
Stops the Obama Administration from Entering Broad Swaths of the American Public into the NICS System Without Due Process or Cause: Removes the ability of the government to add individuals to NICS simply because they have a fiduciary. 
 
Provides Additional Protections for Veterans: It requires notification to veterans who have been submitted to NICS under the "fiduciary" program and an opportunity to have their individual case reviewed by a board established for this purpose.  The standard is exactly where it should be, requiring the new board to find the veteran is actually a danger to themselves or others to justify retaining their record in NICS.  In all cases, the board's decision will be subject to court review.
 
Strengthens Due Process Protections: The bill clarifies that an "adjudication" under the GCA mental health provisions will require due process protections, including a full hearing in which an individual has notice, the opportunity to participate, and the right to counsel. Moreover, the findings of such a process are clearly specified and focus on adjudications that involve individuals that are a danger to themselves or others.
 
Expands Avenues of Relief From Firearms Prohibition: The bill requires the Attorney General to remove from NICS the record of any person who would not be considered prohibited under the new requirements of the bill.  
 
Safeguards Records Transmissions to NICS: The bill's safeguards provide the standards by which records can be transmitted.  Only those mental health adjudications which comply with the new due process protections are to be forwarded.  
GET THE FACTS ABOUT THE MENTAL HEALTH AND SAFE COMMUNITIES ACT:
Fringe Pushes Back Against Cornyn's NICS Background Check Fix
NRA-Backed Cornyn Bill Would Give Due Process Rights to Veterans Denied Guns
Fed assails seniors' right to bear arms
Share this article and image on social to show your support for Congresswoman Martha McSally!