In December 2012, Magpul Industries was preparing to break ground on a new state-of-the-art facility in Colorado. The company started in a basement in 1999. By 2012, Magpul employed more than 200 individuals, and its PMAG magazines, AR stocks, grips and other products were in high demand. Magpul's future looked very bright indeed.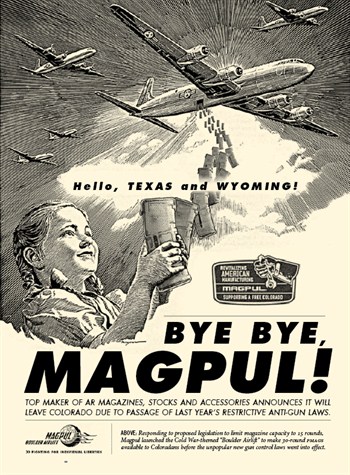 Then the state's Democrat-led legislature and its governor, John Hickenlooper, decided the way to stop sociopaths from taking advantage of "gun-free zones" would be to restrict the freedoms of law-abiding citizens. Colorado state Senate President John Morse stood on the floor of the state capitol and argued that severely restricting the Second Amendment rights of Coloradans was needed for "cleansing a sickness from our souls."

Magpul immediately responded to this emotional ideology by threatening to take jobs out of Colorado if the state banned the sale of its products. In fact, a groundswell of freedom-loving Coloradans protested the proposed gun control legislation, with many pointing out that facts show the Second Amendment infringements don't stop bad guys with guns, they only trample the rights of law-abiding citizens.

The legislature and governor, however, ignored the people—and reason itself—and banned so-called "high-capacity" magazines (in this case, those holding more than 15 rounds); required "universal background checks" that make many common transfers of firearms illegal (i.e., a grandfather giving his grandson his shotgun); forced gun buyers to pay for their own background checks; and much more.

In this political climate, Magpul reversed its plans to build in Colorado, fought hard against the legislation that made some of its products illegal for residents of Colorado and, after the gun control legislation passed, pivoted and began looking for locations to relocate out of state.

"These efforts have required complete focus by our team," says Duane Liptak, director of marketing and product management for Magpul. This is why it took until early January 2014 for Magpul to make good on its promise to begin moving.

"Moving operations to states that support our culture of individual liberties and personal responsibility is important," Magpul ceo Richard Fitzpatrick said in a statement in early January.

Fitzpatrick explained that Magpul is relocating manufacturing, distribution and shipping operations to Cheyenne, Wyo., where the relocation is being completed with support from Gov. Matt Mead, the Wyoming Business Council and Cheyenne leads (the Cheyenne-Laramie County Corporation for Economic Development).

Fitzpatrick added that the company's corporate office will be moved to Texas, which prompted Gov. Rick Perry to give Magpul a big Texas welcome.

"In Texas, we understand that freedom breeds prosperity, which is why we've built our economy around principles that allow employers to innovate, keep more of what they earn and create jobs," Perry said.

Though company officials didn't foresee all that would occur during the past year, Magpul has long been philosophically prepared to fight for freedom. For example, Magpul's corporate creed, found on its website, shows it to be a company that takes freedom seriously. In a section titled "Annoy the Establishment," Magpul declares: "Just as America's Founding Fathers sought to promote individual rights and freedoms over those of the collective, Magpul also stands on the side of the individual. The natural enemy of the individual and innovation is the establishment and bureaucracy [which literally means 'the power of the desk']. When we are annoying the establishment, we know we are effectively upholding our principles."

Another part of its mantra, in a section under the subhead "Profits Are Not Evil," says: "Magpul's view on profits (and money in general) is summed up in the following quote by Ayn Rand: 'Money is the material shape of the principle that men who wish to deal with one another must deal by trade and give value for value.'"

This quote is from Rand's book "Atlas Shrugged." In the book, Rand placed a secret society based on honest commerce, free from the bureaucrats who feed off the hard work of others, in Colorado's mountains. Ironically, now Magpul and other companies are being compelled to leave Colorado for freer states.

The fight for freedom, however, isn't over in Colorado. The recently passed gun restrictions led to the recall of two Democratic state senators—Sen. Morse of Colorado Springs and Sen. Angela Giron of Pueblo—as well as the resignation of state Sen. Evie Hudak, who chose to step down rather than face a recall.

Many gun owners have vowed to make these infringements to their rights prominent issues in upcoming elections, and a legal challenge is also well underway in Colorado. The lawsuit argues that the new gun control laws violate the Second and 14th Amendments to the U.S. Constitution. Leading the lawsuit is the Independence Institute, a Colorado-based think tank that is representing 55 of the state's 62 elected county sheriffs. Twenty-one sporting and outdoor groups are also plaintiffs, along with other organizations and individuals.

David Kopel, the lead attorney in the suit and a research director for the Independence Institute, said at press time that a 10-day trial is scheduled to begin in the U.S. District Court for the District of Colorado on March 31, 2014. The court ruled last November that the 55 sheriffs couldn't participate in the case in their official capacities. However, in December 2013 the court ruled that 11 of the sheriffs could participate in the case as American citizens with Second Amendment rights. (These 11 sheriffs happen to be retiring in January 2015.)

In addition to these 11 sheriffs, Kopel says six sheriffs are scheduled as potential witnesses. Finally, the 44 sheriffs who will not be participating as named plaintiffs will still be in the case, as all 55 sheriffs are honorary members of the Colorado State Shooting Association, which is a plaintiff.

Meanwhile, many businesses and gun owners in Colorado are hoping this law will be overturned.

Eric Frohardt, owner of BluCore Shooting Center in Denver, has seen his business badly hurt by the legislation.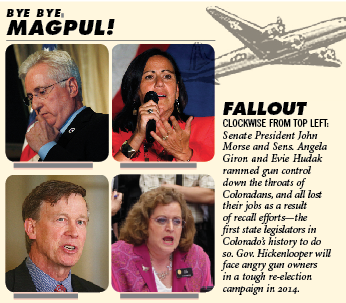 "The portion of the gun control law that most affected us was the banning of the sale of magazines that exceed 15 rounds," Frohardt said. "In the previous year, most of our top-selling guns were sold with magazines that had more than the 15-round capacity. One example is the Springfield Armory xd(m) 4.5-inch 9 mm. This pistol comes standard with a 19-round magazine. We can no longer sell it. Springfield has yet to make 15-round magazines for it, and I don't blame them. They have no problem selling the guns they make elsewhere. Why modify it for one state? So the impact to our brick-and-mortar facility here in Colorado has been substantial."

Frohardt says this consequence of the new law forced him to move his e-commerce business to Texas.

"Guns, of course, aren't ordered online and delivered to people's homes," he said. "They are ordered, then delivered to our brick-and-mortar store and then shipped to an ffl as chosen by the purchaser. So we have to handle each gun at our store. If we did that in Colorado, we would have had to remove the magazines before shipping the guns. That would upset customers. So we opened a brick-and-mortar facility in Roundrock, Texas, and moved our e-commerce operation there."

Magpul, meanwhile, plans to retain a limited presence in Colorado. In the short term, the Colorado operation will coordinate the dual moves to Wyoming and Texas, says Liptak, as well as continue to seek changes to the law.

"Magpul is committed to maintaining an operation in Colorado to ensure the company is supporting lawful gun owners in our native state," he told us. "Magpul will see the lawsuit through to the end and will support efforts to restore rights taken away from lawful gun owners in Colorado."