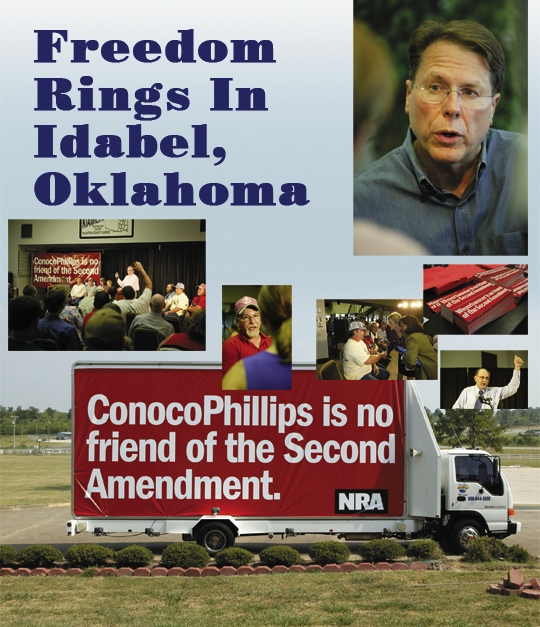 At a rally to show support for employees fired for exercising their rights, the NRA calls for the boycott of ConocoPhillips, a company leading the fight to eviscerate federal and state constitutions and statutes on the Right to Keep and Bear Arms
by BLAINE SMITH, Associate Editor
In August, as pro-gun supporters approached the steps leading up to the Kiamichi Technology Center in the southeastern Oklahoma hamlet of Idabel, Okla., a giant red billboard that read, "Weyerhaeuser is no friend of the Second Amendment" in bold white letters greeted them. Next to the billboard sat an eight-foot replica of the Liberty Bell, below which hung a sign proclaiming, "Let Freedom Ring!"
As the crowd made its way through the doors and into the rally—a gathering to show support for employees fired from the Weyerhaeuser wood mill in nearby Valiant for having firearms stored in their locked vehicles—the tones of the bell reverberated across the hillsides perched at the edge of the Ouichita National Forest.
Indeed, freedom was in the air that day in Idabel as NRA members from Oklahoma gathered to support those who were fighting for their Second Amendment rights in court against their former employer.
But NRA was also there for another reason, rooted in the forests of southeast Oklahoma but having nationwide significance: To demand that ConocoPhillips, the largest oil producer in the United States, drop its lawsuit blocking a new Oklahoma law that would allow employees the right to store firearms in their locked vehicles for protection, or target shooting, or hunting, or any lawful reason to use before or after work.
"ConocoPhillips defied the will of the people of Oklahoma, they defied the will of the Oklahoma state legislature, the attorney general and the governor, and ConocoPhillips defied the will of the framers of the U.S. Constitution," NRA Executive Vice President Wayne LaPierre told those assembled. "But `we the people` will not be defied, and not just here in Oklahoma."
A Valiant Fight
THE REASON FOR the new Oklahoma law, an amendment to the Oklahoma Self-Defense Act, was due to the firing of 12 employees of the Weyerhaeuser Co. plant in Valiant.
For 31 years, employees of the timber mill had been allowed to store firearms in their locked vehicles at work. Many Weyerhaeuser employees are avid hunters, many carry firearms to protect their livestock and many possess Right-to-Carry permits for protection.
One day in October 2003, Weyerhaeuser brass decided to conduct a search of vehicles in their public-access parking lot. As they could not tell their employees` vehicles from others parked in the lot, Weyerhaeuser contacted the local sheriff`s office for help in identifying those vehicles that belonged to employees by running the license plates of the vehicles through the law enforcement database.
The sheriff`s office asked Weyerhaeuser what specifically they hoped to turn up in their search. Told that the search would be for illegal drugs, the sheriff reiterated that he did not want the sheriff`s office resources used for any other purpose.
Told that the search was explicitly for drugs, the sheriff left for four hours to conduct other business. In the ensuing four hours, Weyerhaeuser—like a modern-day Gestapo with a computer database—brought in the dogs to conduct the searches. While no drugs were detected, guns were found.
That day in Valiant, Okla., a dozen good, law-abiding citizens who were loyal, honest, hard-working employees—some who worked upwards of 25 years for Weyerhaeuser—with families to feed and clothe, found their lives torn apart by exercising a constitutionally protected right.
All were unaware of any policy change prohibiting firearms on the company`s public access parking lot.
"No corporation that truly cared about their employees would treat them in such a wrong, unfair, unjust manner," LaPierre said.
Jimmy "Red" White, a Weyerhaeuser resource coordinator and superintendent with a near-perfect 22-year employment record, was asked to help in the search that day.
"I told them I would help them search for drugs," White said. "As for guns, I told them I had a pistol in my truck and a permit to carry it." In his vehicle, White showed the search team his .22 pistol and a shotgun he had recently used to go bird hunting with his sons. White was suspended on the spot, and two days later learned he was fired.
White subsequently joined with eight other fired employees in the lawsuit against Weyerhaeuser, on behalf of which the NRA has filed "friend of the court" briefs and given monetary support through the NRA Civil Defense Fund.
Another plaintiff in the suit, Steve Bastible, was fired after a hunting rifle was found in his vehicle. Despite not having even a single shell in his vehicle that could be fired by the gun, Bastible`s employment was terminated.
Bastible said that several friends of his at Weyerhaeuser who also had guns in their vehicles that were not found offered to let company executives know they had the firearms.
And this is the way it is in southeastern Oklahoma. The bonds of friendship, hunting and the Second Amendment run deep as blood.
Bastible, obviously, was moved by such a selfless offer by his friends, but said, "I didn`t want anyone to put their job in jeopardy."
Of the other plaintiffs in the suit, one was terminated after a gun was found in his father`s vehicle that the young man was borrowing; another plaintiff, when asked if he`d consent to a search, answered, "Hell no!" and was thus terminated.
The lawsuit against Weyerhaeuser is currently awaiting ruling in the 10th U.S. Circuit Court of Appeals.
Big Money Talks
FOLLOWING THE Weyerhaeuser firings, state Rep. Jerry Ellis, not only a native of Valiant but also a former Weyerhaeuser employee of 23 years, introduced the Oklahoma Self-Defense amendment into the legislature, which states:
"No person, property owner, tenant, employer or business entity shall be permitted to establish any policy or rule that has the effect of prohibiting any person, except a convicted felon, from transporting and storing firearms in a locked vehicle on any property set aside for vehicles."
Enacted with overwhelming support from the state legislature—pointing to wide support from constituents and citizens—a safer day for working Oklahomans seemed certain. With the support of a law allowing individuals to carry firearms in their vehicles onto company property, constitutional rights for Oklahomans were restored under the new law. After all, a vehicle is private property, in effect, an extension of one`s home.
According to the "American Community Survey" released by the U.S. Census Bureau, American workers spend on average more than 100 hours commuting to and from work each year, with more than 77 percent of employees driving to work by themselves.
Considering the societal shift in recent years of 24-hour drug stores, gas stations, chain retailers and fast-food restaurants, employees of such establishments are many times driving on dark roads by themselves.
"Put yourselves in the shoes of a young single mother," NRA President Sandra Froman stated at the rally. "She works long hours at low wages just to support her two young daughters. She can`t afford to live in a place with security guards and alarm systems. She can`t even afford to live in one of the nicer parts of town.
"Now, if she wants to carry a firearm in her car to protect herself and her daughters, the state of Oklahoma says she can."
Then, just a day before Oklahoma`s statute was to take effect, a federal lawsuit was filed by ConocoPhillips effectively halting the right of Oklahoma workers to legally transport firearms in their vehicles to and from work.
"What good does the Right-to-Carry do her," Froman asked of the single mother, "if she has to leave her firearm at home? What gives her employer the right to deny that fundamental freedom? What gives them the right to diminish her children`s safety?"
Boycott to Bear Arms
IN FILING A "friend of the court" brief in the case, which is pending in the Northern Oklahoma District federal court in Tulsa, NRA Executive Vice President Wayne LaPierre said, "We didn`t seek out this fight, but it goes to the core of Second Amendment freedom. And we won`t rest until our rights are protected."
Since ConocoPhillips is staying its course of denying Oklahoma workers the right to exercise the Second Amendment, LaPierre called for NRA members and all freedom-loving Americans to begin a boycott against ConocoPhillips.
By obstructing enactment of the Oklahoma law allowing workers to carry firearms in vehicles to and from work, ConocoPhillips has taken a wrecking ball to the heart of the Right to Keep and Bear Arms.
In 38 states, the will of the people has been heard, and law-abiding citizens have the right to carry handguns concealed for protection. Moreover, federal law guarantees the right to transport firearms, locked and safely secured in a vehicle. But with a corporate policy that forces workers to choose between protecting themselves in their commute and maintaining their status as employed, ConocoPhillips is creating the blueprint for eviscerating the Right to Carry and the right to transport firearms in all states.
As LaPierre noted, the groundwork is being laid by ConocoPhillips to ban all guns from all types of business parking lots—hotels, convenience stores, auto parts stores, grocery stores, accountants, malls, the list goes on. If ConocoPhillips has its way, gun owners across the nation can only carry their guns at home or take them for a drive, as long as they don`t park anywhere.
"If you`re driving to your deer stand," LaPierre said, "you`d better not stop for gas."
In public statements, ConocoPhillips is claiming that its move to block Oklahoma law is about safety in the workplace, even going so far as to mention work areas such as hazardous waste storage tanks in its fear-mongering releases.
These points—aside from churning fear in the stomachs of those susceptible to the company`s sound-bites—are ridiculous, as NRA is arguing solely for the right of employees or customers to store firearms in their locked vehicles in company parking lots.
This fight is not about safety in the workplace; it`s about the safety and freedom of individuals commuting to and from work and traveling with firearms anywhere in America.
"The Second Amendment should not end where your job`s parking lot begins," LaPierre stated to a crowd of hundreds of persons gathered at the rally in Idabel, while surrounded by the fired Weyerhaeuser employees. "No company policy should trump the Bill of Rights," he said. "They fired these people to attack your freedom. Now freedom is going to fire back."
In challenging ConocoPhillips, LaPierre warned, "Idabel, Okla., is a new Concord Bridge. Our forefathers didn`t run from the red coats in 1775, and we`re not going to run from the corporate bosses in 2005."
Then LaPierre revealed a new billboard that will be seen around the country: "ConocoPhillips is no friend of the Second Amendment."
"We`re going to put this billboard in targeted locations," LaPierre said, "starting with a dozen state capitals where ConocoPhillips does big business … We`re also going to put this billboard next to every Conoco and Phillips 66 gas station that we can. We want honest, law-abiding Americans to decide whether they want to do business with a company that doesn`t believe in their firearm freedoms … Across the country we`re going to make ConocoPhillips the example of what happens when a corporation takes away your Second Amendment rights . . . "We demand that ConocoPhillips drop its lawsuit … We call on consumers to boycott all Conoco and Phillips products and services—gasoline, oil, groceries, everything … We call on every state legislature in America to give ConocoPhillips exactly what it deserves: Nothing.
"Across America, ConocoPhillips is going to get the message, but every other company in America better hear it, too: If you`re a corporation that`s anti-gun, anti-gun owner or anti-Second Amendment, we will spare no effort to work against you and to protect the rights of your law-abiding employees and all Americans.
"Our rights are worth more than your money."