Guns are durable goods, and Americans have bought more than 100 million brand new guns during the last 15 years, on top of the 200 million they already had. Thus, when assessing the strength of gun ownership in the United States, it probably doesn't matter very much whether Americans bought slightly more or fewer guns this year than they did last year or the year before. To paraphrase a quote often attributed to the late U.S. Sen. Everett Dirksen, "100 million here and 100 million there, and by and by you're talking about a lot of guns."
Nevertheless, after the annual number of firearm purchases reached an atypically high level in 2013, in response to anti-gun legislation being pushed in Congress and some states, they appear to have returned to about 2012 levels. The media love a good headline, of course, so this year, on the basis of merely a 2013-2014 trend, Fortune.com has said Americans are buying fewer guns, money.cnn.com has exaggerated that gun sales are "plunging," and BloombergBusinessweek.com has made the ludicrous statement, "Gun Fans Stop Buying."
Fortune.com even went so far as to suggest that Americans are buying fewer guns in 2014 than in 2013 because they now support gun control. "The once high-selling gun industry may be facing a comedown as incidents of gun violence have soared this year," the website said, notwithstanding the fact that there is no evidence that "gun violence" has "soared."
The media are basing their claims about firearm purchase trends on trends in the number of background checks conducted through the National Instant Criminal Background Check System (NICS). Firearm manufacturing and importation statistics are much better indicators of firearm purchase trends, but they're reported 2-3 years after-the-fact. NICS data—though they don't measure firearm purchasing trends as accurately—are updated by the FBI on a monthly basis, and are therefore more useful to the media.
Notwithstanding media assessments of NICS data, what the data really suggest is that firearm purchases increased gradually from 2003 to 2009, and at a more accelerated rate from 2010 into 2013, even with nation's economy in a slump from late 2008 until the present.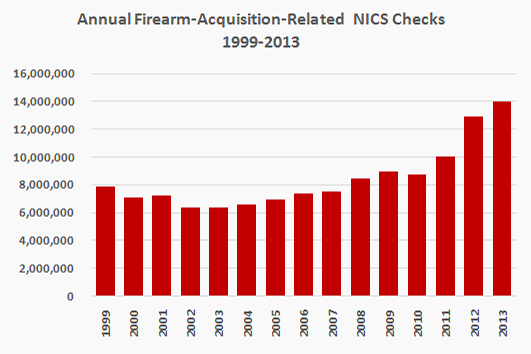 In 2014, based upon the first seven months of data, it would appear that the number of NICS checks would end up about the same this year as in 2012.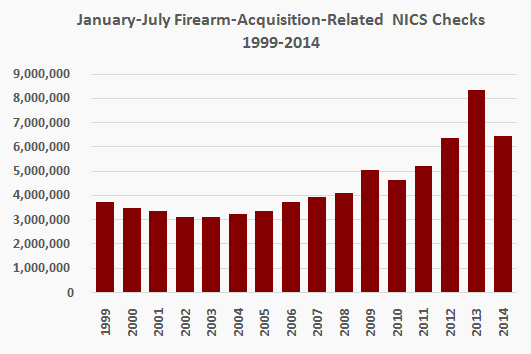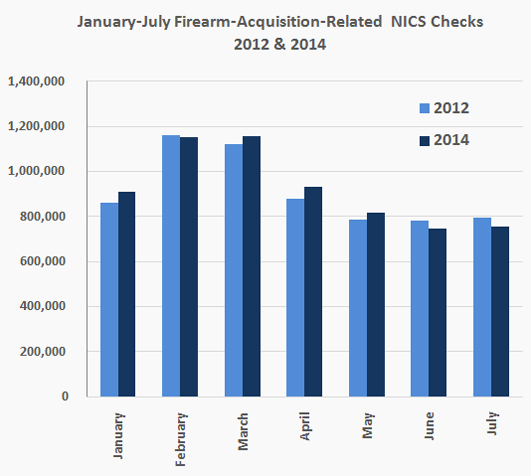 However, the number of checks in December 2012—when President Obama opened his campaign for gun control—was extraordinarily high. As for December 2014's tally, time will tell.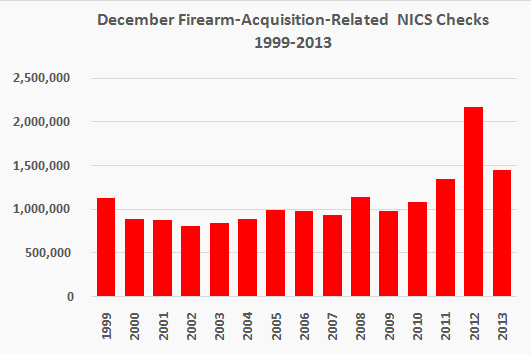 Notably, in almost half the states, a carry permit exempts its holder from going through a NICS check to acquire a firearm, and the number of carry permits has been increasing. Carry and purchase permit-related check data are not included in the above charts. Given the current push to incrementally morph the NICS system into a registry of gun sales, beginning with so-called "universal check" legislation, one might surmise that gun owners are increasingly obtaining and using carry permits for the purpose of NICS exemption, in the interest of privacy. Note that the chart below reflects purchase permit and new and renewal carry permit checks.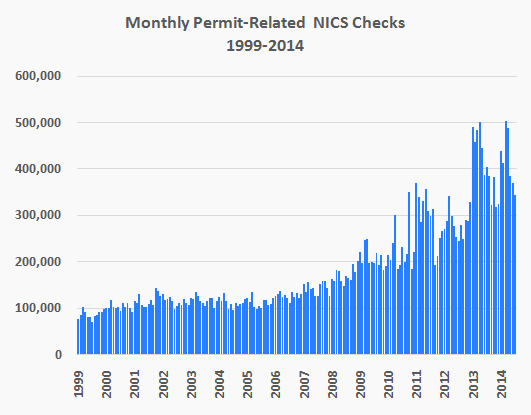 All told, Americans appear to be buying guns at a much stronger pace than only a few years ago. To paraphrase Mark Twain, gun control supporters' rumors about the demise of gun ownership are greatly exaggerated.