Gun control supporters beware! The debate over the right to keep and bear arms is going to end overnight--in a way you aren't going to like--if everyone in America reads Washington Times Senior Opinion Editor and award-winning investigative reporter Emily Miller's new book, released by Regnery this week.

The title of Miller's book is Emily Gets Her Gun, reflecting not only her given name--which means "rival," as anti-gunners will soon be painfully aware--but also the trials, tribulations and prohibitive expenses she endured, navigating the maze of obstacles the District of Columbia erected to discourage residents of the nation's capital from buying handguns in the wake of the Supreme Court's Heller decision.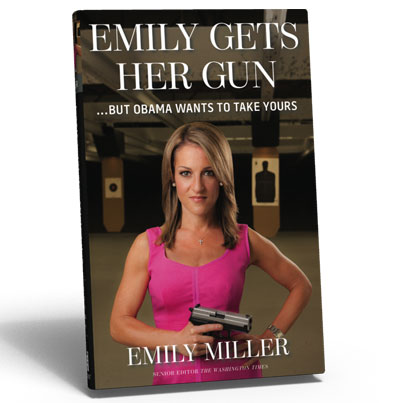 However, the book is about more than the challenge of dealing with D.C.'s anti-gun bureaucracy. Its real impetus is indicated by its complete title: Emily Gets Her Gun . . . But Obama Wants to Take Yours.  Miller lays out a strong case for the proposition that President Obama, aided and abetted by Michael Bloomberg and like-minded media outlets, launched his 2013 campaign for gun control with the intention of rapidly moving federal gun control laws in the direction of the D.C. model, and setting the tone for similar changes to state gun laws.

In a refreshingly straightforward and readable style, Miller links together a mountain of facts to dismantle the pro-control arguments concocted by the president and his allies, and calculatingly fed to the American people by many of her peers in the Fourth Estate. As Miller, who describes herself as "pro-Second Amendment," says in her chapter on Liberal Media Distortion, "There are few in the journalism profession who share my beliefs. The public, therefore, gets a heavily biased view of firearm ownership and gun violence in America."

Miller points out that a majority in Congress has not supported gun control since the 1994 elections.  That year, enough U.S. representatives who had voted for the Brady Bill and the Clinton-Feinstein "assault weapons" and "large" magazine bans were defeated, to give Republicans control of the House of Representatives for the first time since 1952. The reason that there has been a recent push for semi-automatic firearm and standard-capacity ammunition magazine bans, and for laws to require documentation of all firearm sales, she concludes, is because Obama has applied "the full power of the presidential bully pulpit to the gun-grabbers' cause."

Fortunately for Second Amendment supporters, Miller, a cum laude graduate of Georgetown University's School of Foreign Service, argues a far more convincing case than her chief adversary, whose command of the facts is limited by whatever appears on a teleprompter screen. The information she has assembled in Emily Gets Her Gun is worthwhile reading for strong Second Amendment supporters, as well as for other voters upon whose judgment our Second Amendment's vitality depends.

To purchase Emily Gets Her Gun, please click here.