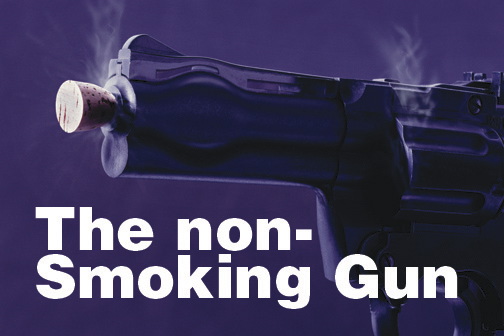 A study released by the National Research
Council should have faith in its own findings.
by Blaine Smith, Associate Editor
Well, it's finally complete--a Clinton administration-inspired study into the efficacy of various firearm-related controls, restrictions, freedoms and programs by the National Research Council (NRC) of the National Academy of Sciences.
A board of 18 academics, studying 253 journal articles, 99 books, 43 government publications and a survey of 80 gun control measures, while generating some of its own original research, revealed a stunning capstone to its 3 1/2 years of labor.
Published as a 300-page report entitled Firearms and Violence: A Critical Review, the study concluded: More research is needed.
Surprised? We shouldn't be. Only two other conclusions remain that the board could have utilized. One, that gun control measures have proven effective in reducing crime perpetrated with firearms, would have been a bold-fonted lie, likely resulting in a Michael Bellesiles-like downfall for the academicians on the board (remember Arming America?).
And two, that gun control laws have proven absolutely impotent in curbing firearm violence--though the truth--would have gone against the pre-conceptions of not only almost all those on the panel, but against the preconceptions of those who funded the study as well.
Follow The Money
While the NRC is busy saying "tomato"--mumbling that the millions of dollars and thousands of hours spent in compiling the information they surveyed points only to more research--John R. Lott, resident scholar at the American Enterprise Institute and author of More Guns, Less Crime and The Bias Against Guns, suggests the NRC should "believe its own findings."
The panel looked at studies relative to one-gun-a-month laws, the Clinton "assault weapons" ban, waiting periods, even the utility of gun locks. In each case, it was found that gun control measures had no positive effect on crime levels, suicides or accidents.
Instead of pointing out that gun-control measures do not save lives, as the study clearly finds, the NRC instead seemed to be saying, "more research is needed--until we find something that proves otherwise."
Yet, why would the NRC panel shy away from its findings? To answer that, consider who funded the study, who took part in the study and, like a darkroom photo immersed in developer, a familiar picture begins to reveal itself.
The Joyce Foundation, a long-time contributor to anti-gun causes, is reported to have provided $900,000 in funding for the study. As you may recall, the Joyce Foundation provided funding for the Entertainment Industries Council, Inc., an industry organization that attempts to inject anti-gun messages into Hollywood productions (see "Advise and Deceive," Jan. 2004).
The Joyce Foundation also made a major push in 2004 to have the Clinton "assault weapons" ban extended, by awarding grants to gun-ban groups and publishing a feature in their newsletter entitled "Not Your Grandfather's Rifle," and, between 1993 and 1997, reportedly disseminated $13.2 million among 55 gun control organizations.
"(John) Lott argued that murder rates decline after the adoption of RTC laws even after allowing for the effect of other variables that affect crime rates.

The Committee has confirmed this finding . . . in view of the confirmation of the findings that shall-issue laws drive down the murder rate. it is hard for me to understand why these claims are called fragile."

-- James O. Wilson

Professor of management & public policy of UCLA
Also helping fund the study were the Centers for Disease Control and Prevention--a frighteningly anti-gun bureaucracy if ever there was one. Before Congress slashed its funding in 1995 due to its torch and pitchfork crusades against guns, the CDC, under the Clinton administration, was hedging toward having guns labeled as a health epidemic through misleading studies and headline-grabbing announcements that threatened the gun rights of all Americans.
Interestingly, the CDC published its own study in 2003 that--you guessed it--could find no proof that gun control laws lowered violent crime rates, suicides or accidental shootings. Its conclusion? "We are calling for additional high-quality studies." (See "The CDC's On-Going Infection with the Anti-Gun Bug," Dec. 2003).
Apparently, the National Research Council's report is the CDC's further "high-quality" study (they helped finance it, right?), which also found that gun controls have no positive effect on violence, though they call for even more additional studies. It's becoming a very familiar refrain.
The David & Lucille Packard Foundation was another contributor to the study, and another contributor to anti-gun groups. In fact, of the five organizations contributing to the study, only two can, at first glance, be construed as having no overt anti-gun leanings.
As for those academicians taking part in the study, only one of the board members could be characterized as not being anti-gun at the outset of the study, according to Lott. His name is James Q. Wilson, and he was the only member of the panel who published a dissent to the board's findings.
The Lone Dissenter
Wilson, professor of management and public policy at ucla, dissented to the panel's findings concerning a review of Right-to-Carry laws and their effect on crime rates.
In the NRC report, the panel claims that it is "not possible to determine that there is a causal link between the passage of Right-to-Carry laws and crime rates," despite the evidence reviewed. In the chapter covering RTC laws, Lott's studies into this arena are reviewed by the committee.
Wilson--the lone academic who could be called "not anti-gun"--takes exception to these findings. In his dissent, Wilson writes that the committee's review of various Right-to-Carry studies, "suggests to [Wilson] that for people interested in RTC laws, the best evidence we have is that they impose no costs but may confer benefits. That conclusion might be very useful to authorities who contemplate the enactment of RTC laws."
In his dissent, Wilson points out that, "If this analysis of Lott's work showed that his findings are not supported by his data and models, then the conclusion that his results are fragile might be sufficient. But
my reading of this chapter suggests that some of his results survive virtually every reanalysis done by the committee.
"Lott argued that murder rates decline after the adoption of RTC laws even after allowing for the effect of other variables that affect crime rates. The committee has confirmed this finding . . . In view of the confirmation of the findings that shall-issue laws drive down the murder rate, it is hard for me to understand why these claims are called 'fragile.'"
In the panel's response to Wilson's dissent, they reiterate their initial findings: More study is needed.
Enough Already
Is more study really needed? Fact is, decades of gun control laws, of freedoms suspended, have resulted in no quantifiable evidence that they lower violent crime rates.
As Lott notes, more research isn't a bad thing. Yet, there does come a time when existing research must be reviewed and some sense made of it--even if it doesn't jibe with the gun-ban philosophy of anti-freedom organizations and politicians.
The National Research Council found that gun control laws haven't lowered crime. Period. Perhaps it's time to start restoring Americans' freedoms, instead of calling for yet more studies trying to prove the faulty gun ban arguments.