At NRA's 152nd Annual Meetings in Indianapolis last month, the NRA-ILA Grassroots Division was proud to honor the latest winners of the NRA-ILA Jay M. Littlefield Award. This annual award recognizes individual NRA members for their meritorious defense of the Second Amendment.
Joey Marie is an NRA-ILA Frontlines Activist Leader of our North Carolina NRA-ILA Grassroots team. In her role as a Frontlines Activist Leader, Joey was NRA-ILA's greatest volunteer in North Carolina. Living in Johnston County, just outside of the Raleigh-Durham metro area, Joey was a valuable resource in a pivotal election area of the Tar Heel State. Whether it was helping organize events, reaching our targeted voters, finding 2nd Amendment Activist Centers, recruiting new volunteers, or just being our eyes & ears on the ground, there was not a single time that Joey was unwilling, or said "no" when asked to help. As a new Grassroots Coordinator began overseeing North Carolina, and a new Campaign Field Representative began working in the area, Joey Marie provided great insight and advice that made learning the greater Raleigh area's political landscape much easier. Not pictured.
Stacy Simons has been a Nevada NRA-ILA Frontlines Activist Leader since 2018. Her high commitment and energy in support of NRA, and her willingness to help advance the Second Amendment through grassroots service, are well known, not only in southern Nevada, but nationwide. She always goes above and beyond to support the cause and inspire others to do the same. She regularly attends and hosts various events helping to promote NRA and the Second Amendment. Her bright smile and fun personality draws people in, and she is able to convince first-time-shooters and gun owners to get involved with important NRA-ILA efforts.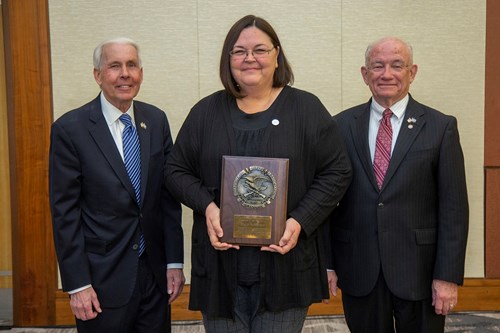 Matt Balla is the owner of Peacemakers Gun Range in Howell, Michigan. Matt serves the Second Amendment in many different ways, and his ongoing support of NRA-ILA is invaluable. He has consistently helped to host NRA 2A Days and NRA FreedomFest events, as well as generously donating his time, resources, and shop for any use to help engage and educate the community. The NRA-ILA Grassroots staff is very grateful to have partners like Peacemakers Gun Range, that do all of the important work in supporting the Second Amendment community every day, in every way!