Maryland State Police have released the state crime statistics from 2021, and unsurprisingly, homicides and shootings have continued to follow an upward trend since 2013. This is despite former Governor, and brief presidential candidate, Martin O'Malley's so-called "Firearm Safety Act" (FSA), which passed and was signed into law in 2013, and other anti-gun laws passed since then. State and county officials continue to peddle the lie that the FSA made Maryland safer, but the increasing carnage does not seem to support that claim.
From 2A Maryland: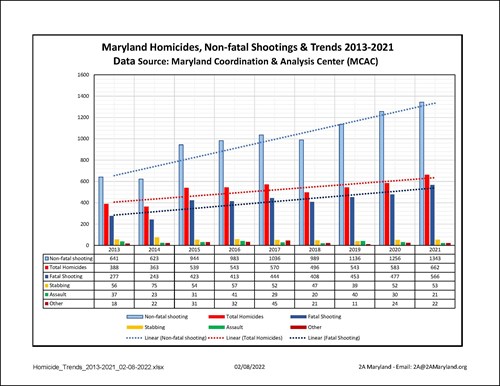 The deceptively named FSA was not about firearm safety. Instead, it infringed upon the Second Amendment rights of law-abiding citizens by banning commonly-owned firearms determined by arbitrary standards, banning the transfer of magazines over an arbitrary ten round limit, banning acquiring handguns without first going through government red tape and paying a fee for a Handgun Qualification License, and requiring new residents to register lawfully possessed, regulated firearms they bring in from out-of-state.
When passing the FSA, or any of the other anti-gun laws, the General Assembly was not interested in enforcing existing laws and holding violent criminals accountable for their actions. Year after year, they continue to introduce more bills to further erode Second Amendment rights while still preventing the majority of law-abiding citizens from protecting themselves and their loved ones by maintaining Maryland's may-issue system of requiring an arbitrary "good and substantial" reason to exercise the right-to-carry.
All seats in both chambers of the General Assembly are up for election this year. It is important that all gun owners and other Second Amendment supporters remain vigilant during the legislative session and think forward to the election season. Please stay tuned to www.nraila.org and your email inbox for further updates.