| | |
| --- | --- |
| Date: | June 29, 2021 |
| To: | USF & NRA Members and Friends  |
| From: | Marion P. Hammer |
|   | USF Executive Director |
|   | NRA Past President |
Governor Ron DeSantis has received HB-259 (Church Carry) which restores your right to protect yourself and your family in church. 
ACTION NEEDED: 
Please email or Call Governor Ron DeSantis and ask him to please sign HB-259!  
EMAIL: [email protected] 
CALL: (850) 717-9337

 Click here to view the bill here: 
https://www.myfloridahouse.gov/Sections/Documents/loaddoc.aspx?FileName=_h0259c2.docx&DocumentType=Bill&BillNumber=0259&Session=2021 
This bill authorizes persons who have concealed weapons or firearms licenses to carry firearms on property of churches, synagogues, or any other religious institutions, unless specifically prohibited to do so by the church, synagogue, religious institution or other property owner. 
The House bill was sponsored by Rep. Jayer Williamson (R) and Rep. Cord Byrd (R) and Co-Sponsored by the following: (all Republicans) Alex Andrade, Melony Bell, Mike Beltran, Chuck Brannan III, Nick DiCeglie, Wyman Duggan Juan Fernandez-Barquin, Elizabeth Fetterhoff, Randy Fine, Jason Fischer, Erin Grall, Tommy Gregory, Joe Harding, Fred Hawkins, Blaise Ingoglia, Tom Leek, Randy Maggard, Patt Maney, Ralph Massullo, Jr., Stan McClain, Toby Overdorf, Bobby Payne, Spencer Roach, Will Robinson, Bob Rommel, Rick Roth, Anthony Sabatini, Michelle Salzman, Jason Shoaf, Tyler Sirois, David Smith, John Snyder, and Clay Yarborough.     
The Senate companion bill was sponsored by Sen. Joe Gruters (R) and Co-Sponsored by the following: CoSponsors:  Ben Albritton (R), Dennis Baxley (R), Jennifer Bradley (R), Jeff Brandes (R), Doug Broxson (R), Travis Hutson (R), Ray Rodrigues (R), Ana Maria Rodriguez (R), Senate President Wilton Simpson (R)

GUNS AT CHURCH BILL TEED UP 
June 28, 2021
NSF Staff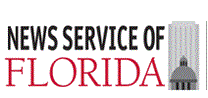 © 2021 The News Service of Florida. All rights reserved; 
Gov. Ron DeSantis on Monday formally received a bill that would let people with concealed-weapons licenses carry guns at churches or other religious institutions that share properties with schools. 
Lawmakers passed the measure (HB 259) this spring after it was debated repeatedly in recent years. Florida law generally allows people to carry concealed weapons at churches, synagogues, mosques and other religious institutions, but it bars being armed on school properties. That leads to people being prevented from carrying guns on properties shared by religious institutions and schools. 
The bill would change that, with Senate sponsor Joe Gruters, R-Sarasota, saying in April that it closes a "loophole" and that it would improve safety at religious institutions. 
Democrats, however, disputed that it would improve safety. "These are religious institutions. They're supposed to be peaceful places of worship," Sen. Gary Farmer, D-Lighthouse Point, said during the legislative session. "Why anybody would bring a gun to a church is beyond me."