Early Thursday evening, on a 84-56 vote, the Texas House gave initial approval to House Bill 1927, by Rep. Matt Schaefer (R-Tyler), an NRA-backed permitless carry proposal that would allow law-abiding citizens to carry a handgun without a state-issued License To Carry (LTC).  This is the first time a permitless carry bill has been debated by, and passed out of, one legislative chamber.  Earlier today, the House gave final approval to HB 1927 and voted 87-58 to send the measure to the Texas Senate.  Click on the links provided to see how your State Representatives voted on HB 1927.  Be sure to thank those who supported permitless carry!
Thank you to Rep. Schaefer for authoring this important bill, to House Committee Chairmen James White (R-Woodville) & Dustin Burrows (R-Lubbock) for moving the legislation through their committees, and to Speaker Dade Phelan and his team for their leadership on this critical measure.  
It's time for Texas to join the 20 other states that have legalized this personal protection option!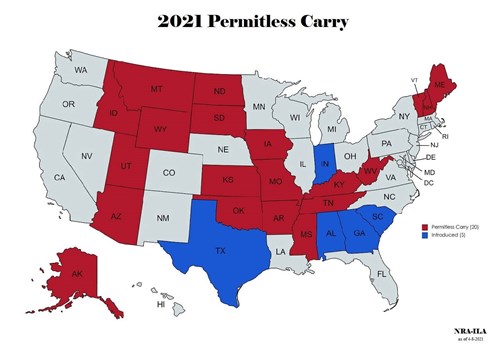 Please begin contacting your State Senators to urge them to support HB 1927 and TO PASS PERMITLESS CARRY THIS SESSION!  The existing LTC law would not be repealed under this measure.  Criminals who are prohibited from possessing firearms (i.e., felons, fugitives from justice, domestic abusers) and individuals committed by the courts for mental illness, would still be barred from carrying guns.  This legislation would not prevent the enforcement of any laws broken by criminals who misuse firearms.  
This week also saw positive action on many more key pro-Second Amendment bills.  We will send an update out to you this weekend about those measures!