Update: The hearing agenda has been posted on the evening of 2/8/2019.  For more information, click here.
On Tuesday, February 12th, at 8:00AM a special joint judiciary hearing will be held to discuss a gun proposal.  At this time, there are no official documents confirming this meeting, nor has a bill been officially introduced.  However, for weeks, anti-gun activists and anti-gun legislators have been preparing and sending out information like what is pictured below.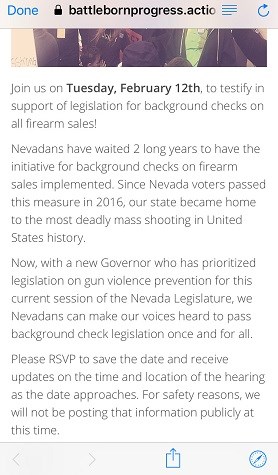 Rumor has it that anti-gunners will be traveling in from various parts of the country to participate in this hearing; clearly a coordinated effort that has left the general public in the dark.  This is politics at its worst and a pure abuse of process and power.  We anticipate that various rules will be suspended to allow this secret legislative proposal to pass through both chambers of the Legislature and to the Governor's desk in a matter of hours.  It's critical that gun owners across the state of Nevada contact their legislators immediately and voice opposition to this secretive process that will result in the restriction of your rights!  Please also consider attending the hearing either at the Capitol Building in Carson City or the Grant Sawyer Building in Las Vegas.  Public comment time will be afforded.
While the language of the yet to be introduced bill has remained secret, it is anticipated that it will be an attempt to implement the flawed background check initiative.  One of the major problems with legislating through initiative is that it does not allow for public input; however, based on this tactic, the message is clear: Anti-gunners don't want input.  They want more restrictions on law-abiding citizens.
Question 1 – The Background Check Initiative
Narrowly passed by less than 1%

Was opposed by 16 out of 17 sitting sheriffs

Was voted down by every county other than Clark

There were more votes cast against Question 1 than votes for Hillary Clinton, who won the state in 2016.

Proponents heavily backed by former New York City Mayor Michael Bloomberg spent more than $20 million dollars on their efforts, outspending pro-gun opposition efforts by a margin of more than 4 to 1.
After two years of proponents blaming the failed implementation on former Attorney General Adam Laxalt and Governor Sandoval, this secret legislation validates that there was no obstruction.  Instead, it reiterates the point that NRA and other opponents consistently made along with the various policy issues: this initiative was poorly drafted. 
Again, an official committee agenda has not been released, nor has a bill been introduced.  It's possible that the bill could potentially contain more than just a potential legislative "fix" to the flawed background check initiative.  Your NRA will keep you updated if and when more information is made available.
Click here to find and contact your legislator.