Today, in a private signing ceremony, Governor Chris Sununu signed Senate Bill 12 into law.  Similar legislation had been vetoed by former Governor Maggie Hassan for two years in a row, but thanks to your active involvement, law-abiding gun owners will now be able to carry their firearms without a required permit in the state of New Hampshire!  This law goes into effect immediately.  Please take the time to thank your state legislators for passing this important legislation and Governor Sununu for signing it into law.  
Sponsored by Senator Jeb Bradley (R-3), SB 12 will repeal the license requirement to carry a concealed pistol or revolver, unless a person is otherwise prohibited.  For those who choose to obtain licenses, SB 12 will also increase the length of time in which a license is valid from four years to five years.
In New Hampshire, existing state law recognizes the right of any citizen who can legally own and possess a firearm to carry it openly, either loaded or unloaded, anywhere in the state not prohibited by law.  However, if a firearm becomes covered by a coat or if a woman prefers to carry a firearm for protection in her purse, he or she would need a concealed carry handgun license.  The new law will extend permitless open carry to permitless concealed carry, allowing law-abiding gun owners to protect themselves and their loved ones in the manner that best suits their needs.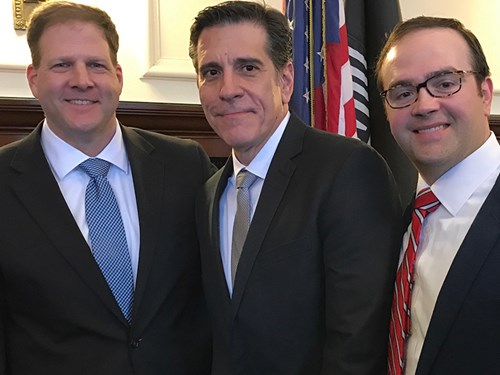 Left to right: Governor Chris Sununu, NRA-ILA State Liaison John Hohenwarter and NRA ILA Director of State and Local Affairs, Lacey Biles