New law to take effect on January 1, 2016  
On Saturday, with representatives of your NRA-ILA and our affiliate Texas State Rifle Association present, Governor Greg Abbott (R) signed into law House Bill 910, sponsored by state Representative Larry Phillips (R-Sherman) and state Senator Craig Estes (R-Wichita Falls).  This landmark legislation will bring the total number of states recognizing the right of open carry to 44.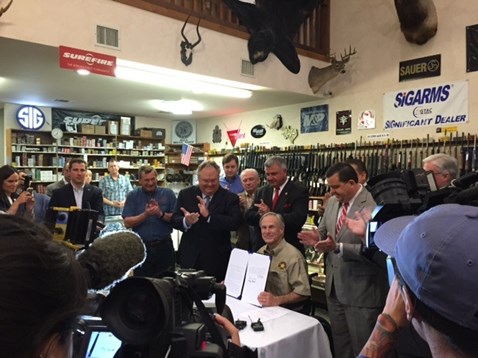 The NRA-backed legislation removes the requirement for Concealed Handgun Licensees (CHLs) to keep their handguns concealed by giving them the option of carrying their firearm either wholly or partially visible in a belt or shoulder holster.  With a 20-year record of law-abiding and responsible behavior, Texas CHLs deserve this opportunity and this self-defense option.
Your phone calls and emails to lawmakers in support of HB 910 made the difference!   Please thank Governor Abbott for signing this important measure into law, our bill sponsors, Rep. Phillips and Sen. Estes, for their dedication and hard work throughout the legislative session, and to Lt. Governor Dan Patrick, House leadership and our legislative supporters for shepherding this landmark measure through the legislative process.
******
Governor Abbott also announced the signing of Senate Bill 11. Legislation sponsored by State Senator Brian Birdwell and State Representative Allen Fletcher, SB 11 removes the blanket criminal prohibition on campus carry by Concealed Handgun Licensees. Texas is now the 7th state to allow concealed carry on college campuses.