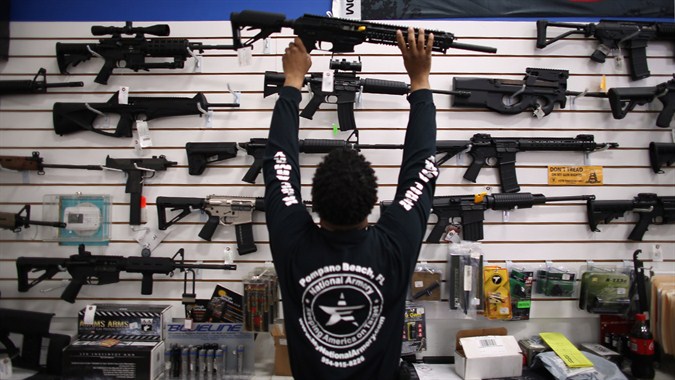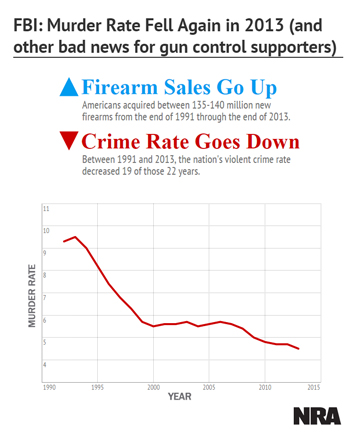 Click Image to Enlarge

All categories of violent and property crime declined from 2012 to 2013, the FBI has announced, in conjunction with the release of its annual crime report for 2013. 

From 2012 to 2013, the nation's murder rate decreased five percent, to at least a 57-year low.  The 2013 rate was down 56 percent from the all-time high recorded in 1980, and down 54 percent since 1991, when total violent crime hit an all-time high.

We say that the 2013 murder rate was "at least" a 57-year low, because it may well have set an even more impressive record.  Mathematical projections accounting for the change in the FBI's data reporting methodology in 1957 indicate that the 2013 rate was lower than any time since at least 1935, which translates into a 78-year low.  There is even reason to believe that additional computations may reveal that the 2013 rate was at or near the lowest in American history.

The nation's total violent crime rate, which includes murder, rape, robbery and aggravated assault, decreased five percent between 2012 and 2013, to a 43-year low, down 52 percent since the all-time high recorded in 1991.  Rape fell seven percent, to a 40-year low, down 40 percent since 1991.  Robbery fell 3.5 percent, to a 46-year low, down 60 percent since 1991.  And aggravated assault fell 5.6 percent, to a 39-year low, down 47 percent since 1991.  Crime data for years 1960-2012 are available from the online FBI UCR Data Tool and data for previous years are found in hard copies of the FBI's Crime in the United States reports.

While Americans acquired between 135-140 million new firearms from the end of 1991 through the end of 2013, the nation's violent crime rate decreased in 19 of those 22 years.

And that inspires us to reminisce.

In the 1970s, the Brady Campaign--then known as the National Council to Control Handguns and as Handgun Control, Inc.--predicted "consequences . . . terrible to imagine" if Americans continued to buy handguns.  Americans owned 40 million handguns when the anti-gun group first made that prediction, and now we own over 100 million.

Alas, now we realize what the group meant by "terrible consequences."  Consequences NOT for the American people, but for gun control supporters whose agenda depends on convincing people that more guns necessarily means more crime.