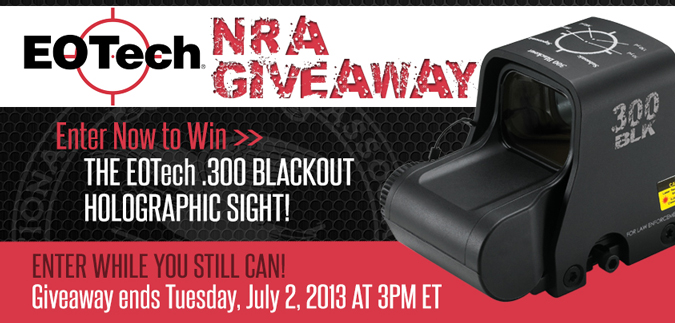 We're giving away an EOTech .300 Blackout Holographic Sight on Facebook!  Enter the NRA Giveaway by Tuesday, July 2 at 3 p.m. ET for a chance to win. CLICK HERE TO ENTER.
The OPS2-300 offers a 2-dot ballistic drop reticle that allows the shooter to zero either subsonic or supersonic rounds in the same reticle pattern.  Offered in the XPS2 platform, it is the shortest and lightest HWS sight available.  Featuring a .300 Blackout custom laser etched hood and waterproof capability up to 10ft, functionality and durability are at the forefront.
If you haven't already, be sure to "like" the NRA on Facebook at http://www.facebook.com/NationalRifleAssocation.  In addition, please ask your friends and family to do the same!
If you are on Twitter, please "follow" @NRA or visit http://twitter.com/NRA.