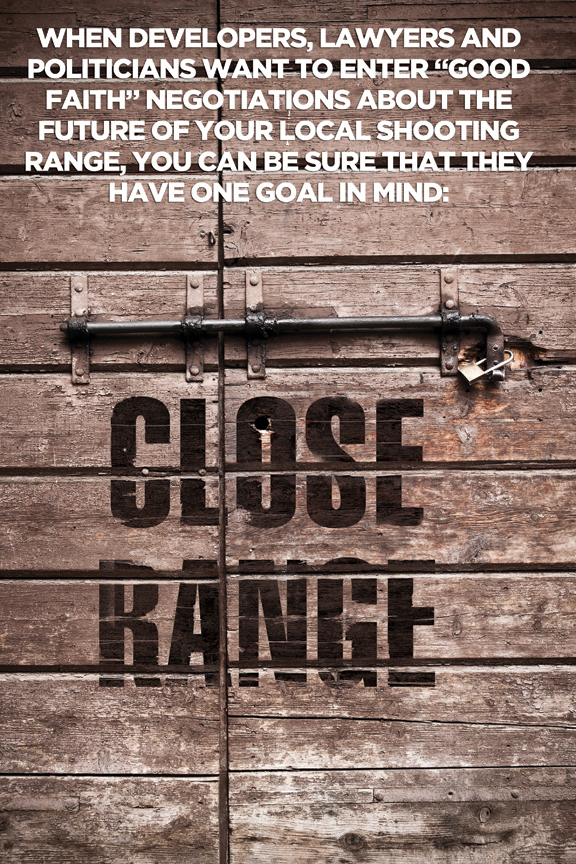 With shooting ranges increasingly under attack, range operators and shooters should know how to fight lawsuits designed to shut them down.
by Martha A. Dean, Esq.
Your right to shoot firearms is under attack, and gun clubs need to be prepared for a fight.
Although the Second Amendment protects your Right to Keep and Bear Arms, having a right to own firearms is meaningless if you lose your right to shoot. For rifle owners especially, this usually means shooting at an outdoor range, and those ranges are increasingly coming under legal attack.
A recent example is the Metacon Gun Club, Inc. of Simsbury, Conn. For years, this premier, private outdoor 100-yard range has been the target of a series of legal attacks aimed at shutting it down. When local anti-range residents and a developer with land close to the range filed multiple lawsuits, their scattershot claims raised noise, environmental, zoning and safety issues at the local, state and federal levels.
Today, five years after a federal lawsuit, two state lawsuits, one zoning appeal and a large media war, the club is finally free of this litigation nightmare. In the end, Metacon prevailed on all issues and in all venues in which the anti-gun battle against it was waged.
Here's a short description of the most important steps the club took to win--steps that other range owners and clubs should take to protect their own ranges if they come under fire.
Don't Dismiss Early Warning Signs
Metacon's president first called me in the winter of 2004. The club's leadership was worried that litigation was imminent. There had been rumblings and a negative literature campaign from a few people living on the mountainside to the north and south of the range. One developer with large land holdings neighboring the state police range next to Metacon attempted to close those ranges many years earlier.
There had also been an increase in residents' noise complaints. This seemed to follow Sept. 11, 2001, when law enforcement agencies increased training at both the state police's outdoor ranges and at Metacon's outdoor range. Connecticut law protects ranges in the state from liability for noise. Still, Metacon was wise to seek legal advice immediately instead of waiting for more trouble to develop.
Choose Your Best People
Metacon, a club of approximately 700 members, took an important step early on to ensure its ultimate victory in the litigation: it selected several of its wisest, most informed and prudent members to serve on a "confidentiality committee." The committee's job was to make discreet strategic decisions on the club's behalf during the litigation. The high caliber of the people selected for this committee may have been the single most important ingredient in Metacon's success.
Move A Strong Team Into Position
Metacon eventually succeeded because the club decided to move quickly at an early stage. Before the club was actually sued, Metacon retained counsel, and developed and began executing a legal strategy. (In a federal citizen's suit, there can be a heavy penalty for waiting until litigation is commenced.)
Implement Strategy Early
Immediately after retaining counsel, the club reviewed its practices, rules and regulations, obtained expert reports on the safety of its range, and retained environmental and safety experts and consultants to assist with the anticipated litigation. Within a few months, by the summer of 2004, three lawsuits were filed against the range.
These lawsuits raised claims under federal hazardous waste and clean water laws, and state nuisance (safety and noise) and unreasonable pollution laws. In addition, the range opponents attempted to resurrect an old zoning challenge to the club's right to shoot.
Local newspapers and TV stations covered the range opponents' most sensational claims of danger to public trails and to homes, and of pollution to wetlands and the Farmington River. The New York Times ran a lengthy story in its weekend edition. When the first legal shots were fired, however, Metacon was ready.
Find Out What's Really Going On
The lack of success of good faith negotiations with Metacon's opponents made it clear from the outset that the range opponents had no interest in changes at the range or in settling. One or more of the range opponents clearly wanted the range closed down.
Once it became apparent from public documents and depositions that the controversy appeared to be over development rights to valuable land, Metacon refocused its efforts from negotiation to winning the lawsuits. Ranges need to be clear from the outset on the reasons for litigation against them to ensure correct strategies and decisions.
How Can NRA Help Your Range?
NRA Range Services offers a number of resources to public and private ranges across the country including on-site assistance, educational seminars, grants and much more.
The NRA Range Technical Team is a nationwide network of volunteers trained in the field of shooting range development, design and operations. Services provided by Range Technical Team Advisors (RTTAs) include: range planning assistance, range use and procedural evaluations, and range safety and design evaluations.
NRA also hosts the Range Development & Operations Conference--a five-day industry seminar designed to educate range owners and operators, of both existing and proposed range facilities, in identifying potential problems associated with engineering, environmental issues and safety.
NRA's guide to planning and constructing shooting ranges, "The NRA Range Source Book," provides basic and advanced guidance to assist in the planning, design, construction and maintenance of shooting range facilities. The source book discusses methods and technologies which may result in a greater use of range operations.
For those interested, range grant funds are made available at NRA's sole discretion to qualifying NRA-affiliated clubs and associations--with approval of the Range Development Committee--to assist with acquisition, development and improvement of shooting facilities. Applicants must be 100 percent NRA membership, NRA-Affiliated Clubs. This program is limited to $5,000 per applicant per year. Deadline for submission is August 1.
For more information, visit www.nrahq.org/shootingrange or contact NRA Range Services today at (877) NRA RANGE (672-7264) or via e-mail at range@nrahq.org.
Pursue Insurance And Other Funding
Insurance can be a vital part of a range's defense strategy. It is critical that ranges do the following: 1) ensure that the range carries appropriate insurance in amounts sufficient to cover likely claims; 2) provide timely written notice to the carrier of any claims; and 3) provide documentation to the carrier that assures that as much of the range's defense as possible is covered.
Funding provided by the NRA Civil Rights Defense Fund (NRA-CRDF) is also helpful and should be pursued early. Note that ranges are more likely to receive NRA-CRDF's financial backing where the legal issues raised affect ranges nationwide or are issues of first impression that could influence future court decisions in other jurisdictions.
Beware Of Environmental Claims
If it appears that the claims against your range are likely to include state or federal environmental claims, you must immediately engage experienced environmental defense counsel. Unlike garden-variety nuisance and trespass claims, environmental claims are complex and nuanced. Winning such claims requires knowledge of convoluted regulations and an understanding of the twisted history of applicable case law.
The continued existence of outdoor ranges in many areas is under attack by developers seeking to reap high returns through development of land near outdoor ranges. This type of litigation is on the increase. The better prepared gun clubs are to fight, the more likely they will be to win.
Providing a firm platform from which gun clubs can launch their defense can be achieved by following the steps outlined in this article. By being prepared, outdoor ranges throughout the United States stand an excellent chance of survival--and that is absolutely necessary for the fulfillment of any meaningful Right to Keep and Bear Arms.
ATTORNEY MARTHA DEAN practices environmental law and defends outdoor shooting ranges. She is a graduate of Wellesley College, B.A. '82, and the University of Connecticut School of Law, J.D. '86. She is a member of the Connecticut Bar (1986), and is admitted to practice before the U.S. District Court (Connecticut) (1995), U.S. Court of Appeals (2nd Circuit) (2000) and the U.S. Supreme Court (2001). At press time, Dean is a candidate for Connecticut attorney general.