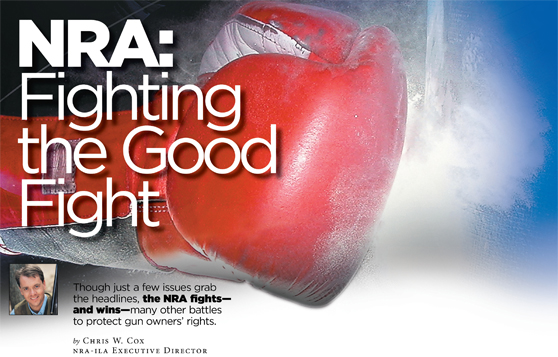 IF I COULD USE ONE WORD to describe the political mood in Washington right now, it would be "intense."
Political battles over health care, economic recovery and other issues dominate the headlines. And while Congress has taken on a few high-profile gun issues--especially interstate Right-to-Carry, Right-to-Carry in national parks, and the battle to reform gun laws in Washington--your NRA-ILA has worked behind the scenes to protect and advance the interests of gun owners in many other areas. Though some bills have come to a vote and others haven't, all of them provide opportunities to expand our freedoms on the national level.
The Power of the Purse
In an annual ritual nearly as predictable as the Cherry Blossom Festival, but a lot less pleasing to look at, Congress passes a dozen bills each year to fund federal agencies in the appropriations process. And every year, the NRA-ILA works to protect and improve important legislative provisions, known as "riders," that are included in these "must pass" bills. On July 30, 2009, the House of Representatives completed the last of its 12 appropriations bills for 2010.
The Justice Department bill alone had 11 pro-gun riders--ranging from a 30-year ban on centralization of gun dealers' transaction records, to a ban on denying federal firearms licenses to small, inactive dealers, to a provision that protects importation of historic "curio or relic" firearms. And despite howls of protests from gun ban groups and their lawyers, the bill even includes the Tiahrt Amendment, which protects gun owners' privacy and police officers' safety by blocking inappropriate disclosure of firearms trace data.
In the Defense Department bill, a long-standing rider prevents the destruction of surplus firearms such as M1 Garand rifles, M14 rifles and M1911 pistols. This year, in the wake of a defense agency's short-lived decision to destroy spent cartridge cases fired in military training rather than sell them for reloading, the rider was strengthened to prohibit the destruction of all ammunition components.
As the U.S. Senate takes up the appropriations bills, the NRA-ILA will work to ensure these provisions are included in the final bills sent to President Obama.
Reform BATFE
For many years, reform of the Bureau of Alcohol, Tobacco, Firearms and Explosives (BATFE) has been a top priority for the NRA. In April 2009, Sen. Mike Crapo, R-Idaho, and Judiciary Committee Chairman Patrick Leahy, D-Vt., introduced the "Bureau of Alcohol, Tobacco, Firearms and Explosives Reform and Firearms Modernization Act" (S. 941). In the House, Congressmen Steve King, R-Iowa, and Zack Space, D-Ohio, introduced its companion, H.R. 2296.
The bills protect licensed gun dealers from harassment, set standards for enforcement and penalties, and provide for a fairer appeals process. These bills are vital to protect federal firearms licensees from unfair treatment; after all, if there are no gun stores, we gun owners are in trouble. (For more on
this bill and other BATFE issues, go to www.nraila.org/batfe).
Mexico, the State Department and More
As we've reported in these pages before, there are many international threats to our Second Amendment rights--from the United Nations, and regional treaties and initiatives pushed by the State Department itself.
The bill to authorize State Department activities (H.R. 2410) originally contained a provision calling for a "Task Force on the Prevention of Illicit Small Arms Trafficking in the Western Hemisphere," language with a lot of potential for anti-gun mischief.
After the NRA-ILA explained the problems with this provision to Congress, the bill that went to the House floor limited the duties of the "Task Force" and--because everything gun traffickers do is already illegal--instead focused its activities on enforcement of current regulations.
The original bill also contained language supporting ratification of the Organization of American States firearms treaty signed in 1997 by President Clinton. Since this treaty could require the U.S. to pass laws regulating activities such as home gunsmithing or handloading, the NRA has strongly opposed Senate ratification of the bill. After we voiced our concerns, the House dropped the OAS provision as well. The amended bill passed the House and now awaits Senate action.
Protecting History
In February, Rep. Denny Rehberg, R-Mont., introduced H.R. 442, the "Veterans' Heritage Firearms Act." This bill addresses a situation that's both sad and all too common. Today, for example, when family members settling an estate find a captured MP40 that their grandfather brought back from World War II, they often have no legal option except to surrender it to a law enforcement agency or government-run museum. The reason is that many of these valuable, historic firearms are subject to regulation under the National Firearms Act, but weren't registered during the short, poorly publicized amnesty period that took place in 1968.
Rep. Rehberg's bill provides for a new 90-day amnesty period during which veterans or their immediate family members can register these firearms, as long as the firearms were acquired during overseas service in the U.S. armed forces before 1968. The bill will also allow transfer of these firearms to legitimate private museums.
Rights on the Rails
One of our most cherished rights as Americans is the right to travel. Whether it's heading out on a dream hunt, or just visiting family in another state, many of us travel with firearms. If you travel by car, the Firearms Owners' Protection Act protects you from local interference. If you fly, the Transportation Security Agency has rules for transporting guns in your checked baggage. But for almost a decade, those who travel by train have been prohibited from bringing firearms along at all.
To correct this, Sen. Roger Wicker, R-Miss., offered an amendment to the Senate budget resolution (S. Con. Res. 13), that would have prohibited funds from being appropriated for Amtrak unless Amtrak allows firearms in checked baggage on trains. With NRA support, the amendment passed the Senate by a 63-35 vote, but (unfortunately) was removed in negotiations with the House.
Sen. Wicker later introduced a separate bill on the issue and on September 16, he tried again by offering an amendment to the transportation appropriations bill. Again with strong NRA support, that amendment passed by an even larger margin of 68-30. It's too early to predict the final outcome, but we hope Sen. Wicker's persistence will pay off for traveling gun owners.
Public Housing, Private Rights
For Americans living in public housing, the right to self-defense is not just a theory--it's a necessity. Ironically, many public housing supporters in Congress also favor gun bans that disarm vulnerable low-income residents, even though the criminals who prey on these citizens continue to arm themselves.
With that in mind, Rep. Tom Price, R-Ga., offered an amendment to a public housing reform bill (H.R. 3045) that forbids all public housing agencies from banning the "lawful possession or use of firearms in federally assisted housing."
This amendment was adopted in committee by a 38-31 vote, but opponents promise to manipulate the rules to remove it. At press time the bill awaits consideration by the full House of Representatives, and the NRA is ready to fight for this important provision.
Interstate Gun Sales
Interstate handgun sales were banned in 1968, supposedly to allow states to better enforce their own licensing or waiting period requirements. Those systems have been overtaken by modern technology, which now allows for a national background check for every firearm sold by a gun dealer in every state.
To bring things into the 21st century, Rep. Steve Scalise, R-La., introduced the "Firearms Interstate Commerce Reform Act" (H.R. 1074). The bill allows interstate handgun sales by licensed dealers at their licensed premises. It also lets dealers do business at gun shows in states other than the state on their license, and transfer all types of firearms in face-to-face transactions with other FFLs (reducing the risk of loss or theft during shipping). Sen. David Vitter, R-La., introduced a similar bill in the Senate.
The NRA will continue to look for opportunities to advance this proposal. In fact, the Ensign amendment on D.C. gun laws contained a limited reform that allows D.C. residents to buy handguns in Maryland and Virginia.
The Long View
Some of the legislation we're pushing this year will pass. Some of it won't. That's the way the legislative world works.
But it's always important to take a realistic, long-term view. Some of the legislation mentioned in this article may not pass for a long time to come, but patience and persistence pay off. For example, the Firearms Owners' Protection Act was first introduced in 1979, but not signed into law until seven years later. And though the first lawsuits aimed at bankrupting the gun industry were filed in 1998, it also took seven years to block those with the Protection of Lawful Commerce in Arms Act of 2005.
Both of those bills were great grassroots victories. With the continued strong support of NRA members like you, there will be more victories like those in the years to come.