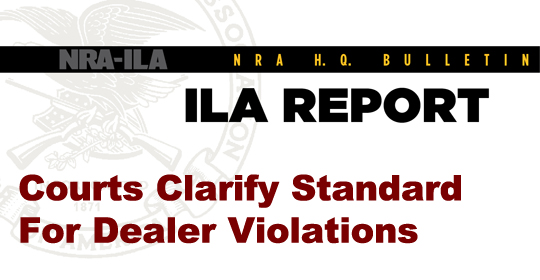 Two federal appeals courts recently handed down important decisions that clarify the standard for revoking a dealer's federal firearms license (FFL). While the Bureau of Alcohol, Tobacco, Firearms and Explosives (BATFE) can only revoke an FFL for "willful" violations of the law, the batfe has argued that repeated recordkeeping errors are all it takes to prove a "willful" violation. All too often, the courts have agreed.
In the two new cases, the courts took a harder look at BATFE's argument--and at their own past decisions.
The first case, decided in Oct. 2008 by the Sixth Circuit U.S. Court of Appeals, involved ArmaLite, Inc., a well known and reputable Illinois gun manufacturer that also had a dealer's license for a location in Ohio. batfe revoked the license for Armalite's Ohio location due to errors in the store's records, and ArmaLite appealed through the courts.
Eventually, the Sixth Circuit clarified its own previous decisions, saying that an ffl only commits a "willful" violation when it "intentionally, knowingly or recklessly violates known legal requirements." Unfortunately, the court also decided that one of ArmaLite's violations met this higher standard and was enough to justify the revocation of the Ohio license. ArmaLite disagrees with that element of the decision, but had primarily fought the case to counter the administrative misuse of the term "willful."
In the second case, the Ninth Circuit U.S. Court of Appeals considered a similar appeal by The General Store, which the court described as "an aptly named retailer" in Spokane, Wash. As in the ArmaLite case, the appeals court agreed that a "willful" violation "did not mean a mere mistake or negligence." Unfortunately, the court agreed that two of the store's violations were "willful" under the stronger definition--again enough to justify the revocation.
Despite their final outcomes, these decisions mean that in future cases around the country, the BATFE will have to meet a higher standard to revoke dealer's licenses.
NRA remains committed to tightening the standard for BATFE actions by legislation in Congress, and will cover those efforts in a future report. NRA members facing similar problems with BATFE should go to www.nraila.org/batfe or call (703) 267-1160 for more information.