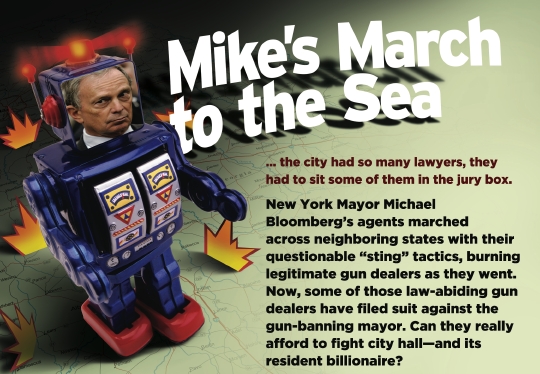 by MARSHALL LEWIN
Imagine turning on the news one evening to see the mayor of New York-a man you've never met, in a city you've never visited, more than 1,000 miles away-accusing you of federal felonies for which you've never even been charged.
Imagine the heat of fury in your face to hear some New York City politician slur your family business as "a bad apple who routinely ignores federal regulations, a rogue gun dealer with New Yorkers' blood on their hands," when you've never even gotten a parking ticket.
Imagine your friendships that chill, the business you lose, the suddenly suspended conversations you overhear in the supermarket or at church-all arising from ugly accusations leveled against you by a billionaire bully building his political career on scapegoating you, your business, your family and your freedom.
You might want to fight back. But can you fight New York's City Hall and its legions of lawyers?
That's exactly what at least two firearm dealers in Georgia and South Carolina are doing after New York City Mayor Michael Bloomberg targeted them with his anti-gun so-called "sting operations."
Jay Wallace, 51, the owner of Adventure Outdoors in Smyrna, Ga., is suing Mayor Bloomberg for slander and libel to the tune of $400 million in compensatory and punitive damages.
Larry Mickalis, 50, the owner of Mickalis Pawn Shop in Summerville, S.C., is also suing Bloomberg for defamation and lost business.
Former U.S. Rep Bob Barr, a current NRA Board member, who represents Wallace in his suit, said, "We didn't start this fight. They did. But we intend to finish it and win."
Gun-Hating Theatrics on Broadway In May 2006, New York Mayor Bloomberg kicked off an anti-gun publicity blitz that's made him a darling of the media and the gun-ban lobby for nearly two years now.
Apparently coordinating his activities with the Brady Campaign-which launched a national effort to gain access to sensitive Bureau of Alcohol, Tobacco, Firearms and Explosives (BATFE) gun trace data just four days earlier-Bloomberg announced that New York City had filed suit against 15 gun dealers in five other states.
"You should be aware," Battle wrote, "that there are potential legal liabilities that may attach when persons outside of law enforcement undertake actions typically reserved for law enforcement agents"
In a secret, two-month "operation" funded by New York taxpayers, Bloomberg hired civilian investigators to try to trick firearms dealers into making illegal so-called "straw sales"-sales in which a dealer sells a firearm with the knowledge that it is actually being purchased by someone other than the person who fills out the paperwork.
Claiming that 15 dealers in Pennsylvania, Ohio, Virginia, South Carolina and Georgia had made alleged "straw sales," Bloomberg filed a 78-page complaint against them in a federal court in Brooklyn. (Over the ensuing months, Bloomberg's lawsuit would grow to ensnare many more gun dealers in its grasp; at press time, at least 27 dealers were being sued.)
At his press conference in City Hall-fittingly located on Broadway-Mayor Bloomberg denounced the 15 firearm retailers as "rogue dealers," "bad apples," "the worst of the worst" and "a scourge on our society."
No less a thespian, Bloomberg's criminal justice coordinator, John Feinblatt, proclaimed that the firearm dealers had "New Yorkers' blood on their hands."
Despite the New Yorkers' hyperventilating histrionics, all of this came as a complete surprise to Jay Wallace and Larry Mickalis.
"I first heard about it from customers coming into the store who heard about it from the news media," Wallace said. "And I thought, I've never even been to New York or spoken to this man. It'd be one thing if he had contacted us with a complaint, but there's been zero contact. They were just backdoor sneaky about the whole thing."
Mickalis agreed, noting that, "In the 30 years I've been selling guns, no one has ever made an accusation against me who didn't work for the city of New York."
If any law was broken by any of the 15 dealers named in Bloomberg's law-suit, it was news to the BATFE, as well.
"I've always had a great working relationship with the (BATFE)," Mickalis said. Wallace echoed that sentiment: "I run my business to be 100 percent compliant, and then some. I'm proud of that."
In fact, Wallace said, several of the firearms cited by Bloomberg's lawsuit that were purchased at Adventure Outdoors and later turned up in New York City were first brought to the attention of the BATFE by Adventure Outdoors-not Bloomberg.
Moreover, after reviewing the circumstances surrounding the alleged "straw purchases" made by Bloomberg's investigators, U.S. attorneys concluded that the purchases "do not rise to a level that would support a criminal prosecution."
On the other hand, Michael Bloomberg and his amateur "secret agents" weren't as nearly in the clear.
Backlash Before the klieg lights had even cooled at Bloomberg's press extravaganza, law enforcement officials quietly worried that his "sting" could have compromised as many as 18 active investigations, according to law enforcement sources quoted in The New York Daily News.
Michael Battle, director of the Executive Office for United States Attorneys at the Department of Justice, wrote a terse letter to Bloomberg's office, with not-so-veiled censure of his unorthodox activities.
"You should be aware," Battle wrote, "that there are potential legal liabilities that may attach when persons outside of law enforcement undertake actions typically reserved for law enforcement agents." Why? In part because "civilian efforts can interrupt or jeopardize ongoing criminal investigations," Battle wrote.
That was just the beginning of law enforcement's backlash against Mayor Michael Bloomberg.
After gun rights activists called for a probe of Bloomberg's likely illegal fishing expedition, the BATFE confirmed in February 2007 that it was "investigating to determine if violations of federal firearms laws occurred."
Virginia Attorney General Bob McDonnell wrote to the New York mayor to advise him that the commonwealth had passed legislation specifically intended to stop Bloomberg's brand of publicity-seeking pseudo-police work.
In his letter, McDonnell warned that, "such non-law enforcement activities related to undercover illegal firearm purchases will be punishable as a felony in Virginia."
In Georgia, former Rep. Barr wrote to U.S. Attorney David Nahmias and to Georgia Attorney General Thurbert Baker calling on them to launch an investigation into Bloomberg's activities, as well.
Barr's co-counsel in the defamation lawsuit against Bloomberg, Edwin Marger, said: "I think Mr. Bloomberg believes that because of his great wealth and power, he can do almost anything. I think he has deeply damaged our clients. Hopefully a jury here will make a decision to determine whether we are right or he is right."
The Legal Limbo At this writing, the lawsuits-Bloomberg's lawsuit against dozens of firearms dealers, and at least two lawsuits against Bloomberg for defamation and loss of business-continue apace, with all the motions, countermotions and elaborate dance steps of the legal ritual.
The cases are expected to go to trial in the spring, but the order in which they're to be heard is yet another point of contention. Indeed, a look at the respective contestants offers a bleak study in contrasts.
Whereas Jay Wallace and Larry Mickalis just want the whole affair to be finished, Bloomberg and company stand to profit politically the longer it drags on.
"New York City has spent, with the initial investigation of these dealers, $800,000-and there's no telling how much they've spent since then," Mickalis said. "They have a mountain of lawyers working for the city. We went to court in Berkeley County, and the city had so many lawyers, they had to sit some of them in the jury box. And here I am, with one lawyer in New York and two in South Carolina."
"New York now has, I think, five law firms working on their case against us," Wallace said. "I can't afford that. I've just got two-one in New York and one firm in Georgia-and they're small ones."
Whereas Bloomberg's teams of investigators, lawyers and paralegals can rack up billable hours like there's no tomorrow, Wallace and Mickalis don't have the luxury of feeding at the public trough.
"If it wasn't for my friends, attorneys Carl Pierce and Justin Kahn, I wouldn't have been able to fight this," Mickalis said. "They're basically working for free. John Renzulli, my lawyer in New York, I send him what I can-and I've sent him a lot-but he's practically working for free, too."
In fact, Mickalis and Wallace estimate that their losses, so far, as a result of this billionaire-orchestrated ordeal, run into hundreds of thousands of dollars. Fortunately, both are finding a great deal of support among firearm owners around the country.
"I've had people come in and put cash on the counter anonymously, and just say, 'This is to help you fight Bloomberg,'" Mickalis recounted.
Wallace now has a simple website set up--bloombergfightbackfund.com --where people can find out the latest news and learn how to help.
"The sad part is, the majority of gun dealers who would be sued like this, they can't afford to fight back even if they're perfect," Wallace said. "So if Bloomberg continues with this, he'll just be knocking down all the little guys, one after another, and that's the backbone of our industry: the independent dealer."
As expensive and as stressful as it is, Mickalis and Wallace plan to soldier on and see these cases to their conclusion. To hear them tell it, they don't have a choice.
"I understand I'm the little guy, and I'm going against a multi-billionaire," Wallace said, "but I've been cast into this arena, and I'm going to fight him to my last breath, my last whatever, because it's a matter of principle. When you have right on your side, it makes it a lot more comfortable."
"It might take a doctor to decide who's the winner and who's the loser," Mickalis concluded, "but in the long run I think I'll come out on top."
President Bloomberg?!?
THE SITUATION IS STILL DEVELOPING at press time, but by the time you read this one of the wealthiest men in the world-a multi-billionaire mayor whose signature issue has been to wage legal warfare on Second Amendment freedom-could be the most lavishly funded contender for the most powerful position on the planet: President of the United States of America.
As this is written, New York Mayor Michael Bloomberg is spending uncounted millions on a sophisticated, nationwide virtual neural network for profiling, modeling and "microtargeting" individual voters in all 50 states to calculate his chances of bagging the world's priciest political prize this November.
If he makes the attempt, he will be, perhaps, history's most moneyed aspirant to that office. According to Forbes, Bloomberg is the 25th-wealthiest American, one-third again wealthier even than billionaire gun-ban financier George Soros, and worth $11.5 billion-some even say double that.
Bloomberg is no stranger to spending what it takes to get what he wants. According to The New Yorker, in 2001 Bloomberg spent $74 million on his first successful mayoral campaign. Four years later, Bloomberg outspent his challenger by almost five-to-one, bulldozing $85 million into his re-election campaign-an act that even the Bloomberg-boosting New York Times called "obscene."
As for a possible presidential juggernaut, Bloomberg's top political advisor Kevin Sheekey says, "If it happens, it's a billion-dollar campaign."
Can the American presidency be purchased? In this chaotic election season, could Bloomberg's billions boost him to the highest office in the land? And if so, what would that mean to your precious Second Amendment Right to Keep and Bear Arms?