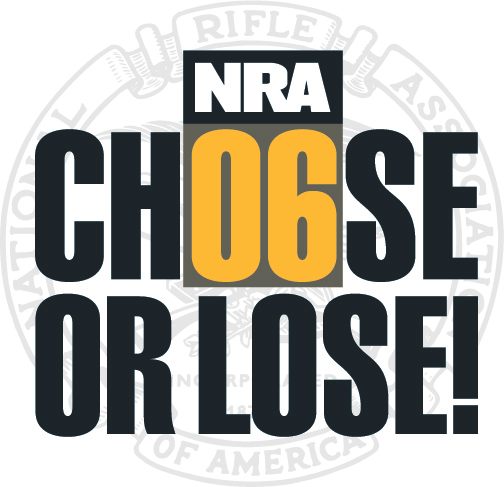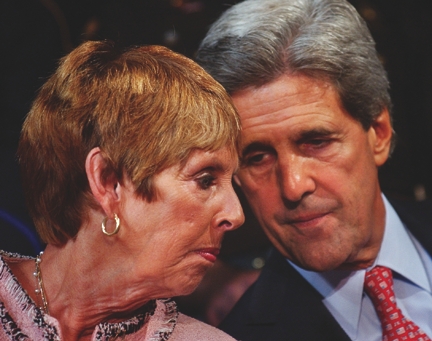 Although anti-gun lobbyist Sarah Brady and anti-gun presidential candidate Sen. John Kerry failed in their missions in 2004, Brady is optimistic about gun banners' chances on Election Day 2006, saying, "This is the opportunity we've been waiting for."
Our recent victories and future legislative objectives are at risk this Election Day if gun owners don't rally and go to the polls to support the true friends of the Second Amendment.
"... control of the U.S. House of Representatives is clearly at stake,
and our pro-Second Amendment majority in the U.S. Senate is at risk."
American gun owners have come a long way since the dark days of the Clinton administration, an administration that had an open-door policy toward anti-gun activists. Usually without any help from Congress, the Clinton administration imposed gun bans, privacy-destroying regulations and even its own interpretation of the Second Amendment. And it threatened worse in the future--lawsuits against gun makers, and more.
Today, we've rolled back all those policies and are looking to make more progress in restoring gun owners' rights. But this year's elections will dictate whether we succeed or fail. Make no mistake, control of the U.S. House of Representatives is clearly at stake, and our pro-Second Amendment majority in the U.S. Senate is at risk.
This should matter every day, to every gun owner. At best, a bad election result could lead to an agonizing stalemate between now and 2008. At worst, it would be a disaster far beyond the next presidential race, as anti-gun House leaders introduce every anti-gun scheme in the book and kill all pro-gun reforms.
For example, the House Judiciary Committee has just started to send important pro-gun reform bills to the floor (see sidebar). But if control of the House changes hands, the new chairman of that committee would be John Conyers of Michigan--the only House member still serving who voted for the Gun Control Act of 1968, who voted against the Firearms Owners' Protection Act of 1986 and who denounced crime-fighting proposals (such as Project Exile) that to his way of thinking "unwisely place a great emphasis on enforcement programs." (For more on would-be Chairman Conyers' sorry record, click here.)
Some of our pro-gun bills would reform the Bureau of Alcohol, Tobacco, Firearms and Explosives (BATFE), which often acts beyond its legal authority. But instead of reining in BATFE, the anti-gunners poised to take control of the House would increase its power. Their bill to do that (H.R. 1540 in the 108th Congress) was cosponsored not only by Rep. Conyers, but also by Rep. Henry Waxman, D-Calif., who hopes to become the next chairman of the House Government Reform Committee. It's a safe bet that on Reps. Waxman's and Conyers' watch, BATFE is one agency that would never be reformed.
Rep. Henry Waxman, who attempted to kill the Protection of Lawful Commerce in Arms Act that NRA backed to protect America's firearm industry, hopes to chair the powerful House Government Reform Committee after the elections.

Nancy Pelosi, would-be speaker of the U.S. House of Representatives

When Pelosi was elected House minority whip, she hired a former Handgun Control, Inc., spokesman as her new communications director.
But while many bills start out in Judiciary, they must all pass through the House Rules Committee before they go to the floor. The Rules Committee is a nearly all-powerful body that sets the ground rules for how a bill will be debated on the House floor--and on the amendments that can be offered. In line to fill that gate-keeping role is Rep. Louise Slaughter, D-N.Y. Rep. Slaughter is a persistent cosponsor of anti-gun bills, including a bill to ban .50-caliber rifles and to infringe on the privacy rights of law-abiding gun buyers.
Of course, the last check on this anti-gun attack would be the House leadership itself. But don't look for any relief there, because would-be Speaker Nancy Pelosi also has a decades-long anti-gun track record. Pelosi, a close ally of fellow San Franciscan Sen. Dianne Feinstein, co-chaired the 1992 Democratic platform committee that endorsed gun bans, gun licensing and gun registration, and joined Conyers in opposing expansion of enforcement programs against violent criminals. Pelosi's disdain for the Second Amendment was underscored by one of her first acts on joining the party leadership: When she was elected House minority whip, she hired a former Handgun Control, Inc., spokesman as her new communications director.
With Pelosi, Conyers and Slaughter in charge, gun control activists in the House would be out of control. Not least among those activists is Rep. Sheila Jackson-Lee, D-Tex., who has proposed amendment after anti-gun amendment. Supporting a Conyers amendment to regulate gun shows out of business, Rep. Jackson-Lee once promised on the House floor, "Dear NRA, we are going to turn the lights out on you today and the gun lobby of America."
Fortunately, Rep. Jackson-Lee's prediction was proved wrong. And this November 7, it's up to you--the members of the NRA--to keep the lights of freedom burning.