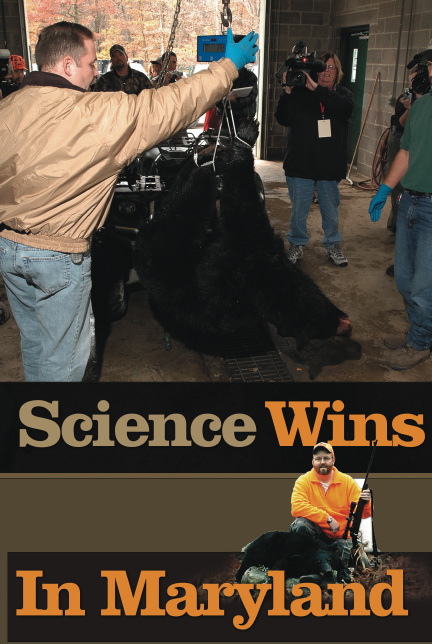 Maryland`s first bruin hunt in 51 years met its objectives in one day thanks to a detailed, data-driven plan and scientists who did their homework.

by Joe Byers
Taxidermist Christy Martin loves bears. She hunts them and is absolutely ecstatic that she will be mounting one of the first black bears to be harvested by a hunter in Maryland since 1953.
"The fellow who got the bear lives in Frederick, Md., and thinks he shot one of the first of the season," says Martin, who, along with her husband Tim, runs Martin`s Taxidermy and Wildlife Artistry in Boonsboro, Md. "It was a 200-pound female, the first bear he had seen in the wild. He was pretty excited."
Despite odds of approximately 1 in 12 of drawing a license, the hunter wasn`t too concerned about being early on opening day, since morning fog often blankets Garrett County forests during October. He had scouted the area, picked a predetermined spot and quietly slid up a tree with a portable tree stand. Around eight o`clock, he saw movement in the leaves and readied his rifle. At first the animal appeared to be a deer, yet as it came closer the dark color of a black bear became clearly evident. The hunter fired when the bruin stepped into an opening.
"I`ve asked my customer over and over again to be here for the publicity about the hunt, yet he`s afraid," says Martin, the feelings of disappointment evident in her voice. "He fears being harassed by those who protested the hunt. He definitely feels special that he got a permit and was able to get one of only 20 bears harvested. He wasn`t sure that the animal was a big one until he brought it into our shop.
The 200-pound female has a beautiful hide . . . just perfect."
The hunter told Martin that dnr officials advised him that he could remain anonymous when he arrived at the check station. A crowd of media and protestors had amassed at the station, and he feared that some protestors might later harass him or his family.
"It`s a shame the fellow has to remain anonymous because he`s done something to be proud of," says Martin. "It`s a nice Maryland bear, and he can`t show it off like he should be able to."
In contrast, Clarence Dayhoff, Jr. of Hagerstown, Md., was too enthusiastic about his bear to shun the spotlight. He had hunted bears several times in Pennsylvania and once in Canada, but with no luck.
Opening day found Dayhoff on private land in Garrett County where the landowner volunteered to make a mid-morning drive toward his position. Half an hour later, Dayhoff saw movement. A mature black bear raced by at 30 yards, and his Remington .280 was up to the challenge.
"It`s enough to make you have a heart attack," says Dayhoff, the excitement still ringing in his voice. "It`s definitely different than deer hunting."
Pennsylvania resident Kevin Morgan hunted in Allegheny County on private land and watched a power-line most of the day.
"We had a list of 10 names of landowners experiencing bear problems, but each had one or more hunters on their properties," Morgan said. "I spent six days in western Maryland scouting and looking for a place to hunt. On opening day, I sat from an hour before daylight until dark, saw eight turkey gobblers and four deer, but no bears. I had a great day and was surprised that hunters killed so many bears so quickly. I`d surely do it again."
Dave Ciekot of Cambridge, Md., may have taken the very first bear of the short season.
"I climbed into a tree stand before daylight and a bear came right to my tree at first light," he said. Ciekot`s bear, an 84-pound yearling sow, was promptly checked in amongst a whirl of media attention.
"About 40 people were there from tv stations and newspapers. Microphones were everywhere," said Ciekot. "It took longer answering questions from reporters than the hunt. I talked for more than an hour."
Ciekot, an outdoor writer, gave the entire hunt process high marks.
"I thought the hunt was incredible," he said. "The pre-hunt meeting was good, and the lottery application process went smooth. The check-in station people and the dnr staff were nice and took samples of bear tissue to conduct tests. Later, when I skinned the bear, I found its hindquarter peppered with #9 birdshot. It was probably in someone`s dumpster, and was definitely one of the bears they wanted taken out."
The Free State`s first bear hunt was scheduled to run five consecutive days in October and again in December, but ended at 9 p.m. the very first day. The goal was to harvest 30 bears during the split season, yet 20 were checked in by the end of the first day, prompting the dnr to close the season.
Nineteen bears were taken in Maryland`s western-most Garrett County and one from neighboring Alleghany County. Gender variance showed 11 males and nine females. Private land hunters accounted for 16 animals, with the remainder from public lands, a figure reflective of a 70 percent allocation of permits to private-land-only hunting.
The size of harvested animals ranged from 84 pounds to a whopping 496 pounds, with an average weight of 178.4 pounds. Fifty percent of successful hunters lived in the hunt area, while one each traveled from Pennsylvania and Iowa. Also, one woman hunter checked in a bear.
In total, 183 permits were issued, yet these hunters were joined by 198 additional subpermittees who assisted, resulting in a hunt group of 381 participants. The dnr schooled this group carefully to assure that each wore appropriate blaze orange and met state hunting or landowner regulations. Since participants had to have passed a hunter safety course or previously held a hunting license, animal "rights" fanatics were virtually excluded.
The success of the hunt sparked exuberance by state officials.
"I think it was great," said Harry Spiker, black bear project leader for the Maryland Department of Natural Resources, calling the hunt "highly successful."
"It`s too soon to say about next year," Spiker added. "We devised a conservative bear hunting model unlike any of the other states in the vicinity. We tailored the hunt to harvest nuisance bears on private property and couldn`t be happier. Eighty percent of the animals were taken on private land."
"The fact that 80 percent of the bears came from private land really let us know that the hunters did a good job of cooperating," said Spiker. "This quota system was new and unique, yet hunters checked the hotline and quit hunting when they were asked to. Even with the quick closure, we got nothing but positive comments from them.
"Reducing bear numbers helped us reach our goal," Spiker continued. "We have a denser population than the states around us (West Virginia and Pennsylvania), and this hunt helped to slow the growth and bring our numbers in line with theirs. We have implemented a number of non-lethal strategies over the years to educate people in bear country, but those do not impact population growth."
The hunt should also reduce the cost of nuisance bear damage in western Maryland. Spiker cites a conservative damage estimate of $125,000 in 2002--which does not include additional staff time that`s difficult to calculate, including "other agencies, such as the police and county extension service," Spiker said.
Back in 1996, the Maryland Legislature passed a bear stamp program whereby art stamps, t-shirts and prints would be sold, with all proceeds dedicated to offsetting damage by bears. Although this was a creative approach, Spiker reports that the proceeds reimbursed only a portion of the expense, ranging from 17 to 70 percent.
"The governor`s office has been wonderful in sticking to the science," concluded Spiker. "He has said all along that he would stay with the science, and he stuck with it."
Steven Christian, president of the Maryland Sportsmen`s Association, a group that strongly supported the bear hunt concept to reduce the population, was also delighted with how the hunt turned out.
"A success all the way around," Christian said. "The fact that the number (30) wasn`t quite reached didn`t take away from the success. In a county and a half there were just too many bears, and the fact that 20 bears were taken in just 11 hours of hunting is astounding."
Christian credits the success of the hunt to science rather than politics.
"The anti crowd knows how to raise money, but not about wildlife," Christian said. "Our governor said he would let science rule the day and he stood by his wildlife managers. Even when the Administrative Executive Legislative Review Committee (made up of members from the House of Delegates and state senators) voted
12 to 7 not to go with the dnr`s recommendations for a hunt, Governor Ehrlich said `No,` stating, `I support sound science.`"
In an excellent article in the October issue of Free Hunters magazine, Marshall Lewin contrasted the political approach of New Jersey and Maryland, each with bear problems lumbering out of control. Lewin wrote of New Jersey school children who were cautioned to carry lunch bags to school in their hand in case they were confronted by a bear. Parents believed that placing food in a backpack invited attack and serious physical injury or death to their children. Despite such a dangerous predicament, anti-hunters weighed in heavily in the political process and kept Gov. James McGreevey flip-flopping and ever-wavering on the subject of a black bear hunt.
In contrast, Maryland`s Gov. Ehrlich stayed the course with the philosophy that wildlife decisions should be based on science rather than emotion. With his support, the Maryland Department of Natural Resources conducted research, compiled data, held public hearings, gathered testimony and then prepared a plan that was tested in court.
The New York-based Fund for Animals, the Humane Society of the United States and three individual plaintiffs filed suit to stop the hunt. The animal "rights" groups charged that Maryland`s dnr had violated state law by not setting seasons and bag limits by an April deadline, and that state wildlife biologists were wrong in their assessment of the bear population.
On Oct. 18, just prior to the start of the scheduled hunt, Circuit Court Judge Thomas Smith of Prince George`s County ruled that the plaintiffs had failed to demonstrate either of those two points. The hearing lasted four and a half hours as the judge listened to the merits of the case.
"The Maryland attorney general`s office did a fantastic job of defending the hunt and the authority of Maryland`s dnr to manage wildlife," said Robert Sexton, u.s. Sportsmen`s Alliance Foundation vice president of government affairs.
The anti-hunters filled this legal hearing with attempts at technicalities and emotion-packed verbiage, yet Maryland won the case because wildlife officials had a plan, perhaps a blueprint for other battles over wildlife decisions. In a nutshell, the Free State had a "bear business plan," and a strategic one at that.
Termed "The Black Bear Management Plan 2004-2013," the 54-page document* covers the gamut of wildlife objections by those with opinions solidly based in hyperbole.
Maryland`s first 10-year black bear management plan was implemented in 1992, but much had changed since its inception. Bear numbers had increased dramatically in western Maryland, and many bears had spread into other counties. Research activities had expanded, and new techniques had been developed. As the 1992 plan drew to an end, a Black Bear Task Force (bbtf) was developed to prepare a new plan. Comprised of citizens from across the state, the bbtf met until early 2003 while it studied bear issues in the state and solicited input from the public regarding bear management. In February of 2003, the bbtf submitted its final report to the dnr and many of its recommendations became incorporated into the Black Bear Management Plan of 2004-2013.
Documenting a "bear problem" was a key element of the bbmp. The dnr had been keeping track of nuisance black bear complaints since 1984, when eight complaints were logged. The most recent data shows a dramatic increase to 417 complaints in 2003. Complaints were categorized according to bears in trash, birdfeeders, agricultural crops (the most common complaint) and others, which included bear/vehicle collisions, bears in campgrounds and those that didn`t fall into a precise category.
Although bear interactions have increased dramatically, nuisance complaints in Garrett County for birdfeeders and trash have remained relatively constant--;a fact attributed to educating the public to deal with a growing bear population. Total nuisance complaints rose 35 percent in Garrett County from 2002 to 2003, and were up 65 percent since 2000. Furthermore, nuisance complaints have spread eastward into Washington, Frederick and Montgomery (suburban Washington, D.C.) counties, and in March of 2004 a 325-pound adult male black bear was trapped in Cecil County (just north of Baltimore) after killing three domestic rabbits and raiding trash and birdfeeders.
Documenting black bear populations is difficult because the animals are mostly nocturnal and can be very elusive. To assist in this process, dnr officials took a page from the script of a popular forensic television show. "Hair snares" were created to collect hair samples from bears. Barbed wire surrounded a bait site of molasses so that a bear had to lose a follicle or two to reach it. Those samples were collected and sent to labs, where analysis of dna determined how many bears had used the sites.
In a nutshell, Maryland`s first bear hunt in half a century directly addressed a nuisance bear problem. Will the elimination of 20 bears be sufficient to reduce crop damage for local residents, lower bear damage reimbursement for Maryland taxpayers and perhaps create a bit more space between humans and dangerous animals? Data collection will answer those questions during the coming year. One thing is for sure: the hunt was a resounding victory for wildlife science and sportsmen everywhere.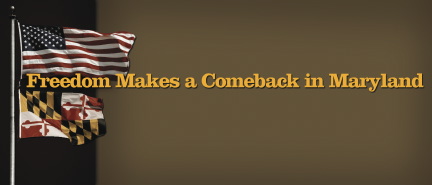 On a personal note, as a Maryland resident, this victory of science and common sense over animal "rights" fanatics is deeply gratifying. Three years ago, I organized a goose hunt during Maryland`s early nuisance goose season as a celebration for the nine miners rescued from the Quecreek Mine in Pennsylvania. The character and stamina of the men made them national and international heroes at a time when the tragedy of 9/11 still hung heavily on the national spirit.

I contacted the Maryland State Police asking for a ceremonial escort from the Mason-Dixon Line to Hagerstown, about 25 miles away, but was turned down. "We couldn`t support a hunting trip like that," I was told. "What if PETA found out?" Under the liberal government of then Democrat Gov. Parris Glendenning, there was little chance that the decision would be overruled. Plus, to protest would embarrass my guests if the word got out. Thankfully, today common sense has returned to Maryland, and Free Hunters is a voice and a forum for sportsmen to share what is right. Congratulations to all 20 successful hunters and the thousands of others who applied for a license. You have much to be proud of. -- Joe Byers