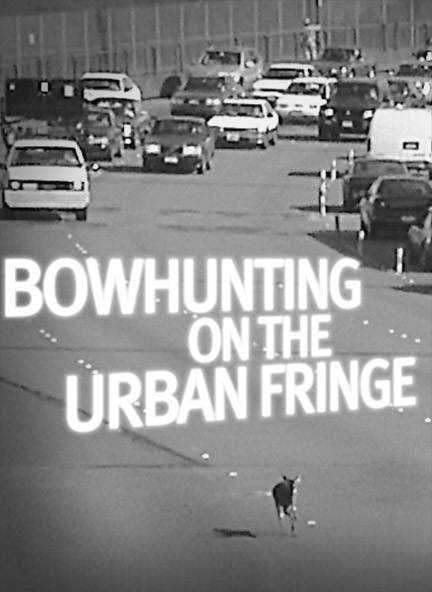 As white-tailed deer populations continue to expand in urban areas, some municipalities are turning to bowhunters to help solve the problem.
by Gary Lantz
We tend to romanticize a bit about white-tailed deer, placing the species on a pedestal along with wilderness-craving critters like grizzlies and mountain goats. But deer biologists know better, because the proof of their urbanity can be found on housing addition lawns and throughout city parks.
Whitetails are generalists, among the most adaptable animals on earth. Biologists who study this highly self-sufficient tribe point out they are as capable as coyotes when it comes to sharing real estate with humankind--a trait that bodes well for their long-term survival as human populations soar and suburbs expand.
Whitetails exist comfortably and even prevail in small urban and suburban niches like parks, golf courses, municipal lakes and natural areas. It may not be the prime wilderness habitat of the hunter`s imagination, but deer tend to be quite contented as they browse landscape shrubs, vines and flowers, litter lawns and recreation areas with their nocturnal droppings and dodge the hazards of city traffic.
A recent survey indicated that 13 percent of all vehicle accidents involved collisions with deer. In some places, the number soars as high as 15 percent, prompting a Virginia biologist to remark that "we`ve reached that cultural threshold where people have quit thinking of deer as cute."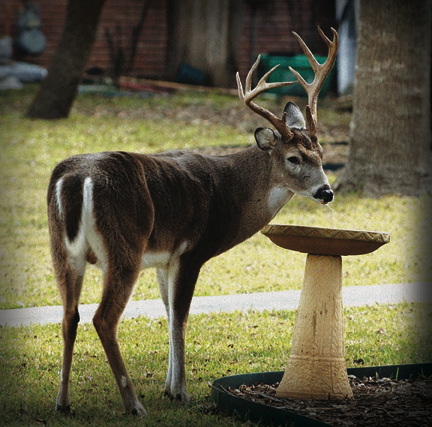 THE NEW WATERING HOLE: In sprawling urban areas, concrete lawn ornaments have been replaced by the real deal.
Basically, Bambi becomes an urban villain when overpopulation results in the destruction of landscape plantings and gardens. Newspaper headlines repeatedly attest to fragmented relations between deer and suburbanites--especially deer that crash through pool covers, litter lawns with deer pellets, serve as hosts for ticks that transmit Lyme`s disease or cause the growing array of deer-dented fenders that keep body shops in booming business.
The problem got so bad in the Rochester, n.y., area several years ago that city fathers hired sharpshooters to thin a herd overrunning a number of city parks. The men went out at night so as not to arouse the wrath of the locals, brought down some 400 does to reduce the breeding population and donated the meat to a nearby state prison. Essentially the plan went well--except that one of the prisoners found a trace of hair in his meat, created a to-do about it and brought an end to what seemed at the time a win-win solution for all concerned.
Fortunately, most hunters aren`t so squeamish about a little hair clinging to their barbequed backstrap. So the next step in controlling urban deer populations was a logical one--a process that involved organizing urban bowhunting zones in the green space serving as deer refuges amid the asphalt jungles of a number of major cities.
In many cases the advent of urban hunting has been almost an act of self-defense as well as a way to provide additional hunting recreation in areas that need it the most. For one thing, special inner city archery seasons have reduced deer/auto accidents from 15 percent down to as low as 5 percent in some urban areas along the eastern seaboard.
In 2004, 11 cities across Virginia offered for the first time a special urban archery season. The season ran from Sept. 21 through Oct. 4 and was, according to Virginia deer managers, an effort to reduce the growing number of conflicts between humans and deer.
Essentially, Virginia game managers hope to trim the hordes of does stockpiling in protected urban greenbelts and the overpopulation problems that have been the result. Bowhunters have been called upon to help with herd thinning, but may be required to check with local police before hunting. Some urban areas are even considering proficiency testing as a prerequisite to any hunt.
Officials in other states say this results from a need to convince the non-hunting public that everything possible is being done for the welfare of the animal. In Oklahoma City for example, Arcadia Lake laps at the skirttails of a large suburban complex and provides recreation for anywhere from a half to three-quarters of a million residents. This u.s. Army Corps of Engineers project contains approximately 1,500 acres of adjoining wildlands leased to both the Oklahoma Department of Wildlife Conservation and the suburban city of Edmond.
The wildlife department started working nearly a decade ago to establish additional hunting opportunities on this invaluable urban resource. Today Edmond offers permit-only bowhunting on both their leased lands and those of the department. The program has been a success and, as a wildlife official points out, has prospered due to a patient approach--one that kept the community informed of all proceedings and allowed time for those who felt squeamish over the killing of citified deer to grow accustomed to this biological and recreational commitment to population control.
Bowhunters in Missouri, a state with a pair of large, sprawling metropolises, have the luxury of an urban deer season stretching from Oct. 1 through Jan. 15. As it stands, hunters utilizing areas in both Kansas City and St. Louis can purchase up to five urban deer permits, all part of an effort to keep swelling herds in check.
Ohio, no stranger to suburban swell, offers urban hunting from Oct. 4 through Jan. 31, with up to four additional harvest permits allowed on top of those allowed for the regular deer season. Hunting is for antlerless deer only throughout specified zones in or near Columbus, Cleveland, Akron, Toledo and Cincinnati-Dayton. Areas open to deer hunting include both public and private lands.
Although bowhunting certainly isn`t a new sport, its effectiveness as a deer management tool dates back to 1966, when Wilbur Allen of Missouri invented the first compound bow. Before the compound, traditional recurve or longbow archers harvested some deer, but not many in the overall deer management scheme of things.
The compound changed all that.
By utilizing a series of cables and pulleys, archers were able to draw, hold at full draw and deliberately aim heavy poundage bows that once would have been virtually impossible to shoot accurately by the majority of modern hunters.
With the advent of the compound bow, sight systems, trigger releases and pulleys that made drawing a 65-pound pull bow more like that of a 25-pounder, deer archery harvests climbed steadily as interest in bowhunting exploded. The sophistication of modern archery, plus a growing cross section of enthusiasts, has revolutionized the sport and allowed deer managers another avenue of effective population control. Although still a short-range weapon, the archer`s feathered stick is particularly suited for urban hunting. Arrows are quiet, accurate from modern hi-tech equipment and very lethal when you consider that shafts and broadhead combos weighing around 500 grains are launched at speeds well over 200 feet per second, delivering highly lethal levels of kinetic energy.
A practiced archer shooting a bow from one of today`s leading manufacturers can be a deer harvesting machine at 30 yards, perfect for the tight parameters of urban hunting. Obviously, hunt managers hope to avoid the results of poor arrow placement, with animals fleeing far enough to expire on some manicured lawn. Public relations plays an important role in urban hunting, and explains why urban hunt applicants are carefully screened in some instances while others may undergo actual testing of archery proficiency prior to the issuance of licenses, tags or permits.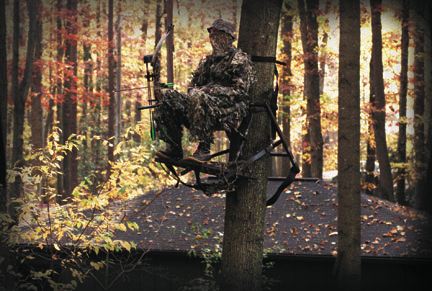 JUST ANOTHER HUNT? With deer populations booming across the nation, more and more hunters have found ample opportunity in populated areas; note the roof behind this hunter.
Professional game managers are keenly aware that deer hunting within sight of high rises or skyscrapers may play a large role in the future of American sport hunting. For one thing, cities are expanding, gobbling up rural real estate at a rate that forebodes poorly for many species of wildlife other than the versatile whitetail.
Biologists point out that while it takes around 5,000 acres of native rangeland to support a viable population of bobwhite quail, white-tailed deer can subsist on 50--either in the wildest of backcountry or on the fringes of some urban water supply reservoir.
You need not be a schooled biologist to understand why deer are expanding while "wilder" species are petitioning for a spot on the endangered list. Just consider that more than 19 million acres of rural lands were developed between 1970 and 1990, with an additional 400,000 to half a million acres surrendering to the bulldozer blades each year since.
Agricultural conservationists point out that at least 70 percent of the nation`s prime farmland is now in the direct path of rapid development, and according to the American Farmland Trust, the loss of these highly unique acres is imminent unless laws are changed. As rural landscape disappears, we`re faced with the proportional decline of a number of native wildlife species. Unlike deer, coyotes and feral dogs and cats, some wild creatures are unable to survive the close proximity of suburbia.
Yet we must realize that suburbia is the main feature in our population growth big picture. After World War ii, American industrialization summoned workers from the country to the city. Now the trend is in the opposite direction, with families clamoring to abandon our sometimes decaying inner cities for more elbow room, more green landscape and the small town atmosphere that prevails in the suburbs.
Society as a whole pays a price for this atavistic desire to restore the village lifestyle that suburbia strives to recreate. Haphazard development is far too often indicative of poor land use management, essentially poor long-term planning that converts prime farmland to tract houses and results in increased traffic congestion, longer commutes, increased dependency on foreign oil, crowded schools, water and air pollution and the inevitable loss of native woodlands, wetlands and prairies, along with the wildlife they support.
Today in the Southwest, rapidly expanding cities can barely meet their water needs. And stubborn Vermont, long considered the bastion of rural lifestyles in the suburban checkerboard that is modern New England, lost 10 percent of its precious farmland in just two recent years.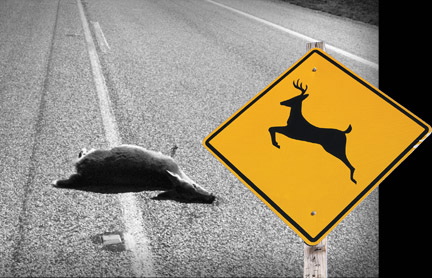 SIGNS OF THE TIMES
A recent survey indicated that 13 percent of all vehicle accidents involved collisions with deer. In some places, the number soars as high as 15 percent, prompting a Virginia biologist to remark that "we`ve reached that cultural threshold where people have quit thinking of deer as cute."
We all pay a price for the growth of America`s suburbs. Property taxes are skyrocketing as municipalities struggle to provide basic services for out-of-control urban growth. Water, sewage facilities, parks, playgrounds; all these amenities come with a price charged to our ballooning annual budgets and, more ominously, as a threat to farmlands that may be required to feed future generations.
In the meantime, hunters might as well make some adaptations of their own. Without a doubt, modern archery will play a larger role in deer management as more cities come to grips with overpopulation and are forced to turn to hunting as a control factor--the only proven harvest tool that actually makes sense.
Deer hunting`s bright future means increased dollars for local businesses, especially if urban hunts are carefully managed and controlled. Poorly
staged hunts tend to inflame emotions, and anti-hunting groups want nothing more than to see these programs fail, even if it means more car wrecks, the destruction of available vegetation and the ultimate starvation and disease that follow.
It`s true, deer aren`t so cute when they`re decimating your shrubs or protruding through a broken windshield. On the other hand, a charbroiled venison steak comes highly recommended. All it takes is one well-placed arrow, and a little vision on the part of city managers and members of the hunting community in our rapidly changing modern world.