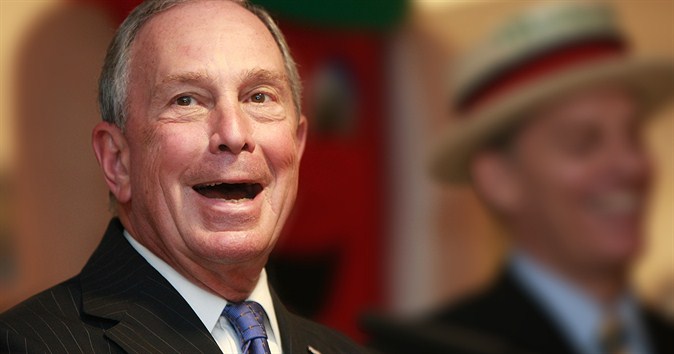 Former New York City Mayor Michael Bloomberg is a multi-billionaire. According to Forbes, he is the 16th richest person in the world. 

There's nothing wrong with being one of the richest people on the planet, but it doesn't mean you get to dictate how others lead their lives.  Apparently, Bloomberg believes he is in a position to tell everyone else--especially gun owners--what's best for them and how to run their lives.  He believes in the superiority of the elite over individual liberty and responsibility.  He believes we have to be told everything--from what to eat, to how much soda we can put in a cup.  He wants to be the country's nanny, and yet he doesn't know enough about the country to understand that most Americans don't travel primarily by taxi or limo and that roads are a common feature of metropolitan areas, outside of New York City and Hollywood.

Bloomberg's latest attempt to assail gun owners and restrict the Second Amendment comes in the form of a 2014 federal candidate questionnaire that was recently released by Bloomberg's anti-gun lobbying group Everytown for Gun Safety (click here to see a story regarding Everytown's questionnaire).  Many of the questions are misleading and are deliberately worded to encourage candidates to take positions that undermine the right to Keep and Bear Arms.  And guess where all the questionnaires are being sent?   New York City.  The old saying goes, "all roads lead to Rome."  Well, according to Bloomberg, all roads lead to "The Big Apple."  

The Daily Caller recently published an article shedding light on the misleading nature of the questionnaire and ended the article by stating, "Every candidate for national office should refuse to take the Everytown survey."  

This questionnaire and the anti-gun agenda being pushed by Bloomberg and Everytown for Gun Safety are not about safety; they are about control and what he thinks is best for every town based on what he himself prefers. 

Reject Bloomberg's anti-gun agenda.  He may have billions of dollars, but NRA has millions of members and supporters whose vote isn't for sale, and whose love of freedom is second to none.