Finding a place to hunt is one of the biggest concerns of hunters and NRA-ILA is actively working on multiple fronts to promote solutions to this growing problem. One such solution is called "Open Fields."
"Open Fields" programs provide incentives to land owners to allow public access for hunters. The program--known by different names in various states--provides modest payments to land owners for opening up their lands to sportsmen in what are often called "walk-in" programs. The program has seen great success in states such as Kansas, Colorado, Nebraska and North Dakota, among others. Expansion of the program to additional states provides the opportunity to open millions of new acres to hunters.
In addition to state-based programs, federal legislators have introduced the "Voluntary Public Access and Habitat Incentive Program Act" in Congress. Senators Kent Conrad (D-ND) and Pat Roberts (R-KS) are the primary sponsors of S. 548 in the U.S. Senate, and Representatives Earl Pomeroy (D-ND) and Tom Osborne (R-NE) have introduced a companion bill, H.R. 1351, in the U.S. House of Representatives.
If passed, S.548/H.R.1351 would provide $20 million annually for five years to any state with an existing "Open Fields" program, or to any state that implements a program that meets the eligibility requirements.
This is a significant program because of the potential it has to open many millions of acres of private land to hunters. "Open Fields" is also important because it provides incentives to landowners to improve the habitat for wildlife that is essential for the future of hunting in America.
The federal program is designed to provide immediate funding for ongoing programs, and as an incentive for additional states to adopt "Open Fields." In so doing, the Voluntary Public Access and Habitat Incentive Program will allow these programs to expand as quickly as possible, without imposing burdensome federal mandates on the design or implementation of the individual state programs.
For more information on walk-in or Open Fields Programs, contact the state administrators listed on the following page.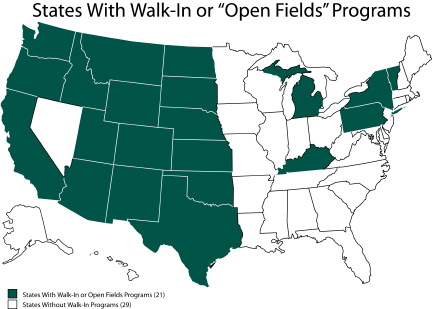 | | | | | | |
| --- | --- | --- | --- | --- | --- |
| State | Contact | Phone | Email | Acres | Map Links |
| Arizona | Al Eiden | (623) 236-7624 | | 2,000,000 |   |
| California | Victoria Barr | (916) 445-3615 | | 2,000 |   |
| Colorado | Ed T. Gorman | (970) 521-0233 | | 162,000 | |
| Idaho | Jeff Gould | (208) 287-2745 | | 277,515 | |
| Kansas | Jake George | (620) 672-5911 | | 1,000,000 | |
| Kentucky | Rocky Pritchert | (502) 564-4858 | | 800 |   |
| Michigan | Mike Parker | 517-641-4903 Ext. 228 | | 19,000 | |
| Montana | Alan Charles | (406) 444-3798 | | 8,800,000 |   |
| Nebraska | Steve Riley | (402) 471-5420 | | 180,000 |   |
| New Mexico | Aaron Roberts | 505-476-8043 | | 100,000 | |
| New York |   | 518-402-8919 | | 28,000 |   |
| North Dakota | Kevin Kading | (701) 328-6371 | | 1,000,000 | |
| Oklahoma | John Hendrix |   | | 607,241 |   |
| Oregon | Matthew Keenan | (503) 947-6087 | | 3,871,783 | |
| Pennsylvania | Gary Camus | (717) 787-6400 | | 3,000,000 | |
| South Dakota | Tim Olson | (605) 773-3658 | | 1,270,000 | |
| Texas | Linda Campbell | (512) 389-4375 | | 107,000 | |
| Utah | Wes Shields | (801) 538-4776 | | 20,000 | |
| Vermont | Tom Decker |   | | 100,000 |   |
| Washington** | Joe McCanna | (509) 892-1001 ext 310 | | 1,237,016 | |
| Wyoming*** | Matt Buhler | (307) 473-3428 | | 672,000 | |
| | |
| --- | --- |
| **many agreements are at no charge but are not mapped | Total: |
| ***also includes 110 acres of lakes and 81 miles of streams for fishing access | 26,799,824 |