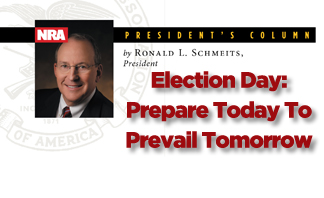 In just one year, you have the chance to profoundly affect the future of your freedoms.
Twelve months from now, in one of the most closely watched and consequential elections in our lifetimes, Americans will elect all 435 members of Congress, at least 37 U.S. senators, 36 governors and thousands of state legislators, city mayors and local officials.
Those leaders will decide the future of our Right to Keep and Bear Arms--the one right that makes our homes and families safe, and that keeps our country free.
As president of this association, I'm calling on you to make a personal commitment now to do all in your power to influence those elections and ensure our freedoms win in every race.
Whether you're a Republican, Democrat, independent or "none of the above," whether you're wealthy or you're of more limited means--regardless--you can make a real difference in this fight to protect our Second Amendment Right to Keep and Bear Arms and our freedom to hunt. Fulfilling that duty can take many forms.
Many of us have been blessed with money that we can invest in freedom's future. Whether it's through our careers, businesses or simple financial good fortune, many of us have the cash to contribute to political action committees that support pro-gun candidates, or directly to the candidates' campaigns.
More and more nowadays, elections are won and lost by virtue of how much each campaign spends, because that money pays for crucial communications, voter education and get-out-the-vote efforts that bring people to the polls on Election Day.
So if you've been blessed with a lucrative career, I ask you to join me in building a financial war chest to defend the freedoms that have made our career successes possible.
Make a contribution to the NRA Institute for Legislative Action to help fund aggressive, effective lobbying, bill analysis and advocacy at the federal, state and local levels. Then back it up with political contributions to support direct election activities both for and against candidates.
Consider becoming a part of the Ring of Freedom, our association's premier donor recognition society. Think about making a contribution--in some cases, tax-deductible--to The NRA Foundation to support our vital gun safety, hunter training, marksmanship, conservation and other educational activities. Buy an NRA magazine subscription for your local public library to help educate your community with the truth about your firearms and your freedoms.
Whether you're helping defeat a gun-ban politician, educating congressional staffers on what a gun-related bill really means, or spreading the word about how firearms and the freedom to own them save lives and safeguard freedom, your financial support right now can make a major difference on Election Day 2010.
Not all of us have been blessed with the financial wherewithal to do all that we want. But many of us have been blessed with time--the time to do the things we want in our lives.
If that describes you, I urge you to consider all the ways you can help make a difference on Election Day simply by giving a bit of your time each week between now and next November.
Go to www.NRA-ILA.org and sign up to receive, via e-mail, special NRA-ILA "Grassroots Alerts" customized to where you live.
These rapid-response alerts will give you late-breaking news on important legislative activities in your state legislature and in Congress; the dates and locations of pro-gun rallies and town hall meetings near you; contact information for you to coordinate your efforts with local NRA-ILA Election Volunteer Coordinators, and more.
Consider volunteering your time as a part of NRA-ILA FrontLines, a corps of the most dedicated volunteers who work vigorously to defend and advance our freedoms at the local, state and federal levels.
Visit NRA News on the Internet at www.NRANews.com, or on Sirius Patriot 144. Every weekday, you'll get the most up-to-date news available anywhere on your firearms, your right to own them and your freedom to hunt, with in-depth reporting from the United Nations to Capitol Hill, and from your statehouse down to your hometown.
Then, once you're armed with the facts, I urge you to spread the word to your friends and fellow hunters and shooters. Get them informed and involved, and get them to vote accordingly.
Do your part now and, together on Election Day, we can show freedom's friends and foes the awesome political power behind our slogan, "I'm the NRA and I vote!"