With the NRA at the switch, the Castle Doctrine continues chugging throughout the nation, reuniting Americans with the right to protect themselves and loved ones from danger.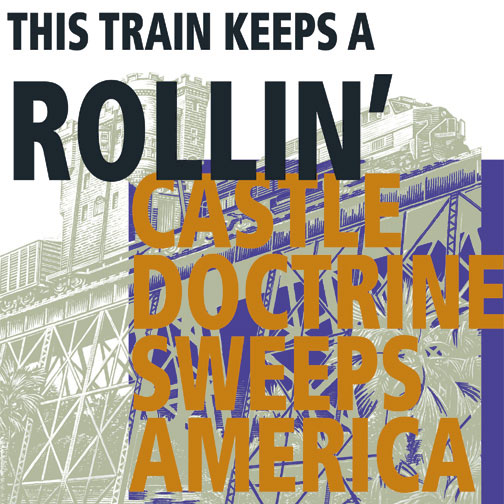 Although anti-gun groups, politicians and newspaper editors in 2005 screamed of blood on the tracks in Florida after passage of that state's Castle Doctrine law, the legislation has proven beneficial to not only Florida's law-abiding citizens, but also to citizens in other states who have seen the light at the end of the tunnel.
Castle Doctrine, in essence, simply places into law what is a fundamental right: self-defense. If a person is in a place he or she has a right to be—in the front yard, on the road, working in their office, strolling in the park—and is confronted by an armed predator, he or she can respond in force in defense of their lives.
Castle Doctrine also protects the law-abiding from criminal and civil charges for defending themselves against an attacker whereby, after enduring the trauma of a violent attack, they aren't again tied to the tracks of a drawn-out, nightmarish legal battle that could derail their financial future.
Today, the NRA is feeding the firebox of Castle Doctrine legislation in states throughout the country, conducting a self-defense whistle stop campaign that is turning focus from criminals' rights to those of the law-abiding who are forced to protect themselves.
After the NRA helped gain passage of Florida's Castle Doctrine law in April 2005, the Association promised to push for simILAr laws throughout the nation.
A year later, the National Rifle Association is continuing to fulfill that promise.
Aside from Florida, Castle Doctrine is now the law in Alabama, Arizona, Georgia, Idaho, Indiana, Kentucky, Mississippi and South Dakota.
When South Dakota Gov. Mike Rounds signed Castle Doctrine legislation into law this February, that state became the second to protect its citizens by codifying the right of self-defense into law.
Keep tabs on the status of Castle Doctrine legislation throughout the nation by visiting NRAILA.org, where the Action Alerts and the In The News sections frequently give updates on status changes. Also, tune in daily to NRANews.com, which features updates on Castle Doctrine legislation on a regular basis.
On March 21, Indiana became the third state to pass Castle Doctrine when Gov. Mitch Daniels signed it into law. The bill, authored by Rep. Eric Koch, had wide bi-partisan support in the Hoosier State, passing the House 81 to 10 and the Senate 44 to 5.
In Alabama, Castle Doctrine—sponsored by Sen. Larry Means and Rep. Albert Hall—passed the state House 82 to 9, and the state Senate by a 30-to-2 vote.
On April 4, after Gov. Bob Riley signed the legislation into law, Chris W. Cox, NRA-ILA executive director, said, "We thank Gov. Riley for signing this vital legislation into law for the people of Alabama. Law-abiding citizens now have the choice to defend themselves and their families in the face of attack without fear of criminal prosecution and civil litigation."
Idaho residents were reunited with their right to self-defense on April 14, when Gov. Dirk Kempthorne signed Castle Doctrine legislation sponsored by Sens. Mel Richardson and Joyce Broadsword.
In Arizona, Castle Doctrine legislation, sponsored by Sen. Timothy Bee and Rep. John Paton, was signed into law April 24 by Gov. Janet Napolitano.
Georgia Gov. Sonny Perdue signed Castle Doctrine legislation in that state on April 27. Sponsored by Sen. Greg Goggans, the legislation passed the House 115 to 42 and passed the Senate 40 to 13.
"On behalf of all NRA members and gun owners in Georgia, I want to thank Gov. Perdue for signing this self-defense bill," Cox said at its signing. "When confronted by criminals, victims don't have the luxury of time. They have to make a split-second decision on whether the best option is to retreat or stand their ground and defend themselves or their loved ones. Now Georgians can defend themselves against an attacker."
Kentucky Gov. Ernie Fletcher signed Castle Doctrine legislation into law in that state after it passed overwhelmingly in both the House and the Senate (in fact, there was only one vote against the measure in the Senate).
"Calling 9-1-1 is sometimes, instead of a rescue project, it becomes a recovery project if you're not able to use force," Kentucky Senate President David Williams told the Louisville Courier-Journal when discussing Castle Doctrine legislation. Brett Hall, the governor's spokesman, told the paper, "This legislation ratifies Kentucky case law that affirms the age-old rule of law that a person has the right to protect themselves and family members from an unwanted intruder who means to do them harm,"
Mississippi Gov. Haley Barbour signed Castle Doctrine legislation, sponsored by Sens. Charlie Ross and Ralph Doxey, on March 27.
And in Oklahoma on May 12, Gov. Brad Henry made law Castle Doctrine legislation that had passed both the House and Senate by overwhelming margins. "It is important to ensure that citizens have the law on their side should they need to use force to protect themselves and their families," bill supporter Sen. Harry Coates told the ap.
With ten states already recognizing the provisions of Castle Doctrine, there are many other states where such laws are pending—winding their way through a state's House or Senate or Assembly, delivered to a committee or awaiting a final signature by the governor.
On May 1, the Alaska House voted unanimously in favor of Castle Doctrine legislation, sponsored by Sen. Gene Therriault. Having already passed the Senate by a 17-to-2 vote, that body—which concurred with several House amendments to the bill— sent the bill to Gov. Frank Murkowski, where it awaits his signature.
"The bill reflects the new circumstances where Alaskans should be allowed to protect themselves and the lives of others," Sen. Gene Therriault, sponsor of the bill, said. "A carjacking is just one example of a situation that may arise that is not covered by our current state law."
In Arkansas, though no Castle Doctrine legislation has been intro-duced, Gov. Mike Huckabee stated early in 2006 that he would support such legislation if it crossed his desk.
The Michigan House in April passed a four-bill Castle Doctrine package, sponsored by Reps. Tom Casperson, Rick Jones, Tim Moore and Leslie Mortimer, that has now gone to the Senate—which has introduced its own version of the bill.
Minnesota state Rep. Tony Cornish introduced Castle Doctrine legislation into the Legislature in early May, though he said he won't seek to advance the bill until next year.
"This bill basically tells the bad guys: If you're going to use illegal force, be prepared to face legal force," Cornish said of his Castle Doctrine legislation.
The Missouri House has passed Castle Doctrine legislation, which as of this writing is awaiting action in the state Senate.
In New Hampshire, legislators passed a Castle Doctrine bill in April 2006, sponsored by Sen. Peter Bragdon, which has been delivered to the desk of Gov. John Lynch for his signature
"Nothing should chip away our freedom," bill supporter Rep. Lynne Ober told the Associated Press. "We might have been singing 'God Save the Queen,'" if we didn't have guns several centuries ago.
In Ohio, Castle Doctrine legis-lation, sponsored by Rep. Steven Buehrer, continues to wind its way through committee.
Finally, in February, the South Carolina House passed Castle Doctrine legislation with overwhelming bipartisan support and almost no opposition. But since then, the bill has been stalled in the Senate.
In fact, if you live in any state where Castle Doctrine legislation is pending or has yet to be introduced, call your representatives and let them know that the rights of law-abiding citizens should come before the rights of the lawless—and if they fail to ensure that victims' rights are placed before criminals', it is clear whose interests they are choosing to protect.