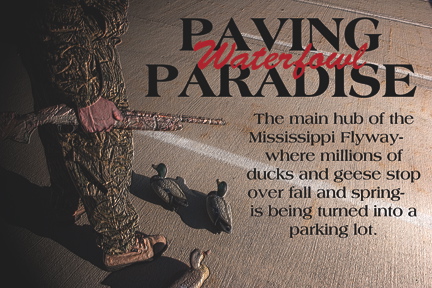 By Frank Miniter,
Executive Editor
In Life on the Mississippi Mark Twain deemed the Missouri River "that savage river, which descending from its mad career through a vast unknown of barbarism, poured its turbid floods into the bosom of its gentle sister" the Mississippi.
After the horrific floods of 1993 and 1995, it might seem reasonable to think that any person living near the junction of those two great rivers would say both waterways could impress Noah; after all, during the torrential summer of `93 the junction of those two rivers swelled into a 60-mile-wide lake. But after a brief visit, I found that the duck hunters and farmers seem to remember the catastrophic floods all right, but some developers and a few of the politicians have let it slip their minds.
Which brings us to this story of urban sprawl, political deception, tragic environmental loss, heroism and the machinations of a sometimes-misguided bureaucracy. What is at stake is the Confluence Flood Plain, a 40-mile-long, 2- to 10-mile-wide section of incredibly fertile ground and wetland that extends in a triangular shape between the Missouri and Mississippi rivers just north of St. Louis. The main characters are, on one side, sportsmen and farmers; on the other, land developers and politicians; and, right in the middle, the waterfowl--millions of ducks and geese that stop here fall and spring.

| | |
| --- | --- |
| | Adolphus Busch (l.), of the Anheuser-Busch family, is leading a movement to stop development in the flood plain at the confluence of the Mississippi and Missouri Rivers. |
Cruising along in the flood plain, viewing the land between the Mississippi and Missouri rivers to see what`s being fought over, I see signs for "Blind Luck" and "Duck Point," "Poor Boy Duck Club" and "Fowl Play," "Mallard Farms" and "Duckaway Farms," "Webfoot" and "Whistling Wings." Then I note the rich earth, bottomland planted with corn and sorghum and laden with wetland. I find the air, heavy and damp, smells riverine, and there is no doubt this is a duck hunter`s paradise.
Stopping in here and there along the way, I see that some duck clubs, like the swanky, highbrow Raccoon Ranch, are too audacious to be believed, but others, like the Donald Duck Club, are everyman`s organizations. Then I see the National Wildlife Refuges and the state-owned areas open to the public: the Great River National Wildlife Refuge for one, which protects approximately 11,600 acres along 120 miles of the Mississippi River. And even though it is summer, it is clear this is the greatest waterfowl intersection in the United States; the very spot where migrating ducks and geese following these two vast river systems converge when late-autumn cold gets them flying south.
But my guide to this threatened region, Dan Burkemper, the communications director for the Great Rivers Habitat Alliance, isn`t boasting as we drive along, he is spinning a dark tale: "This all might be gone soon, and with it the ducks and geese. This could all be suburbs of St. Louis soon--downtown is 10 miles that way," he says hooking a thumb south. "If that happens the waterfowl will only have the refuges left."
| | |
| --- | --- |
| | Many homeowners know they`re in a flood plain. After losing everything in 1993 they built houses on stilts. |
We stop in at the Dardenne Duck Club to get the scoop; the Dardenne was founded in 1811--yeah, less than a decade after Lewis and Clark paddled by on their way up the Missouri.
Paving the Flood Plain
"Ducks can`t land on Wal-Mart`s roof," scoffs Tom Sherrill, farm manager of the Dardenne Duck Club, as he gives me a strong, one-pump handshake.
He`s all fired up: "Look, we have 1,500 acres here. Most of it flooded wetland in the fall. We leave large portions flooded through the winter too, so ducks have somewhere to stop and feed on their way back north. We`ve been here doing this for two centuries. We care about this resource, about the wildlife, and we`re not an exception. Sportsmen have been preserving this land for nearly as long as we`ve been a country, but now some want to levee it off and build. We`ve already done that up and down the Mississippi and there`s darn little country like this left!"
His outrage is easy to understand when you consider that back to antiquity fall flocks of ducks and geese have winged down the great flowing funnels of the Mississippi and Missouri, resting and feeding in an unending chain of wetlands. A century ago the oxbows and sloughs in the flood plains of these rivers were kept brimming by yearly floods. That was when Missouri had about 5-million acres of wetlands. Now much of those wetlands are gone, and only about 60,000 acres remain in southeast Missouri, much of it right here between the rivers. In fact, since early in the 20th century the United States lost half its wetlands, and though there are now strict regulations in place to protect wetlands, the country continues to lose thousands of acres each year.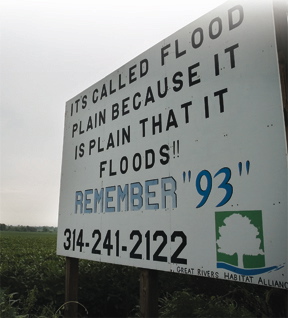 Still millions of ducks and geese travel the Mississippi Flyway each fall and spring--Missouri hunters alone harvested 175,545 mallards in 2004--so each acre of wetland, be it new or old, public or private, is valuable. Waterfowl crowd into the Missouri wetlands that remain, some on public land and some on private lands managed by people like Sherrill; unbelievably, about 75 percent of the wetlands remaining in the United States are owned privately, and there are 30,000 acres of wetlands in private hands just north of St. Louis.
To show how much danger this area is in, on the way out from St. Louis we stop in Chesterfield along the banks of the Missouri River; Burkemper wants to point out what is purported to be the largest strip mall in America, all built after the 1993 flood within sight of a levee, a levee that broke in 1993. "See all that land now taken up by that Home Depot, that Wal-Mart, that Bentley dealership? It was under water a dozen years ago. And this development is pushing north, right into the flood plain," says Burkemper.
I ask Wayne Freeman, executive Director of the Great Rivers Habitat Alliance, about that. I find the organization in the back end of an industrial park. They`ve recently moved from a building that had a date with a wrecking ball and aren`t sure how long they can stay at their current address. They are a charity case and so will move wherever they have to, just as long as the rent is nothing and they can string in a phone line to keep up the good fight. "Most people don`t have a problem with the development in Chesterfield. But they will the next time the levee breaks and their taxes go to rebuilding billions of dollars` worth of real estate that is backed by federal flood insurance. Look, this is David and Goliath stuff. It`s our little outfit and local sportsmen against the big developers and some of the politicians."
There is some truth to the man-against-the-machine stance of the organization, but they do have some influential benefactors. The alliance was founded after the 1993 flood, when local residents found that development of the flood plain had actually accelerated after the area was deluged. Adolphus Busch IV, of the Anheuser-Busch family, was the impetus for its formation in 1999. Busch lost his house to the flood and feels a large part of the area should be preserved as is. To describe what he`s after, he likes to use a new-age term: "smart growth."
To see what he means by that loaded phrase, we go to see the section of ground the Great Rivers Habitat Alliance was founded to save.
Come Hell or High Water
We stop on a levee on state Route 370 looking at crop fields, hardwood forest and wetland the city of St. Peters wants to pave, and Burkemper explains, "This is only 1,600 acres, it could set a precedent. This isn`t smart growth. There are other areas south and west of here where people can live free of flood insurance."Some in St. Peters don`t agree.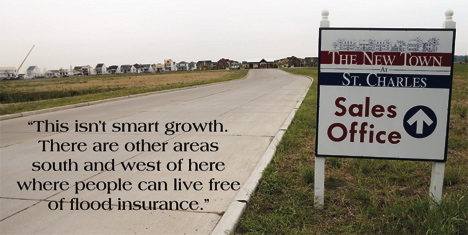 In 1960 St. Peters had 404 residents. Up until then the town`s greatest claim to fame was having the world`s largest TNT plant, built during World War II and closed at the end of the war. St. Peters grew from a town of 486 in 1970 to a burgeoning suburb of 15,700 by 1980, when it won the distinction of being the fastest-growing city in Missouri. In 2000, there were 51,381 people in town and growth was finally slowing as the community ran out of room. To make room, the mayor and city council decided to look to the flood plain.
The controversy from their move to develop the flood plain turned out to be more explosive than their TNT plant ever was. The local press has been covering the issue daily, public hearings have been volatile, lawsuits are pending, the town of St. Peters has spent millions and a developer has been found. Now the town of St. Peters is offering controversial tax increment financing (TIF) to developers. TIF allows a corporation to use the portion of taxes in excess of its pre-developed value to finance costs of a project. It`s a win-win for a developer, but taxpayers are left with no extra revenue until the developer has recovered its investment. Often TIF is used in areas where public infrastructure is needed but developers have no economic incentive to build. In the case of St. Peters, there`s plenty of economic incentive, but there are legal and ethical problems associated with building in a flood plain. For some reason St. Peters decided to clear these legal hurdles for a developer.
Freeman sums up the fight over the town`s expansion this way: "We`ve unearthed corruption at the highest levels of our local government. They want to grow at all costs, to increase their tax base and power. There are places that shouldn`t be paved, such as wetlands, and yes, the flood plains of our nation`s two greatest rivers. Some of the things they have done are criminal!"
"Whoa Wayne," I bust in, "just tell me what you really think."
He laughs, says, "I`m not kidding. There are things about this project that I really hope come out, because if they do people will go to jail."
Freeman goes on about local politics at its nastiest, but to detail all the dirty machinations here would take the entire magazine. Essentially the Great Rivers Habitat Alliance tried to end the debate by offering a compromise: They`d pay $12 million for the land, and as a compromise, the Great Rivers Habitat Alliance would have had 200 acres developed. But the town took a $42 million bid from a private developer instead. And because the Alliance offered to compromise by developing part of the land, its critics accused it of hypocrisy.
Busch has something to say about that. We sit in the barn on his 1,500-acre property located in the flood plain discussing the alleged hypocrisy: "We are not going to work with our hands tied behind our back and then lose everything. We`re in this fight to win, to save as much of this land as possible. That`s why we offered a compromise and that`s why we`re now negotiating with the developer who got the contract. That 1,600-acre property is a key battle to saving this waterfowl-rich paradise, but we have to be flexible."
Dean Gremminger,
of S & H Sporting Goods, said they`ll lose their business if development isn`t checked.

Joan Fitzgerald
turned her farm into a duck club because, she says, "I care about the environment."
I know the Busches have a long history of conservation. Adolphus` father, August A. Busch, even donated a 6,987-acre conservation area in Saint Charles County to the public. So I take his passion as genuine. Then I know he is being forthright when I see his kitchen. Newspaper articles covering the issue plaster his walls--many sections yellowed by a highlighter. He has a home office dedicated to keeping abreast of the issue and a calendar loaded with events and interviews to get the word out. No doubt about it, saving this land is his life.
And he has the local citizenry behind him. In a poll paid for by the Alliance, only 40 percent of residents of St. Peters were in favor of the development. And only 32 percent of the residents of the county are for it.
But, at press time, it looks like the Alliance will lose one key battle: The Army Corps of Engineers is poised to give a permit to the town of St. Peters to build a levee around that piece of contested bottomland. The Corps has the ability to waive restrictions under Section 404 of the Clean Water Act; as a result, they`ve been battered by the press, and Alan Dooley, public affairs officer for the St. Louis division of the Army Corps of Engineers, is on the defensive. He calls me from the road; he is on his way to hurricane-ravaged Louisiana because levees broke and people are drowning. The Corps was going to have to work around the clock to repair levees and alleviate flooding in New Orleans, 80 percent of which is below sea level.
"Look," said Dooley, "we don`t have a dog in the fight in St. Peters. We`re not proposing to build that levee. We have the thankless task of deciding whether to grant a permit. We have to do that according to the law. We`ve been accused of being a `permit-granting organization.` And there`s some truth in that. If a levee won`t increase the flood potential more than is allowed by law, then we`ll give a permit to construct a levee. But there`s a lot more to it than that: If wetlands are involved, then there are impact studies to do and the U.S. Fish and Wildlife Service might be involved, especially if there are endangered species present. This isn`t a simple process. In this case, there are some wetlands involved, so the developer and the town will have to replace that wetland if it is drained. We only decide if they can legally build according to federal law. Local entities at the town and county level give the building permits; they are the ones who decide if the land should be developed.
"I understand both points of view; after all, this is one of the last major sections of the river that isn`t levied off. From around Cairo, Illinois, to the Gulf of Mexico, the entire river is basically one big drainage ditch, because there are levees the entire way down. And living behind a levee poses certain risks ... ." His voice fades out. He is thinking about where he is going, about the horrors he`ll see there. "Look," he finishes with a softer voice, "the Corps saves people from floods. They control the water, but how they control it is up to Congress and ultimately the American people."
It`s easy to understand Dooley`s perspective. So instead of just pointing fingers at bureaucracy, the Great Rivers Habitat Alliance began fighting to save the floodplain another way.
Hunters are the Solution
"Good, gosh almighty," says Dean Gremminger, son of the owner of S & H Sporting Goods, aghast at the idea development won`t be checked. He runs the rural kind of sporting goods store, the type that retreats before suburbs and national chains. "I don`t want this area to be another O`Fallon," he bellows. "If they pave this place, where are the ducks gonna go? Why, without ducks and the sportsmen they bring we`d lose 80 percent of our business. We`d be history, as would a lot of farmers around here."
Such is the economy in rural St. Charles County that levees and subdivisions would kill. Visiting hunters buy shells, decoys, food, gasoline and spend money on a number of other services that support the local economy. By doing so they maintain the status quo, which encourages farmers to flood grain fields and to create habitat that ducks, geese and other migrating birds need.
And that`s not all they do. According to Sherrill, manager of the Dardenne Duck Club, 80 percent of their club`s money comes from dues. "And we`re not an anomaly," he shouts, "we`re just one club. Sportsmens` money has and is preserving this land. Sportsmens` money makes it economically viable for farmers to create habitat for waterfowl. Heck, it`s in their selfish economic interest to do so, and I`ll always count more on a selfish interest than a righteous one. So which is better, another mall and subdivision, or a fragile ecosystem preserved by people who`ve been doing so for 200 years?"
There`s nothing like the loud opinion of someone on the ground to hit the nail on the head, but it`s difficult to stand stubbornly in the path of growth, even if you`re right. But when I meet Joan Fitzgerald, owner of the Donald Duck Club, and hear her softer voice, I begin to think there is hope. She lives in a house on stilts, and lost everything but her land to the 1993 flood."My husband and I always said we`d make this 123-acre farm into a duck club," recollects Fitzgerald as we walk her land. "We wanted to give something back to the native wildlife. When he passed away, I was down pretty low, but then I stood up and said, `Why should I give up the dream of doing what`s right for me and the environment.` Now I flood 80 acres for waterfowl and my members are my new family. And economically, it just makes sense."
The Great Rivers Habitat Alliance is helping Fitzgerald put her property into a conservation easement. When she does so, she`ll get a check and tax breaks. The best part is: After she signs the easement the land will be preserved forever. Freeman says he`s working with a dozen landowners in the area now who`re interested in easements. Scott Manley, a regional director of conservation programs for Ducks Unlimited, says they`ve signed three landowners in St. Charles County to conservation easements as well, so the rush is on to save this fragile ecosystem.
The Big Picture
As my plane takes off in the glooming of a summer evening and swings northeast, I am melancholy. Thunderstorms are blowing in from the west and the sun is between the storms and the horizon, glinting off the Missouri and Mississippi up twists, turns and oxbows north and west till the rivers meet the sun at the skyline. Lights are coming on in St. Louis and up in St. Peters but trickle out in the farms and duck clubs of the flood plain between the two great waterways.
The plane climbs higher and the big picture is right there framed in the plane`s window. Seeing the marshes and lush bottomland along the river that way, you just know every subdivision and levee matters on such a unique piece of land. Marshes aren`t just a place where ducks live, they suck up floodwaters by allowing rivers to naturally swell when they need to.
Then the horrid notion occurs to me that even if the land is developed and the ducks are forced to fly on, that maybe some year the skies will open like in 1993 all over again and the great rivers will swell and violently reclaim their flood plain. It is a horrifying thought of Biblical proportion, the type of thought we all watched come horribly true this past summer in New Orleans, but I know as I wing higher, getting the ducks` perspective, that if we don`t respect nature enough, some day nature will teach us another hard lesson.
What You Can Do
The Great Rivers Habitat Alliance needs your help. You can contact them at P.O. Box 50014, St. Louis, MO, 63105; 314-241-2122; GRHA.net. And you can make your voice heard by contacting Missouri lawmakers and letting them know how you feel about the Confluence Flood Plain.
U.S. Sen. Jim Talent (R): 202-224-6154
U.S. Sen. Kit Bond (R): 202-224-5721
U.S. Rep. Todd Akin (R): 202-225-2561
Missouri Gov. Matt Blunt (R): 573-751 3222