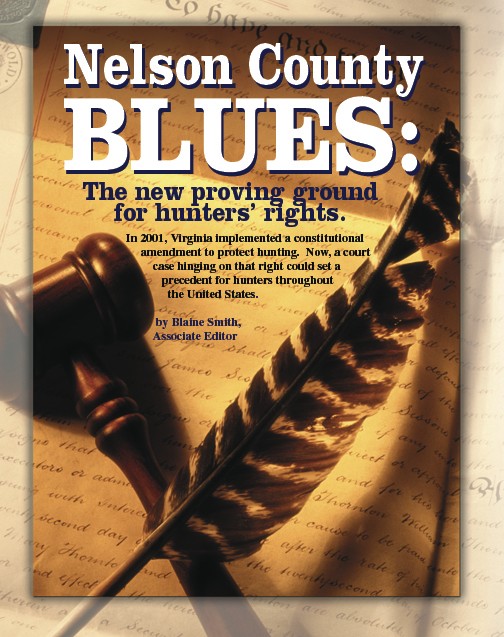 This past Election Day, citizens in Louisiana and Montana voted for amendments to their respective constitutions making hunting a protected practice. Thus, these states joined the growing ranks of other states--14 in all--that have bestowed constitutional protection upon this fundamental heritage.
Enter Orion Shotgun Sports Center. Based in Nelson County, Va., Orion has operated a shotgun sports facility in rural, central Virginia for two years, which has offered both live-game hunting along with sporting clays and trapshooting.
In early 2004, Orion applied for a conditional use permit for a larger plot of land the group had acquired in an even more rural area of Nelson County. Orion had plans to greatly expand their operations, giving customers more sporting clays and live-hunt areas, as well as accommodations for food and lodging.
The Nelson County Board of Supervisors had pleaded with Orion to stay within the county, and had helped them acquire the new land, so Orion believed the retainer of the proper permits would be a cinch. Aside from the help extended by the county, Orion`s spotless safety record, stringent noise regulations and honorable civic reputation could only point to a continued warm relationship.
Yet, the Nelson County Board
of Supervisors outright denied the sporting group`s permit request. Though the board cited noise and safety concerns from Orion`s handful of new neighbors, Orion knew matters larger than these were afoot.
In Orion`s eyes, both of these concerns were moot. First, both the county sheriff and the county zoning administrator confirmed that noise from Orion`s facility was less than the 75 dba threshold of Nelson County`s noise restriction code. Secondly, Orion has never had a firearm-related accident and, since only shotguns would be fired at the facility, the few individuals living in the sparsely populated area surrounding Orion would be in no danger.
Orion, however, also knew that practicing to hunt game prior to the act of hunting itself--similar to practicing a speech before practicing the right of free speech--is protected by the constitutional right. As hunting is protected, practicing to hunt--which endows the shooter with the ability to hunt safely and humanely--must be protected as well.
Consequently, Orion took the Nelson County Board of Supervisors to court.
Judge Michael Gamble found merit in the argument that Virginia`s right-to-hunt amendment protects the right of individuals to practice hunting via sporting clays, and he ordered the case to trial.
| | |
| --- | --- |
| | Orion has operated a shotgun sports facility in rural, central Virginia for two years, which has offered both live-game hunting along with sporting clays and trapshooting. |
When Orion Sporting Group, llc v. Board of Supervisors of Nelson County is tried this coming April, the future of hunting rights throughout the nation could be affected.
In 2000, Virginia voters approved a constitutional amendment stating, "The people have a right to hunt, fish and harvest game, subject to such regulations and restrictions as the General Assembly may prescribe by general law."
By electing to etch a protection of hunting into the state constitution, Virginia citizens not only precluded any attempts by anti-hunting groups to chip away at their hunting traditions, they also erected a barrier to halt the anti-hunting vagaries of county and municipal governments as well.
Admittedly, state Sen. Creigh Deeds, sponsor of the hunting protection amendment, didn`t foresee the amendment`s use as a platform for protecting sporting clays specifically. However, the same could be said for the Founding Fathers in regard to the Second Amendment`s protection of semi-automatic firearms, or the First Amendment`s protection of Internet speech. Most would agree that the freedoms enumerated in the nation`s Constitution are of a pliable, expansive nature--more likely to reach out and embrace unanticipated individual rights rather than compose themselves to a rigid, unyielding form of myopia.
In Orion`s case against the Nelson County Board of Supervisors, Stephen Halbrook, noted constitutional scholar and counsel for Orion, said, "Like every constitutional right, the right to hunt includes that which is necessarily or fairly implied in or incident to the right expressly recognized. Practice hunting through activities like sporting clays is one such incident of the right to hunt."
Halbrook was making the point that, much like spring training for major league baseball players, hindering the right of hunters to practice the act of hunting is tantamount to restricting the right to hunt itself, a clear violation of Virginia`s right-to-hunt amendment.
"Moreover," Halbrook wrote, "only the General Assembly may regulate or restrict the right," meaning a county authority isn`t entitled to restrict the right to hunt for any reason.
Why would Nelson County want to restrict the right to hunt in the first place? Good question.
Prior to Orion`s move, the two years spent at its original location were marked by a consistent record of safety and good will among its neighbors.
Never had any individual or organization within Nelson County filed a complaint against Orion for any reason. At all times, Orion complied with the county`s noise ordinance, and had continually taken steps to further reduce impulse noise.
Nor had Orion ever encountered problems obtaining the conditional use permits necessary to operate its shotgun sports center and its corporate training facility.
Orion had been rated one of the best new shooting facilities in the United States, and it was estimated that, in its second year, visitors to Orion brought in $15,000 for Nelson County merchants and other taxable revenues for the county. In addition, Orion assisted with more than $40,000 in fundraising activities and had donated more than $25,000 to local charities.
When Orion announced plans to move to a larger, more remote location, Nelson County pleaded with the company to stay within the county. "Each and every supervisor from the Board of Supervisors visited our prototype facility," Jimmy Slaughter, Orion general manager, told Free Hunters. "All but one supervisor shot sporting clays with Orion staff, and every one emphatically encouraged Orion to stay in Nelson County.
"We were courted by the county for more than one year and even had the support of the Economic Development & Tourism director."
Yet, soon after Orion found suitable property for its new operations within Nelson County, the first signs of trouble became evident.
"After we opted to purchase a certain piece of property that best fit our use," Slaughter said, "we became keenly aware that we had angered nearby wealthy landowners, who in fact had embraced our Shotgun Sports Center business and tried to sell us their property.
"This happened literally within several days of the purchase of the
450-acre tract of land."
Soon, arbitrary rulings from the Nelson County Board of Supervisors--the same individuals who had pressured Orion to stay--became the rule of the day, resulting in Orion being denied the conditional use permits necessary to offer shooting at both simulated and live game in group settings.
"(Orion`s) application was denied as a result of strenuous objections from the neighbors," Slaughter said, "even though there were no complaints from the neighbors at Orion`s prior site. The prior site had a number of close neighbors, and the current site is in an area with a very low population density with just a few neighbors within a mile.
"In denying the requested permit," he said, "the county determined that the proposed uses would not be in harmony with the uses permitted in right by the zoning district, and would adversely affect the use of neighboring property."
| | |
| --- | --- |
| The county`s denial of a sporting clays facility on 450 acres `out in the middle of nowhere` is arbitrary and capricious in light of Virginia law." | Famous for sporting clays (below) and fine live game hunting, Orion also holds many youth training programs to ensure safe hunting now and in the future. |
Despite zoning ordinances in the past having been interpreted to allow hunt club activities in agriculture-zoned land--which Orion`s land is--the Nelson County Board stood by its decision. However, Nelson County had also trampled on the rights granted by Virginia`s right-to-hunt amendment in another way, and Nelson County hunters came out en masse to speak against the county`s ruling, receiving a helping hand from the nra Institute for Legislative Action.
After denying Orion the zoning permit needed to operate its sporting clays and trapshooting facilities, Nelson County also ordered the closure of the Bucks Only Hunt Club shooting range, which had operated in the county for years. Yet the hunting rights witch-hunt didn`t stop there. Nelson County then proposed an ordinance requiring that all hunt clubs within the county obtain special permits, in essence mandating that the right to hunt in Nelson County hinges on the whims of the Board of Supervisors.
At a Sept. 21 public hearing concerning the new zoning issue, several hundred citizens turned out to demand Nelson County put a stop to its surreptitious denial of their constitutional right to hunt. Among those in attendance was Dawson Hobbs, an nra-ila state liason for Virginia.
Hobbs said the crowd in attendance was loud, restless and pro-hunting; nearly half of those in attendance had donned blaze orange as a sign of hunter solidarity.
"Each speaker was given three minutes to testify and the crowd was full of energy," Hobbs said of the hearing. "After each person testified in opposition, loud applause was given. At first the chairman of the board tried to stop people from applauding, but she soon gave up. When I got up to testify and announced myself as a representative of the nra, I received loud applause for nearly a minute.
"The board was mostly silent during the hearing, although by watching body language it was clear that at least two of them are on the side of hunters in this issue," Hobbs said.
Hobbs feels that the overriding consensus in Nelson County is that people from outside the county have
come in and tried to create solutions to a problem that doesn`t exist. Nelson County is also home to the Wintergreen ski resort and, Hobbs says, many believe wealthy newcomers to the area are using their influence over the Board of Supervisors to create the tools to end hunting.
Nelson County hunters won`t be placated until the full measure of their constitutionally protected hunting rights is restored, and the first step of this restoration occurred in a Virginia courtroom in October.
On Oct. 4, 2004, Circuit Judge Michael Gamble was set to rule whether or not Orion Sporting
Group v. Board of Supervisors of Nelson County could move to trial. Not only was the decision vital for Orion`s own business prospects, it would also be an important judgement on the rights of sportsmen and women in Nelson County and an important step for the future rights of all Virginians, as well as sportsmen across the nation.
This would be the first step to see if the right-to-hunt amendment has, as Halbrook puts it, "real meat." It would also set an important precedent for future cases throughout the country involving hunting rights amendments.
On that day, Judge Gamble conceded the importance of giving the state`s population--and their constitutional right--a day in court against a trifling zoning issue brought about by a wealthy and literal few. Orion would have its day in court.
Stephen Halbrook, noted constitutional
scholar and counsel for Orion: "Only the
General Assembly may regulate
or restrict the right,"
meaning a county authority isn`t
entitled to restrict the right
to hunt for any reason.
In his ruling, Judge Gamble wrote that, "In Count Six, Orion alleges that its constitutional right to hunt has been violated . . . Further, the plaintiff alleges in Count Six that the action of the Board of Supervisors violates the plaintiff`s right to hunt under the Virginia Constitution. Among other things, the plaintiff argues that the denial of the conditional use permit to allow a sporting clays shooting facility is in effect a county-wide ban on such use . . . Accordingly, Count Six of the bill of complaint will survive."
Further, Judge Gamble allowed the case to move to trial also to decide whether "a sporting clay shooting facility is allowed by right as a hunt club or hunting use in an A-1 (agricultural) District anywhere in Nelson County."
Therefore, Orion`s case rests partly on whether the court will interpret Virginia`s right-to-hunt amendment as protecting the right to practice sporting clays, Halbrook said. But other factors can influence the case, though these factors won`t have the historic reverberation that the right-to-hunt ruling will possess.
"The zoning ordinance in the past has been interpreted to allow hunt club activities in agriculture-zoned land," Halbrook said. "Orion contends that a new rule should not have been invented for its facility. Moreover, Virginia law strictly limits the powers of localities to regulate hunting and firearm discharge to densely populated areas where it would be dangerous.
"The county`s denial of a sporting clays facility on 450 acres `out in the middle of nowhere` is arbitrary and capricious in light of Virginia law."
On April 20, Orion and the Nelson County Board of Supervisors will once again meet in the courtroom, this time to decide the true scope of Virginia`s hunting protection amendment. With ever more states adopting amendments to protect hunting and fishing, this will be a case whose effects will be felt by sportsmen and women decades in the future, and will undoubtedly influence our sport`s next generation of stewards as well as the generation after them.
"The freedom to hunt has become like so many of our freedoms today," said Chris W. Cox, nra-ila executive director. "There are always those eager to take away any part of it they can, until the sum of a freedom is gone. Unfortunately, restoring freedom once it has been taken is akin to moving mountains."
Regardless of the ruling of the Orion case, come election time Nelson County sportsmen and women would be wise to consider replacing any current anti-hunting supervisors with ones who are more hunter friendly.
For those of us elsewhere in the nation, this case must remind us to always be aware and vocal when our rights are threatened. Even if your state has a constitutional amendment protecting the right to hunt, there will always be those intent on destroying that right. As the case of Orion proves, vigilance is the key.