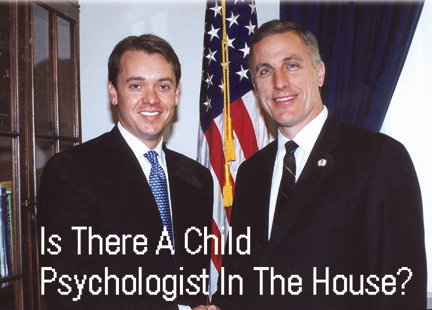 NRA-ILA Executive Director Chris W. Cox (left) recently had the opportunity to chat with Pennsylvania Congressman, and child psychologist, Tim Murphy, whose home district includes the city of Pittsburgh, host to the 2004 NRA Annual Meetings & Exhibits.
Cox: Congressman Murphy, you were elected to the House of Representatives in 2002 after serving six years in the Pennsylvania State Senate. What made you decide to enter political life after spending nearly a quarter-century as a child psychologist?
Rep. Murphy: After many years of working with families to solve their individual problems, I realized that I wanted to help on a much broader scale. And in working with various elected officials, I realized that there was a need for people with my background. I felt I had something to offer and was fortunate to have an opportunity to do so.
Cox: You were elected vice-president of the 2003 freshman class. What exactly does that position involve?
Rep. Murphy: I am lucky to be part of a very active freshman class. My job as vice-president is to assist and coordinate communication among our members. It has been a very positive experience.
Cox: You're also an award-winning author, so let's talk for a while about your book The Angry Child. You write that by the time the average child turns 18 years old, he will have spent 11,000 hours in school, and more than 15,000 hours watching television. I would add in hours spent surfing the Internet or playing video games and ask: What is the impact of Hollywood-produced violence on kids in America?
Rep. Murphy: Children are influenced by the violence they see on television. When you combine watching television, listening to music and playing video games, it increases the likelihood of aggression. It also makes children more likely to accept aggression as a normal reaction and makes them believe that aggressive responses happen more frequently than they actually do.
Cox: You draw important distinctions between a child's viewing a tv show or movie and playing video games. What exactly should parents be aware of regarding video games?
Rep. Murphy: Watching television may shape attitudes and serve as a model for children's behavior, but playing video games actually allows them to rehearse such behavior over and over. Video game playing increases the likelihood that children will act out.
Cox: In the Telecommunications Act of 1996, Congress required that new televisions be equipped with a v-chip to allow parents to block out objectionable material, and you say that was a step in the right direction. You also write "parents--not the federal government--are the best gatekeepers for their kids." Would you elaborate?
Rep. Murphy: Parents need to be constantly aware of what their children are watching and how they are reacting. Some children can watch violence on television and not have any negative reaction, while others are more easily influenced. Above all, parents should always be vigilant so they can guide their children. Parents must speak up and tell children what is wrong--children will listen.
Cox: Last year marked the centennial of NRA's involvement with teaching the country's youth about gun safety, respect and responsibility toward firearms, marksmanship and enjoyment of the shooting sports. A tiny but shrill minority in this country call this an extremist agenda. What are your thoughts on kids, firearms and the shooting sports?
Rep. Murphy: Interaction between parents and their children can have a very positive influence on their lives. Such activity, whether it is playing baseball or a shooting sport, can help instill important life lessons of morality, safety and respect. The key here is parental involvement. Parents can serve as important mentors and role models for children in sports.
Cox: Pennsylvania has a proud, freedom-loving tradition, and it trails only California--a state with roughly three times the population--in number of NRA members. The Second Amendment and the hunting heritage have always been important to Pennsylvanians. Is there any advice you'd like to pass along on how best to protect the liberties we enjoy as Americans?
Rep. Murphy: We are very excited to host the NRA Annual Meetings this coming April. Pennsylvania has many patriotic citizens who believe strongly in protecting our Constitution and the rights of our citizens. The best way to protect our freedoms is to actively participate in our political process. Silence on any issue increases the chance that rights can be taken away.
Cox: As our nation fights the terrorist threat both at home and abroad, there are calls in some quarters that liberties must be sacrificed in the name of security. We all know what that famous Pennsylvanian Ben Franklin had to say on that score, but what are your thoughts?
Rep. Murphy: We must take extra measures to find the terrorists who are abusing our freedom. We must make sure that law enforcement has the tools it needs to effectively pursue these criminals. However, we must be constantly vigilant in our zeal and make sure that we do not stomp on the very freedoms we are trying to protect.
Cox: Finally, Congressman, the question I've been dying to ask you: Have you found that your years as a child psychologist prepared you for political life in Washington, D.C.?
Rep. Murphy: Well, as a psychologist I was trained to bring people together to solve conflicts. I learned that there was no value in taking controversial stances that are adversarial, antagonistic and acrimonious. I learned that by bringing people together you could come up with solutions. And dealing with families taught me that patience and communication are key tools in obtaining long-term results.