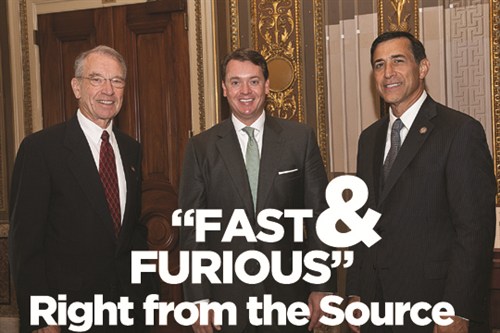 NRA-ILA Executive Director Chris W. Cox (center) meets with Sen. Charles Grassley (l.) and Rep. Darrell Issa (r.), chairman of the House Oversight and Government Reform Committee, to discuss the investigation these two distinguished lawmakers have spearheaded into the "Operation Fast and Furious" fiasco.
As the storm grows, top congressional investigators speak out. Today, the spotlight is shining more brightly than ever on the Bureau of Alcohol, Tobacco, Firearms and Explosives' disastrous "Fast and Furious" program—an operation in which the agency knowingly allowed thousands of guns to be sold to suspected drug cartel suppliers on the Mexican border.
With attention building in Congress, I was fortunate to have the chance to visit with Sen. Charles Grassley, R-Iowa, and Rep. Darrell Issa, R-Calif., chairman of the House Oversight and Government Reform Committee. These are the two lawmakers who have led the charge to investigate this fiasco, and all Americans owe these two Second Amendment champions a debt of gratitude for all they've done to uncover the truth.
The Operation and the Investigation
Cox: What is the most important thing you've learned so far from your investigation of "Fast and Furious"? What's the most important thing American gun owners should know about the operation?
Chairman Issa: Individuals can always make mistakes, even really stupid ones like ATF supervisors who ordered agents to let guns walk—"gun walking" is what ATF agents call it when an agent purposefully allows a suspect to get away with an illegal gun. But for officials, up to and including the attorney general, to have been told about "Operation Fast and Furious" and to have known about gun walking and not done anything is truly disturbing.
Sen. Grassley: One of the most incredible things I've found is how much damage can be done by the failure of leadership at every level of government with knowledge of this operation. It started out with the ATF's Phoenix field office, but was supposed to be supervised by the u.s. Attorney's office in Arizona and Justice Department headquarters. The street agents at ATF are just about the only people in this whole mess who had enough sense to see how doomed the operation was from the beginning. If not for their courage to risk their jobs exposing it, we might never have known.
Cox: Has your investigation uncovered which office at BATFE or DOJ originated the idea for "Fast and Furious"?
Grassley: Determining the highest ranking official who ultimately approved "Operation Fast and Furious" is one of our top priorities. The attorney general has yet to take responsibility for the Justice Department's policy encouraging ATF to let criminals acquire weapons or for his department's failure to recognize what was happening and put a stop to it.
Issa: The investigation has come across some very specific information about steps in creating "Operation Fast and Furious." The Justice Department came up with the idea of a cartel-based strategy and we know Phoenix ATF made many decisions about implementation. We also know that there was a strong desire from senior officials in Washington for a bigger operation like what was created.
Cox: There have been many different reports about how many firearms were allowed to be purchased illegally through "Fast and Furious," and about how many crimes have been committed with those guns. What's your best estimate on those numbers right now?
Grassley: Our best estimate is that there were between 1,500 and 2,000 guns that were allowed to "walk," and according to the Justice Department, as of Sept. 1, thus far there have been 31 guns found associated with violent crimes.
Issa: It's really impossible to know how many crimes have been committed with them because in Mexico a link can generally only be made when a gun is recovered at a crime scene. According to media, there have been about 200 human casualties in Mexico linked to 'Fast and Furious' guns.
Cox: Firearm dealers were reported to be concerned about "Fast and Furious," but cooperated when agents assured them the operation was appropriate. Has this hurt BATFE's relationship with dealers?
Grassley: Of course it's impacted the relationship between FFLs and the ATF. The ATF asked the FFLs to trust them and then broke that trust. What the ATF supervisors and the u.s. Attorney's office asked the FFLs to do was inappropriate, unfair and possibly illegal.
Issa: It is a huge setback for enforcement efforts that are genuinely focused on finding and punishing criminals who use guns. In "Operation Fast and Furious," the Obama administration has done more harm to real and needed efforts to stop gun violence than any administration in my adult life.
Cox: What would be your advice to gun shops that might have information on "Fast and Furious" or similar operations but are apprehensive about coming forward with details?
Issa: I would advise them to contact my office. Already we have been contacted by a number of individuals and haven't revealed identifying information about any such persons who wanted it kept confidential. In "Fast and Furious," we've seen instances where some gun dealers who thought they had honest and trusting relationships with particular law enforcement officers realize that they were being betrayed and set up to take the blame for something that went wrong.
Grassley: I understand it is hard to trust the federal government when that trust has been broken. However, we are committed to keeping the confidence of anyone who is willing to provide us with information, and we've been very successful in doing so for those who have come forward so far and who wanted to remain anonymous. Anyone with information should contact my office.
Federal Agency Responses
Cox: Do you think DOJ and BATFE officials will ever tell the American people the whole truth about "Fast and Furious"?
Grassley: If Congressman Issa and I have anything to say about it they will. I intend to get to the bottom of it, but it won't be easy.
Issa: I think we're going to learn a lot more but judging from Attorney General Holder's efforts to hide what he knew from investigators, the Justice Department seems to have settled on a strategy of fighting against efforts to make the whole truth about the operation public.
Cox: Whistle-blowing BATFE agents have played a key role in your investigations. What conclusions have you drawn about the opinions of the rank-and-file agents on this operation, as opposed to their managers?
Grassley: We owe a great deal to the whistleblowers who had the courage to come forward. Without them, I would not have started this investigation. They all took personal risks to tell the truth, and I will stand by them and fight for them to make sure they aren't retaliated against.
Issa: It is quite clear that the overwhelming majority of the rank and file at ATF are horrified by what occurred.
American Gun Laws
Cox: Some of your colleagues have tried to change the focus of the investigation to America's gun laws. Do you believe our current laws are a cause of gun running into Mexico?
Grassley: The drug trafficking organizations are violent criminal organizations that look for any opportunity to make money. To protect their profits and maximize their reach, these organizations have become increasingly violent, using any type of weapon they can get their hands on. For example, armed cartels have ambushed military convoys in Central America to steal military equipment. Those who see this investigation as an opportunity to add burdensome new gun laws are simply playing politics and are not looking for real solutions.
Cox: Some politicians, both here and in Mexico, think we need to bring back the 1994 semi-auto ban to stop the flow of guns into Mexico. Do you think that would affect the cartels?
Issa: It is already illegal to transport guns to Mexico, so it's not as if there's no law against what is happening. The effects of a weapons ban here in the u.s. on Mexican cartels would be quickly offset by their ability to get whatever they need to wage their brutal violence elsewhere.
Grassley: Reinstituting the ban on semi-automatic firearms would not stop the violence in Mexico, just as it did not stop all gun violence when President Clinton pushed it in 1994. Instead of focusing on rehashing old policies that did not achieve results, we need to focus our efforts on fixing broken investigations like "Fast and Furious," reforming firearm investigations at the ATF, and stopping the already illegal sale of firearms to straw purchasers.
Cox: ATF has imposed a multiple sales reporting requirement for border state gun dealers selling certain rifles. Do you think it will be helpful?
Issa: I have lots of doubts. A year earlier this was something that even the Obama White House had doubts about. It's a pretty naked political move designed to deal with the fallout from "Fast and Furious." It will hurt enforcement efforts because it's yet another sign from ATF that they don't value or appreciate the amount of voluntary cooperation they've already been receiving from gun dealers in border states.
Grassley: Gathering mountains of data on law-abiding gun purchasers is just a distraction. The key to stopping illegal gun trafficking is to act more decisively to disrupt and deter known straw buyers in cooperation with dealers. The administration's continued overreach with regulations continues, and is a distraction from its reckless policy to allow guns to walk into Mexico.