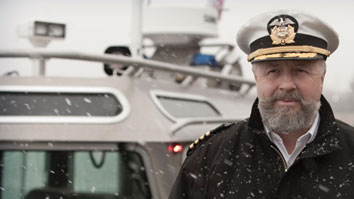 "I`ve already fired a gun at people trying to get onto my ship, and it works."
Captain Courageous
by Blaine Smith, Associate Editor
When he fired warning shots at suspected pirates with his firearm, Captain James Staples also fired a shot over the bow of maritime shipping companies, insurance companies, the European Union and the United Nations.
In 1797, the USS Constitution—the oldest commissioned naval vessel in the world still afloat to this day—was launched and soon after was pressed into service fighting piracy along Africa`s Barbary Coast. These Barbary Coast pirates preyed on merchant shipping vessels navigating the Mediterranean, holding ships and crews for ransom. With the Constitution and her sister ships engaging in the Barbary Coast Wars, the Barbary nation governments that allowed piracy to proliferate—and who profited from ransom payments—were forced to rein in their marauding charges.
Today, piracy on the high seas is no less prolific. Somalia, of course, is a major source of pirates whose actions have nearly crippled shipping in the Gulf of Aden, but throughout the world—from the Strait of Malacca and Indonesia to Venezuela, Nigeria and the Persian Gulf—sailors today are as prone to attack from pirates as in the swashbuckling days of yore.
Yet one ship captain and NRA member believes that, just as the Constitution helped to vanquish piracy in the Mediterranean following the Barbary Coast Wars, another Constitution—particularly the Second Amendment to the Bill of Rights—can help protect merchant ships sailing waters around the globe today.
Armed defense of ships against piracy works, Captain James Staples says. He knows—it worked for him.
"It was only 100 years ago we took the cannons off the ships," Staples said. "Pirates have been around for a long time. They never went away."
But what has gone away for many captains, it seems, is the ability to defend their ships with firearms.
Staples, who lives in Massachusetts, has been sailing for 31 years and has been a captain for 17 years. He graduated from the Massachusetts Maritime Academy in 1979, where he befriended classmates Richard Phillips and Paul Rochford, both of whom would go on to captain the Maersk Alabama, a ship whose experiences last year with Somali pirates encapsulate the argument for why armed resistance against pirates is effective (see sidebar at end of story).
In his years as a captain, Staples has become an expert on international piracy, offering his insights and expertise to the U.S. Congress, Navy, Coast Guard and anti-piracy conferences throughout the world. He has also appeared on news channels such as MSNBC, FOX, CNN and the BBC, espousing his views on resisting piracy.
Staples is also clear that he is allowed by his company to possess a firearm aboard his ship for protection from piracy, terrorism and mutiny, a practice which helped him to stave off several potential pirates on his last voyage at sea.
"Finally, I unloaded two warning shots downrange on them. And they absolutely took off. They understood that."
— Captain James Staples
A Suspicious Craft
It was August 2009 when Staples, aboard his ship Green Bay—a craft referred to in seafaring parlance as a Pure Car Carrier, or PCC—was approached in the dark, pre-dawn hours by a small, suspicious craft carrying three men.
"At 4:30 in the morning I was awakened by the chief mate, who said a small vessel was fast approaching the ship," Staples said. "There was nothing else around us, we were 30 miles out to sea, and we had one small speed boat coming at us," all behavior, he said, signifying pirates.
"By the time I got to the bridge it was already alongside the ship, and they were in a place they were not supposed to be—they were actually docking down their boat toward my gangway area to get on board, and they were probably two-and-a-half to three feet off the hull.
"We tried to get them away with different things: screaming, shouting, telling them to get away. They knew we didn`t want them there."
That`s when Staples produced his Browning Hi Power 9 mm pistol.
"Finally, I unloaded two warning shots downrange on them. And they absolutely took off. They understood that."
The Scourge Grows
In recent years the threat of piracy has skyrocketed. According to the International Maritime Bureau, in the first nine months of 2009, a total of 306 incidents of piracy were reported, with 114 vessels boarded, 88 vessels fired upon and 34 vessels hijacked. During this time, 661 crew were taken hostage, with six killed. According to Staples, in just the last week of 2009 and first day of 2010, four vessels with 94 seamen were overtaken by pirates.
Most of this activity is attributed to Somali pirates, but not all. As a result, Staples says, insurance rates for shipping companies operating in high-risk areas have risen tenfold.
Ships of all sizes and speed are being beset by pirates who have become adept at boarding vessels that before were considered immune to piracy. Indeed, as Staples points out, if a ship has a breakdown—no matter how fast, no matter how high the freeboard—it becomes a target of opportunity.
And though the threat of piracy has remained a constant for sailors, their means for self-defense have been whittled away.
Many shipping company owners, insurance providers and maritime organizations are loath to voice support for firearms aboard ships.
The International Maritime Organization (IMO), a United Nations agency that is "responsible for improving maritime safety," publishes procedures ships should take to reduce the risk of being attacked by pirates and what crews should do if they are attacked.
Yet the suggestions from the IMO, Staples says, overlook one of the best deterrents of piracy: firearms in the hands of the crew or in the hands of private security details.

Beware the Maersk
Anyone who is unclear on the efficacy of firearms protecting against piracy need only consider the experiences of the Maersk Alabama in 2009.
Last April, Somali pirates boarded the shipwhich had no firearms on board for protection—and took its captain, Richard Phillips, hostage. For five days he was held at gunpoint, until Navy seal snipers killed three of the pirates and freed Phillips.
Then in November, the ship was again beset by pirates firing automatic weapons. This time, armed personnel aboard the Maersk Alabama, under the guidance of Captain Paul Rochford, repelled the attackers by returning fire, ending the situation nearly as soon as it began.
"They put out a `best management practices` and most of it`s all non-lethal, things like messaging who you communicate with, like if a pirate attack is going down you have all the time in the world to do that," Staples said.
"Another thing they suggest is using safety equipment, like flares, to fire at the pirates. If you really think about how ridiculous that is: If someone`s invading your house, are you going to throw grapes at them?"
Staples said the IMO also promotes the use of barbed wire and the hardening of bulkhead doors, actions Staples believes make things even more dangerous.
"Merchant ships are built for safety and not security, they`re built to be able to abandon if you`ve got to get away from them real fast, for the crew to get away," Staples said. "When you start putting stuff up like barbed wire, hardening these bulkhead doors so you have to go through 10 different things to get them open, you`re making the ship unsafe."
Tellingly, in lieu of promoting armed protection aboard ships—which it says it "strongly discourages"—the IMO`s "best practices" for non-lethal defense were followed last year by guidelines titled "How to Survive as a Hostage."
The European Union (EU), Staples said, is also against firearms aboard ships. He said the tack this group has taken to shoot down the issue is to play up the training needed to learn defense of a ship with a firearm.
"Of course you need to train, you need to shoot," Staples said, "but it`s a basic skill, and once you learn it it`s not like you need to be doing this every single day, and you don`t even need a shooting range. This could be done on board the ship.
"But the EU nations, they`re saying, `Well, it takes a lot of training,`" he said. "Of course it takes a lot of training. Everything we do on board a ship takes a lot of training: fighting fires takes a lot of training; man overboard takes a lot of training—but you can train on board a vessel."
Voices of Reason
The U.S. Navy and forces from several other countries patrol the waters of the Gulf of Aden attempting to thwart piracy. But as Staples describes it, "it`s like looking for a mosquito on a football field" when trying to find the pirates that prey on ships in these waters.
"The navies cannot protect the merchant seamen out there," Staples said. "It`s just too vast of an area. And the defense has to start at the vessel. And if they don`t give us the means to keep the ships safe, then you`re going to continue to have hijackings until the ship is able to protect itself."
Gen. David Petraeus spoke to this issue in April 2009 when he advocated merchant shipping companies place armed guards aboard ships traveling through the waters frequented by Somali pirates.
According to Staples, the U.S. Navy, too, leans toward placing armed guards aboard vessels to ensure the safety of crews from piracy.
To be clear, Staples himself believes the most senior members of a crew should have access to firearms aboard a ship; however, he doesn`t believe every sailor should be armed.
"You don`t want to arm the whole crew. That`s not the thing," Staples said. "When I`m at the Port of Boston and I`m signing a crew on, of those 20 people I sign on, I probably only know four of them," he said.
"But we want to have a trained contingency onboard—that would be the senior people," Staples said.
That doesn`t mean Staples disagrees with Gen. Petraeus that armed guards should be employed for protection. In fact, he`s a proponent of just this, especially on ships traveling the treacherous waters off Somalia.
"In a place like Somalia it`s actually armed combat, with pirates armed with rpgs (rocket-propelled grenades) and ak-47s," Staples said. "The last thing I want to do as captain is to be navigating the ship and doing all the ship stuff in a high-stress situation and stand there and try to fire a gun at the same time.
"That`s why in Somalia I firmly believe that armed guard teams—guys that have done this for a living, the special forces guys—these are the guys to have on board, because the captain can say, `You handle that situation while I handle the ship,`" he explained.
Possessing Guns in Port
One of the major reasons given by various shipping companies and maritime groups for not advocating firearms aboard ships is that many countries these vessels sail into don`t allow firearm possession.
Yet Staples, who says he`s carried a firearm aboard every ship he has captained, disagrees that a gun aboard a ship will result in its being denied entry into some ports. Even in countries as strict as Saudi Arabia and Japan, Staples has made port while in possession of his firearm.
"I`ve brought guns into about every single country there is and all you do is declare that firearm coming in," Staples said. "You lock it up, customs comes on board, puts a seal on it, and God help you if you break that seal."
If that seal is broken, Staples said, then problems will arise.
"You`re going to have a heavy fine to pay, you`re probably going to lose your job, and you`re going to have to deal with customs."
Once the ship leaves the waters of the respective country, the seal can be broken and the firearm is ready for use.
How To Defend A Ship
So how does Staples recommend a ship protect itself from piracy?
In his talks to interested parties around the world, Staples says that, in order to avoid piracy, ships must be able to detect, deter and defend from attacks.
In detecting possible attacks, Staples brings up the point that pirate watches are critical, yet when crews are fatigued or don`t have the latest detection capabilities, safety is compromised. "When I first started, we had a 42-man crew. We`re down to 19 people now, and they want to go even smaller. Crews are overloaded and overburdened now.
"And companies need to enhance detection by outfitting ships with new electronic equipment such as thermal-imaging and infrared cameras that tie into the radar," Staples said, "something that picks up the threat and lets the crew know."
Staples also believes that non-lethal weapons are important in deterring pirates, and encourages the use of Long Range Acoustic Device (LRAD) weapons and water defense systems.
But where Staples` plan for combating piracy diverges from that of groups such as the IMO, EU and
many ship and insurance companies is, of course, in defending the ship during an attack—a captain and crew leaders with access to firearms, or an armed security detail consisting of trained professionals.
"Every captain`s responsibility is to keep his crew safe. You have to do that no matter what the circumstances," Staples said. "Going to sea is dangerous; it`s part of the job. You`re faced with fire, sinking, drowning—it`s just part of it. The owners will accept that part of the liability, that I might get killed in a fire or collision, yet they won`t accept the liability that I could be killed by a pirate defending myself. It doesn`t make any sense," he said.
"I`ve fired a gun at people trying to get onto my ship, and it works."