Matti's Lesson:
"Do Something Exceptional"
Matti with her crossbow doe killed during the Texas archery season last fall. Her success was a direct result of her lobbying efforts in Austin.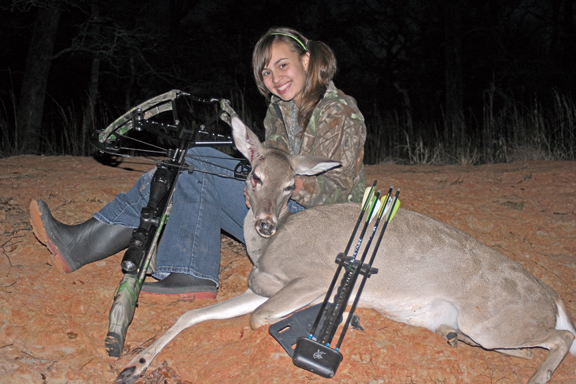 By Darren La Sorte,
NRA-ILA Hunting Policy Manager
I spent the second weekend in December with some of my favorite Americans--friends who serve heroically in our country's most elite special operations unit. Louis and Jim Maxwell of Maxwell Foods, Inc. graciously invited us out to their pristine property in North Carolina so my military buddies could pursue their dream of hunting the Tar Heel State's famed bruins. My friends had a few days of down time and the Maxwells simply wanted to say "thanks" for making the personal sacrifice necessary to fight our country's most vicious enemies.
From the beginning, we were surrounded by all of the things that make America great. We visited the Maxwells' headquarters in Goldsboro and learned about a generations-old company that helps feed the country and supports thousands of families who put their souls into farming the land. We met George, Lee, Bobby, Paul, J.B., Herb, Frankie and many others who have a deep love of hunting--and the dogs they breed and train--to pursue bears in the thickest vegetation I've encountered. If you aren't belly crawling while fighting through a seemingly endless tangle of vines, you're still in the "open." These men take pride in what they do and it shows. To them, hunting is not a sport. It's a way of life.
On more than one occasion while we were hunting, my military friends turned to me and emphatically proclaimed, "This is America!" To them our freedom to hunt was one reminder of why they choose to fight. In these times of political turmoil and deviation from our nation's founding principles, doubt sometimes creeps into their minds. For at least the brief time while on the hunt, the doubt was gone.
It's always remarkable to me how astute and engaged my military friends are from a political perspective. One of the first questions they asked me was the name of the NRA-endorsed candidate in a special election for a state office. They wanted to be sure they and their wives voted for the candidate who stood in defense of freedom. Another asked how they could affect change within the political process, knowing their service severely limited their options. Despite this, it was apparent they were ready and willing to do what was necessary. They were already doing more than most through their military service but it was not enough by their standards.
I explained how essential it is for citizens to develop a personal relationship with their elected officials and staff members. I talked about the critical importance of communicating by phone, e-mail and letters when legislation is debated. The significance of this kind of interaction cannot be overstated. Contrary to popular belief, a handful of communications from constituents can often be the deciding factor when it finally comes time for legislators to cast their votes.
I decided to tell them about one of my most inspiring moments of the past year. It came at the Texas State Legislature seven months earlier. I was in a Senate committee meeting considering legislation that would include Texas in a growing number of states that allow hunters to choose a crossbow for hunting during the state's archery season. At the time, crossbows were only legal during the general firearm season.
A pretty, dignified and confident 13-year-old girl named Mattisyn Warren stepped up to the microphone to give the committee members her testimony. Matti (what her friends call her) eloquently and passionately told the senators about her efforts to recruit her friends to hunting. She mentioned the crossbow is important because it doesn't generate the recoil or noise that might otherwise intimidate her friends. Also, she and her friends didn't have the physical strength to draw a compound bow powerful enough to kill a deer.
Matti discussed how the long archery season and crossbow ban prohibited her and her friends from hunting while those physically capable of drawing a bow were happily in the field. She worried the mandated delay would detract from her recruitment efforts because her friends could lose interest as they waited for the firearm season to begin. Matti's friends, Ally and Tory, waited patiently for their crossbow hunt last year and each put the "perfect shot" on their deer. Matti told the senators that they're now hooked on hunting and will never forget the experience.
The pint-sized grassroots activist (Nancy Pelosi would cynically call her part of the "Astroturf movement") concluded her stellar testimony by saying the repeal of the crossbow ban would "help get more people hunting and the more people who hunt the better." She said that her parents tell her every day to "do something exceptional" and that the senators had the opportunity to do just that by repealing the statutory ban.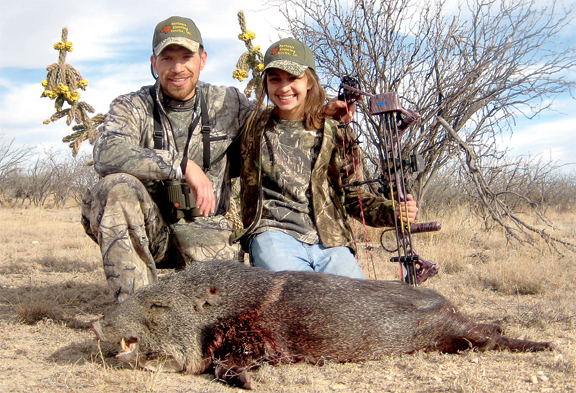 Matti and the author with her javelina taken in West Texas last December. It was her first-ever kill with her compound bow.
This particular committee had been the stumbling block for this legislation for years. It passed the committee and was later signed into law by Governor Perry. I believe the committee vote, in no small part, was due to Matti's powerful testimony. Last fall, the young hunter went on to kill her first deer with a crossbow during the state's archery-only season. What a lesson in civics! From recognizing the problem to doing something about it and then reaping the fruits of her labors, it was representative democracy at its best.
My friends were inspired by such a young American who would do all she could to engage in the political process. It heartened them. It was what our Founding Fathers envisioned when they established our republic. They knew citizen participation was essential to our country's long-term existence.
We can all learn from Matti. When the NRA calls on you to contact your legislator, attend a legislative hearing or city council meeting, register a friend to vote or cast a ballot, it is time to step up to the plate and act. Whether it's an issue about the fundamental right to self-defense, defeating a gun ban or expanding hunting opportunities, your action will make a difference. It's the least we can do for our military men and women who fight overseas. They protect us from our enemies abroad, and we can act here at home to ensure they have freedoms to return to when they're done fighting.
As one of my friends on the bear hunt stated, "There is no reason for us to fight if we come home to a country that is unrecognizable." However inconvenient political activism might be in our personal lives, we owe it to them and all of those who served previously. As John Adams said so well, "Liberty must at all hazards be supported. We have a right to it, derived from our Maker. But if we had not, our fathers have earned and bought it for us, at the expense of their ease, their estates, their pleasure and their blood."
Matti is right--we all have the chance to do something exceptional. Make a commitment today to do all you can to influence your policy makers. It's a small price to pay for securing liberty and our heritage for future generations. It also ensures our military men and women have a reason to continue their fight.
Listen to Matti's testimony by going to www.nrapublications.org/matti