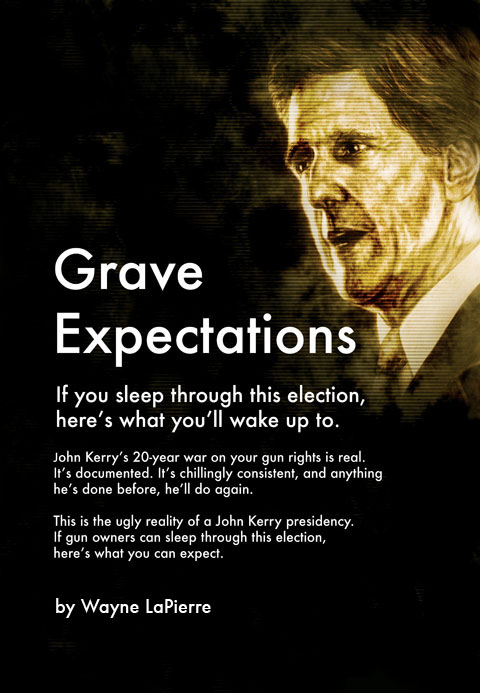 You can expect a ban on semi-automatic shotguns.
Kerry co-sponsored the Lautenberg gun ban bill (S. 1431) designed to give government the authority to outlaw them.
You can expect a ban on ammunition, especially center-fire rifle ammunition.
Kerry voted for Ted Kennedy's ban on ammunition used by deer hunters and target shooters nationwide.
You can expect a ban on all semi-automatic rifles.
Kerry worked hard to keep the Clinton gun ban lie alive, and even supports expanding the 1994 ban to outlaw millions of additional firearms.
You can expect fewer licensed firearms dealers and that means you will pay higher prices.
Kerry voted to increase fees on ffls by 3,600 percent, an increase that would force many small or part-time dealers out of business.
You can expect to pay exorbitant "vice" taxes on guns and ammunition.
Kerry treats the Second Amendment like a sin that should be taxed to pay for the acts of criminals.
You can expect more hatred for hunters as extremist anti-hunting and gun-ban groups gain membership and influence.
Kerry has a 100 percent a rating from radical groups like peta, the Fund for Animals and the Brady Campaign, which swells their ranks and war chests.
You can expect to be prosecuted for giving or selling your gun to a friend or family member.
Kerry voted to criminalize sales between lawful private citizens at gun shows, with the real goal of shutting them down forever.
Kerry has a 100 percent a rating from radical groups like peta, the Fund for Animals and the Brady Campaign.
You can expect a U.S. Supreme Court stacked to erase our Second Amendment freedom from American life.
Kerry would appoint the likes of Hillary Clinton and Chuck Schumer to the u.s. Supreme Court.
You can expect a return to those dangerous soft-on-crime Clinton years.
Kerry has voted for violent armed criminals and drug traffickers to get less jail time, more parole time and unlimited death penalty appeals.
You can expect gun-haters to get the most powerful payback positions in Kerry's administration.
Anti-gun bureaucrats would run the federal government—hand-picked by the likes of Dianne Feinstein and Ted Kennedy.
You can expect American gun makers to shut down.
Kerry voted to force America's firearms industry into bankruptcy under an avalanche of junk lawsuits brought by greedy trial lawyers.
You can expect the 60-day ban on political free speech to turn into forever.
Whatever it takes to keep you quiet—Kerry voted to muzzle your voice during elections.
You can expect endless, pointless waiting periods to buy a gun.
Kerry never saw a waiting period he didn't like—even after you pass the instant background check—and voted for them 11 times.
You can expect multi-billionaire George Soros to control the White House, the U.S. Senate and the Supreme Court.
He's the sugar daddy funding countless front groups to get Kerry and certain senators elected, who in turn appoint and approve judges.
You can expect the United Nations to take over American gun rights.
Kerry supports u.n. approval of U.S. policy, which could include George Soros' plan for a global gun ban being railroaded through the u.n.
You can expect harassment from every corner of society.
An anti-gun president gives every gun-hating pen pusher the silent nod to make your gun rights a difficult, expensive bureaucratic nightmare.
---
How Bad Can He Be?
"Come on," says your trusting inner voice, "could a John Kerry presidency really be that bad?"
Whatever nightmare scenario gun owners can conjure under a Kerry administration, the reality would likely be much worse.
The history of William Jefferson Clinton proves it.
First, compare Bill Clinton's pre-presidential record with John Kerry's pre-presidential record.
When he ran for president in 1992, Bill Clinton didn't have much of a record on firearm freedoms.
It wasn't an a+ record, but it was certainly nothing resembling the sad saga of extremism that Kerry has displayed in the u.s. Senate.
Dwarfed by the double-decade, systematic gun-hating career of John Kerry, Bill Clinton was a rank amateur. By Kerry's standards, Clinton wasn't even a contender.
Now, consider the colossal campaigns of President Bill Clinton to restrict or revoke your right to keep and bear arms.
Recall the Clinton administration's eight-year war against gun owners, from the 1994 semi-auto ban to the "Million" Mom March to gun owner registration plans blaming this great Association for criminal violence in America.
It took Clinton only two years to cement his legacy as the Second Amendment's biggest enemy ever to rule the Oval Office.
Gun owners can be forgiven
if they failed to fathom the
danger of a Clinton White House
in 1992. No one could've
predicted it in advance.
Today the exact opposite is the case. We know in advance.
We're not looking at a man who, as it turned out, became the most anti-gun president in u.s. history.
We're looking at a man who, based on historical fact, is already known to be the most anti-gun presidential nominee in u.s. history.
History doesn't move along a fairly foreseeable path, like the plodding progression of a glacier. Every so often, history is written with the seismic suddenness of a shattering earthquake. Nature rarely warns of a coming catastrophe.
But in this election we've been warned. We've seen enough past to prevent a future we don't want.
Election Day is that chance, and 2008 will be too late.