NRA-ILA
Hunting Facts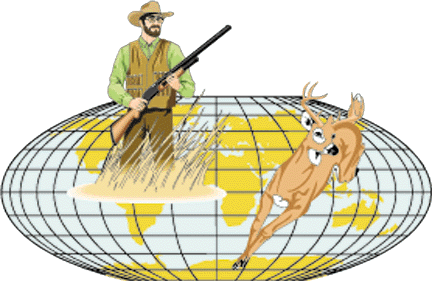 "Encouragement of a proper hunting spirit, a proper love of sport, instead of being incompatible with a love of nature and wild things, offers the best guaranty for the preservation of wild things."

--Theodore Roosevelt, U.S. President,......
Nobel Peace Prize Winner, NRA Life Member
Hunting Benefits
Wildlife & Society
Often camouflaged from the public eye, the efforts of hunters as conservationists over the last century have restored America's game populations and enhanced the habitat of numerous wildlife species. No other group has come close to sportsmen in contributing the volunteer hours and funding necessary to make such an impact on wildlife conservation.
President Theodore Roosevelt, arguably America's first prominent conservationist, knew first hand of the advantages regulated hunting and conservation bring to wildlife. During the late 1800s, Roosevelt saw animal numbers deteriorate because of over-hunting driven by unregulated meat and fur markets. As President, Roosevelt began creating programs aimed at restoring game populations to healthy levels.
Hunting is an integral part of the fabric of our economy and cultural heritage and it is also an important wildlife management tool. Everyone benefits from the excise taxes that hunters voluntarily pay on guns, ammunition and outdoor equipment. Since 1937, hunters have contributed over 4 billion dollars through the Pittman-Robertson Act for the benefit of all wildlife species. These dollars have been used to purchase millions of acres of public lands.
Through over 10,000 clubs and organizations such as NRA, Ducks Unlimited, Safari Club International, National Wild Turkey Federation, Rocky Mountain Elk Foundation and Quail Unlimited, sportsmen contribute an additional $300 million each year to wildlife conservation activities.
Hunters and fishermen fund nearly 75% of the annual income for all 50 state conservation agencies. Through license fees and excise taxes on arms and gear, sportsmen contribute $200 million per year for wildlife conservation. (U.S. Fish & Wildlife Service)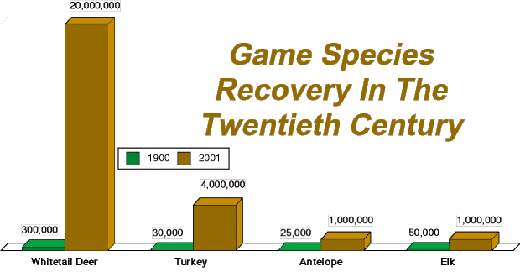 Hunting Is A Vital Part Of American Culture
Hunting is an important and traditional recreational activity in which 20,000,000 Americans 16 years old and older participate.
Hunters have been and continue to be among the foremost supporters of sound wildlife management and conservation practices in the United States.
Hunters and organizations related to hunting provide direct assistance to wildlife managers and enforcement officers at all levels of government.
Hunting is an essential component of effective wildlife management, in that it tends to reduce conflicts between people and wildlife and provides incentives for the conservation of wildlife habitats and ecosystems on which wildlife depends.

Through legislative programs designed to channel funds back into the conservation process, hunters have restored populations of deer, elk, antelope, turkeys and ducks to record numbers.

Hunting contributes over $30 billion to the economy each year, supporting over 1,000,000 jobs. (National Shooting Sports Foundation)
Hunting provides food for people. For nearly a decade, hunters have provided thousands of pounds of game meat through donation programs such as Hunters Sharing the Harvest and Hunters for the Hungry.
Hunting helps manage animal populations resulting in less human/animal traffic accidents.
Hunting Teaches Responsible Gun Ownership
The socialization into gun ownership is also vastly different for legal and illegal gun owners. [Adolescents] who own legal guns have fathers who own guns for sport and hunting. On the other hand, those who own illegal guns have friends who own illegal guns and are far more likely to be gang members. (U.S. Dept. Of Justice, March 1994, Office of Juvenile Justice & Delinquency Prevention -Urban Delinquency & Substance Abuse, July 1993.)
Persons in rural areas are more likely to be hunters. The total violent crime rate and murder rate in rural counties are 61% and 41% lower, respectively, than those found in metropolitan areas. (Drawn from FBI Uniform Crime Reports, Crime in the United States 2002.)
Public Support of Hunting
According to a May 2000 poll conducted by Roper and Starch for the National Shooting Sports Foundation, 85% of American adults agree that hunting has a legitimate place in modern society. 58% were in strong agreement while 25% moderately agreed.
62% agree that hunters are the world's leading conservationists.
4 out of 10 Americans (42%) describe themselves as either avid or occasional hunters--up 7 points from 1999.
Pittman-Robertson Act
The vehicle that actually transforms money into habitat, ecological study into proven conservation tactics, and the idea of harmony between nature and society into reality is the Pittman-Robertson Federal Aid in Wildlife Restoration Act. Who fuels this vehicle? Sportsmen.
Signed into law by President Franklin D. Roosevelt on Sept. 2, 1937, the Federal Aid in Wildlife Restoration Act, or the Pittman-Robertson Act, created a 10% excise tax on sporting arms and ammunition. Revenue is deposited in a special trust fund under the management of the U.S. Fish and Wildlife Service to be used for state wildlife restoration projects. In the 1970s the excise tax was extended to archery equipment and handguns. One-half of the tax revenue collected on handguns and archery equipment may be used by state fish and wildlife agencies for hunter safety training and range development.
The approximately 200 million dollars generated by Pittman-Robertson each year are matched with sportsmens' dollars at the state level to pay for projects that will restore wildlife populations, expand habitat and train hunters. To date, more than $4.2 billion in federal excise revenue has been generated. (U.S. Fish & Wildlife Service)
NRA Supported Legislation
NRA-ILA has been successful in promoting wildlife conservation efforts on federal, state and local levels. Many pieces of NRA-backed legislation have been enacted over the years to keep pace with the wildlife management challenge.
Below are just a few of those efforts.
The Fish and Wildlife Programs Improvement Act of 2000 amended the PittmanRobertson and Dingell-Johnson Acts to make needed reforms in the manner in which the U.S. Fish and Wildlife Service manages these sportsmens' trust funds. NRA was the catalyst for this reform which also earmarked $8 million annually for the states to use in enhancing hunter education and range development.
The National Wildlife Refuge System Improvement Act of 1997, which NRA helped to shape, established the mission and purposes of the Refuge System that provide wildlife with crucial habitat for survival. This "organic" Act established hunting, fishing and four other wildlifedependent recreational uses as "priority general public uses," basically shutting the door on anti-hunters who had claimed that the term "refuge" required the government to close the land to all hunting.
The National Wildlife Refuge System presently consists of 542 refuges totaling more than 92 million acres. Of these refuges, 315 provide hunting opportunities. In 2003, NRA joined with 16 other conservation groups to draft an official agreement with the Department of the Interior and the Department of Agriculture that ensures sportsmen's access to federal lands, including Bureau of Land Management, Forest Service and Fish and Wildlife Service lands. The agreement calls for increased communication and involvement of the private organizations regarding land planning and management issues and provides for increased opportunities for sportsmen to assist with the maintenance of roads and trails that provide public access to federal lands.
The Migratory Bird Treaty Reform Act of 1998 more equitably defined the standard for being cited for a baiting violation, but increased the penalties for conviction of such a violation. It replaced the "strict liability standard" with the "reasonable man standard" that gives the hunter a much fairer opportunity to defend himself in court.
The Alaska National Interest Lands Conservation Act of 1980 prevented much of the federal estate from being made inaccessible to sportsmen.
The Food Security Farm Bill funds voluntary, incentive-based conservation programs that benefit the farmer, land, water resources, hunters and wildlife.
Hunter and Shooting Range Protection
Over the past twenty years, NRA has spearheaded the effort to pass laws to protect hunters from harassment by animal rights zealots. It is now illegal to interfere with a lawful hunt in all fifty states.
NRA has helped to pass legislation at the state level to protect shooting ranges from antigun zoning ordinances and frivolous lawsuits. In 1994, only eight states had range protection laws. Today, thanks in large measure to NRA, 46 states have such laws.
Coalitions for Conservation
In response to anti-hunting extremists that have been focusing their efforts on state ballot initiatives designed to trick the public into supporting their anti-hunting agendas, hunting and conservation organizations including NRA have banded together to more effectively push for conservation and hunters' rights.
Ballot Issues Coalition
The Ballot Issues Coalition (BIC) was formed to provide professional campaign management expertise and seed money to state ballot campaigns that enhance or protect sportsmens' interests in wildlife conservation. BIC also assists state sportsmen campaigns to counterattack anti-trapping and anti-hunting initiatives.
Public Land Shooting Sports Roundtable
Nine organizations and agencies belong to the roundtable including the Forest Service, the Bureau of Land Management, NRA, National Shooting Sports Foundation and Wildlife Management Institute. PLSSR was established in 1999 to promote recreational shooting on state and federal lands.
National Wildlife Conservation Partners
The group was formed in 2001 to help chart the course for the future of wildlife conservation in the U.S. NWCP also advises the President and Congress on issues related to wildlife conservation and hunting. Thirty-five hunting and conservation groups have joined NWCP. NRA is a member of the steering committee.
Identifying the Enemy of Wildlife: Animal Rights Groups
Groups who claim they stand for the well being of animals and who are anti-hunting base their claims entirely on emotion and not biological wildlife science. While animal rights groups concentrate their efforts on making sure a few animals do not fall to the bullets of hunters, the species as a whole suffers. These groups routinely raise large amounts of money in the name of wildlife, but give nothing in return. Below is a list of some of the most virulent anti-hunting groups.
American Humane Association
American Society for Prevention of Cruelty to Animals
Animal Protection Institute
Animal Welfare Institute
Earthjustice Legal Defense Fund
Friends of Animals
Fund for Animals
Humane Society of the United States
In Defense of Animals
International Fund for Animal Welfare
Last Chance for Animals
People for the Ethical Treatment of Animals